News > Idaho
Ironman fans good as gold
Mon., June 27, 2005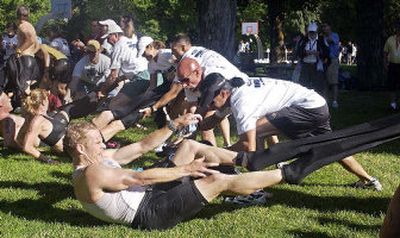 Catching a good look at an Ironman competition is sometimes nearly as tough as the triathlon that brought thousands of spectators and rooters to downtown Coeur d'Alene Sunday.
Spectators climbed trees and elbowed their way through the throngs of people lined up along the shoreline of City Beach to see the swim start, where nearly 1,800 athletes try to dive into Lake Coeur d'Alene at once.
"Get ready to witness one of the most incredible things in sports," the Ironman announcer told the crowd just minutes before the gunshot start that kicked off the third Coeur d'Alene event that consisted of a 2.4-mile swim, 112-mile bike ride and 26.2-mile run.
Some eight hours later, as the pros neared the finish line, thousands of Ironman relatives and fans moved into the street, giving high-fives to athletes as they passed by.
The crowds thinned but didn't vanish as the day wore on and less-competitive athletes finished. Coeur d'Alene Mayor Sandi Bloem planned to stay until the last Ironman finished the course. Last year, she was at the finish line until 2:30 a.m.
"I just can't get myself to leave," she said.
Coeur d'Alene's third Ironman triathlon took over downtown Coeur d'Alene from just after dawn until well past sundown Sunday. As the day progressed, it became apparent that watching the Ironman crowd can, at times, be every bit as rewarding as watching the competition.
"""
About 60 of Sunday's Ironman competitors live in the area. Collectively, they drew much of the crowd's affection.
At Hudson's Hamburgers, a downtown eating institution, employees wore T-shirts that said "Team Hudson's" on the front and read "Go Steve" on the back. A banner of Ironman pennants hung from the awning outside athlete Steve Hudson's restaurant.
Meanwhile, outside on Sherman Avenue, family and friends of Greg Gervais and Tom Lamphier watched and waited. Gervais' niece and nephew, Ashleigh and Cody, sat in a wagon decorated with signs supporting their Uncle Greg and wore T-shirts and hats decorated with puffy paint.
Not long after Brian Hadley became the first from Coeur d'Alene to finish the race, Lamphier and Gervais become the second and third locals to cross the line to rousing applause from fans.
"""
Spectators had a variety of signs to cheer on the athletes: "Run chicken legs." "Pedal Paula Pedal." "Smile. They will think you are enjoying yourself." "How to spend a day in Idaho: Swim 2.4 miles, Bike 112 miles, Run 26.2 miles."
Bill Iverson of Spokane moved from one downtown corner to another during the race, holding a custom-made sign holder with phrases like: "You are the best," "Don't give up," "You're tough," and, during the last stretch of the race, "The End is Near."
"""
The competition wasn't all serious business.
Ironman Larre Sterling of Palo Alto, Calif., stopped to chat with some friends near Lakeside and Seventh Street. After several minutes she hopped back on her bike and rode off. But then there was Ironman Eric Boswell of Bozeman, who stopped near the same spot, but not to chat. His contact was bothering his eye. So he took it out, spit on it a couple times, popped it back in and took off. "I've got time to make up," he told the volunteer that tried to get him to use water instead of spit.
Some competitors still had enough energy to make an event out of crossing the finish line. One Ironman stopped and grabbed his toddler to carry across the finish line. Third-place finisher Michael Lovato crossed the finish line as "Cecilia" by Simon and Garfunkel played over the loudspeaker – and then started dancing to the music.
"""
With the time and commitment necessary to become an Ironman competitor, it is inevitable that the athletes' families get involved – in all sorts of ways.
The family of Ironman Jerry Dunne of Galway, Ireland, spent several hours Saturday making a sign complete with an Irish flag and pint of Guinness with a message reading "This Pint is for you."
Two women on Lakeside Avenue wore shirts that read "Lonely Wives Club" – one stretched tight across a pregnant belly.
Taylor Loomis, 11, of Salt Lake, had two parents in the competition. "There's Dad," said Taylor as his father Timothy zipped through the bike transition area where athletes hopped on their cycles. His mother, Melanie, had already passed. Taylor Loomis has already competed in a couple children's triathlons and a few 5K races. He can't wait to become an Ironman himself, along with his sister Jocelyn, 9, and Joshua, 4. "It's fun because you can do races and stay fit so you don't have to worry about getting fat," Taylor Loomis said.
"""
Some spectators took cat naps on lawns under shading trees in downtown while others wrote messages on the street with chalk. Other lay on the beach and children constructed sand castles while volunteers dismantled the swim course and picked up garbage.
Tara Taylor of White Rock, B.C., read under a tree at Northwest Boulevard and Mullan Avenue, occasionally stopping to text message updates to her mother's coach back in Canada. "I'm just hanging out, but it's fun," Taylor said.
"""
By midevening, there had been a few accidents during the daylong triathlon, but no serious injuries had been reported.
In the morning, a spectator was taken to Kootenai Medical Center after walking in front of a female cyclist at Third Street and Lakeside. Coeur d'Alene Police Chief Wendy Carpenter said paramedics wrapped the athlete's elbow and then she got back on her bike.
"""
While the athletes were standing on the beach waiting for the swim to start, the public address announcer asked how many people were doing their first Ironman. "Iron virgins," he said. "Today will be the day you remember the rest of your life."
The announcer had another nice tidbit about a minute before the start, "The miracle isn't in finishing. The miracle is preparing to get where you are today. Finishing is the easy part."
Local journalism is essential.
Give directly to The Spokesman-Review's Northwest Passages community forums series -- which helps to offset the costs of several reporter and editor positions at the newspaper -- by using the easy options below. Gifts processed in this system are not tax deductible, but are predominately used to help meet the local financial requirements needed to receive national matching-grant funds.
Subscribe now to get breaking news alerts in your email inbox
Get breaking news delivered to your inbox as it happens.
---