News > Nation/World
Israel flattens Gaza buildings
Mon., June 27, 2005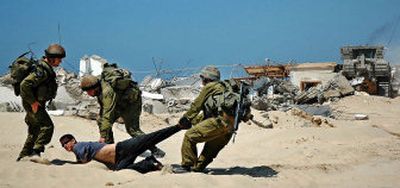 SHIRAT HAYAM, Gaza Strip – Israeli bulldozers flattened a row of abandoned buildings next to this seaside settlement Sunday, clashing with Jewish settlers in the first military operation aimed at hampering opponents to Israel's planned withdrawal from the Gaza Strip.
In a taste of what could lie ahead, troops scuffled with the young settlers who taunted them, climbed on bulldozers and lay in front of one to try to prevent the demolitions.
One Israeli soldier was punished for siding with the settlers.
Israel plans to uproot all 8,500 Jewish settlers in Gaza, as well as about 500 residents of four small settlements in the West Bank, beginning in mid-August. Settlers strongly oppose the plan, and Israeli officials fear extremists among the opponents could turn violent.
Opponents of the pullout had planned on moving into the buildings, former Egyptian resort cottages abandoned after Israel captured Gaza 38 years ago, to reinforce resistance during the withdrawal. The demolished cottages are near a derelict beachfront hotel in Gaza where hundreds of opponents already have barricaded themselves.
Even as the withdrawal date nears, Israeli Prime Minister Ariel Sharon has continued expanding West Bank settlements, drawing sharp criticism from Secretary of State Condoleezza Rice, Israeli officials said Sunday.
Rice told Israel during her visit last week that Washington would not accept new West Bank construction, although Israeli officials present at the meeting with Rice said she did not threaten any particular penalty.
In the Gaza Strip, troops arriving to carry out the demolitions were confronted by several dozen young people, most of them Orthodox Jews. "Jews don't expel Jews," they shouted. Several settlers climbed onto a bulldozer, and a small group holed up under one vehicle to block its path.
The crowd scuffled with soldiers, who dragged several protesters away. The army said 10 Israeli civilians and 10 soldiers and police officers were injured, none seriously.
The army said 11 structures were demolished, and the beach was littered with concrete rubble after the operation. The army said the area would remain a closed military zone until the rubble is removed.
During the operation, a soldier began shouting at his comrades and expressing opposition to the mission. The army said the soldier's weapon was taken and he was escorted away.
"This is not justice," the soldier, Avi Bieber, said as he left. The army said later the soldier refused a disciplinary hearing, demanding a court martial.
Hannah Apickar, a Shirat Hayam resident, said Sunday's scuffle was a sign of things to come.
"We don't want a civil war; we're against a civil war," she told Channel 2 TV.
Local journalism is essential.
Give directly to The Spokesman-Review's Northwest Passages community forums series -- which helps to offset the costs of several reporter and editor positions at the newspaper -- by using the easy options below. Gifts processed in this system are not tax deductible, but are predominately used to help meet the local financial requirements needed to receive national matching-grant funds.
Subscribe now to get breaking news alerts in your email inbox
Get breaking news delivered to your inbox as it happens.
---