News > Nation/World
Thousands fill streets for gay pride parades
Mon., June 27, 2005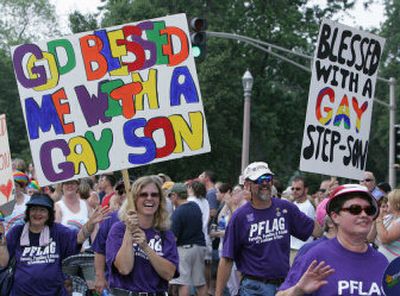 SAN FRANCISCO – Undeterred by recent setbacks in the push to legalize same-sex marriage, tens of thousands of festively dressed people marched in parades around the country to celebrate gay pride.
People celebrated in San Francisco, New York, Chicago, Seattle, Atlanta and other cities, though the event comes during a tough period for gay rights advocates. A bill to legalize same-sex marriage died this year in the California Assembly, and many states have passed or are pursuing constitutional amendments outlawing gay marriage.
"I'm here to let the rest of the world know that we're here and we want to be seen," said Clarence Smelcer, 43, an AIDS activist watching the San Francisco parade. "We're part of everyone's lives, and the parade is a wonderful way to show it."
Gay pride is cause for a virtual holiday in San Francisco, and thousands gathered early for the parade, including men in kilts sporting rainbow-colored wigs, cross-dressers in kimonos and heterosexual couples waving rainbow flags.
The annual pride parades commemorate the Stonewall uprising of 1969, a series of fights between gays and police in New York widely considered the beginning of the gay rights movement. Some of the marchers in New York were veterans of the riots.
There were also subtle reminders of the struggles ahead. Many in the San Francisco crowd wore stickers that read, "We All Deserve The Freedom to Marry."
"Anytime you have a big group of people screaming and hollering, people will pay attention," said Jorge Vieto Jr., 27, who left Costa Rica because of discrimination against gays. "Marriage should be an equal opportunity, not a heterosexual right."
Activists elsewhere also said they were energized by the political climate.
"People are more fired up this year," said George Estelle, who attended the Atlanta march and organized a parade float by Human Rights Campaign, a gay and lesbian lobbying group. "They're angry that they feel there's been a lot of misrepresentation about them done this year during the elections."
Local journalism is essential.
Give directly to The Spokesman-Review's Northwest Passages community forums series -- which helps to offset the costs of several reporter and editor positions at the newspaper -- by using the easy options below. Gifts processed in this system are not tax deductible, but are predominately used to help meet the local financial requirements needed to receive national matching-grant funds.
Subscribe now to get breaking news alerts in your email inbox
Get breaking news delivered to your inbox as it happens.
---