News > Spokane
We're Easy lines up wins to earn trip to Las Vegas
Mon., June 27, 2005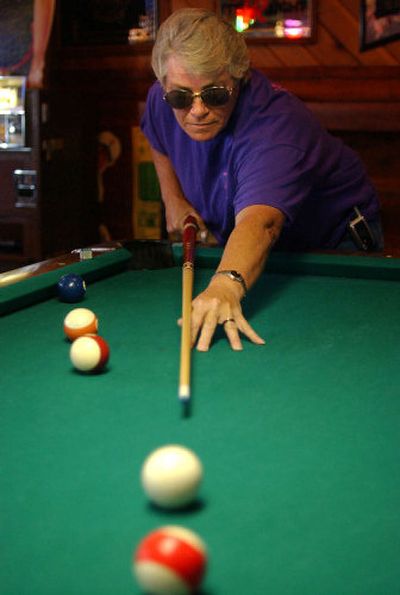 Alice Hunt and the "We're Easy" team of women of My Place Tavern are pool fanatics bound for Sin City. No, they're not the kind of pool fanatics who lounge like torpid cats for hours around bowls of chlorine.
These pool women prefer green felt to aquamarine. They appreciate dark, air-conditioned bars, brown long-necked bottles and the challenge of eight-ball from morning to night.
They're going to Vegas because We're Easy won the City Cup Championship for Spokane June 19 and earned a spot at the American Poolplayers Association's national championship.
"We have tried for years to get to Vegas," said Hunt, a mill worker retired from Kaiser Mead who's been playing with the same women off and on since the early 1990s. "We've made it to the City Cup, but we've never made it beyond that as a team."
The trip didn't seem likely less than two months ago, because some of the eight women who make up the team were behind the eight ball, both at the pool table and in life.
It was April, and nothing was coming easy for We're Easy. The team, which ranges in age from 40 to 75, was mostly losing. Teammate Linda Riddle, 55, had just suffered a couple of small strokes affecting the strength on the right side of her body. Kimm Barton, who in her mid-40s shoots pool from a wheelchair, was, as always, battling multiple sclerosis. But the team kept taking turns at the table, counting on the principle that not everyone's game sours at the same time, that the fortunes of a group will eventually buoy those of an individual. We're Easy has its marquee players, but most are merely average, twos and threes on a competition ratings scale that tops out at seven.
They shot as best as they could, then looked away from one another and tugged their left earlobes whenever an opponent aimed for the eight ball. This superstition, call it the Carol Burnett X-factor, is known by We're Easy teammates to turn away winning shots.
"We came close last year, but it was a better story this year because we were dead last," said Riddle, who called her strokes a "tap on the shoulder," one that sent her to the operating room but saved her life. "I got back to playing pool and bing, bing, bing. The next thing you know we're in the playoffs."
Their road back reads like a wrestling card for the strange: the We're Easy women of My Place Tavern vs. the Witchy Women of Snoops Saloon, the I'm Not Tellin' gals of Parker's Bar & Grill, and Suzie's Floozies of Annie Fannie's Pub.
Just as wrestlers without masks are mere ruffians in Spandex, pool clubs without good names are just gals circling tables of green felt. And who wants to just circle the table?
Roma Sinn, at 75 the oldest player for We're Easy, practically sweats purple and pink, the team's colors. She plays with a hot-pink, graphite cue and a pink glove on her left hand. The glove keeps the cue sliding smoothly. Her accessories are packed in a purple case.
Sinn is one of a few women on the team who has made it to the national championship tournament in the past. She is a retired tavern owner, who now leases the bars she once operated. At one point in her pool-playing past, she played on four teams at the same time, working the cue for every team sponsored by one of her bars.
Her philosophy about what it takes to win is easy.
"Find the right team," Sinn said, "then just hit the damn ball."
Local journalism is essential.
Give directly to The Spokesman-Review's Northwest Passages community forums series -- which helps to offset the costs of several reporter and editor positions at the newspaper -- by using the easy options below. Gifts processed in this system are not tax deductible, but are predominately used to help meet the local financial requirements needed to receive national matching-grant funds.
Subscribe now to get breaking news alerts in your email inbox
Get breaking news delivered to your inbox as it happens.
---