News > Spokane
High court urged to put West recall on fast track
Wed., June 29, 2005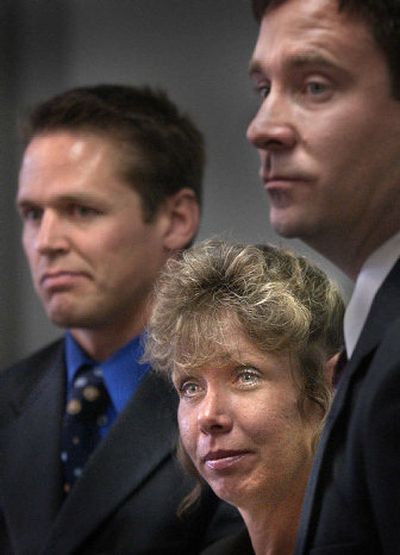 Recall sponsor Shannon Sullivan on Tuesday asked the Washington State Supreme Court for an emergency review of her misfeasance case against Mayor Jim West.
The Supreme Court, which begins its summer-long recess on Friday, now must decide whether it will hold an extraordinary session to hear a recall appeal filed on Monday by West, or wait until its scheduled Sept. 13 return.
A Superior Court judge on June 13 affirmed one of three recall charges brought by Sullivan: that West improperly offered an internship to a person he thought was an 18-year-old Ferris High School student.
State law gives the high court 30 days after the Superior Court decision to hear the appeal, although the court has the power to set its own schedule under its rules.
Sullivan appeared during a morning news conference with two Spokane lawyers who said they will provide free assistance to Sullivan, but that Sullivan still plans to argue her case before the state's high court.
The mayor laid out his defense in an opinion article published by The Spokesman-Review on Tuesday and later during a taped interview on KXLY-TV.
West said he is "certain the investigations now being conducted will show that I have done nothing that makes me unfit for public office." He said his appeal might result in a ballot synopsis he would consider more accurate.
Sullivan responded with bluntness.
"We all know he did it. We all know. He wouldn't even answer the question at his press conference. You know. Is it appropriate for a 54-year-old man to ask" a barely-of-age person for sex? Sullivan said.
"Come on. This is ridiculous. He is pompous. He needs to step down. I believe the charges are sufficient and so did (Superior Court Judge) Craig Matheson."
Sullivan said that "hundreds of people want to carry a petition" and that the effort could take less than three months even though the law gives her 180 days to gather 12,567 signatures of registered city voters to force the recall onto the ballot.
"I don't think the Supreme Court is going to be too happy that they have to come back and hear this," Sullivan said.
She also said she is concerned that a longer appeal period could dampen momentum for a petition drive.
Gov. Christine Gregoire, in an appearance in Spokane, expressed concern about the ongoing battle.
"We cannot afford to be preoccupied with a mayor's issue or a governor's issue," Gregoire said in an apparent reference to her narrow victory and legal challenge as well as the West case.
An investigation published by the newspaper beginning on May 5 showed that West offered gifts, favors and positions at City Hall to young men he met on a gay chat line on the Web.
One of the men was a computer expert hired by the newspaper to confirm that West was using the Internet to solicit dates. The computer expert posed as a high school senior and engaged in a series of lengthy and sexually explicit chats with West. Later, West sent e-mails to the expert offering him an internship in his office.
West on Tuesday said he never offered the position inappropriately to the expert, but only encouraged the person to apply.
In an April 9 chat, West told the expert, "Oh, you were going to get it," according to transcript of the Internet conversation.
Attorney Mark Hodgson said he was contacted by Sullivan and that he and attorney Brant Stevens agreed to help her develop her arguments. They also plan to submit their own friend-of-the-court brief.
They said the law requires an appeal hearing by July 13.
"It appears there is legal sufficiency to her arguments and she could use legal representation at this point in time," Hodgson said, but that Sullivan "wishes to take this all the way herself."
"Certainly it couldn't hurt for her to talk to a lawyer and actually get some advice," said Hodgson, a 2003 graduate of Gonzaga University Law School.
After the press conference, Sullivan wasted no time in filing her motion for "accelerated review" before the state's highest court, which sits in Olympia.
She filed the paperwork in Spokane County Superior Court, where her initial legal fight occurred earlier this month, and hand-delivered a copy to Robert Binger, the senior deputy prosecuting attorney for Spokane County.
"Then I faxed a copy to the Supreme Court and right now I'm in the process of serving the papers downtown at the office of Bill Etter," who is West's attorney, said the 37-year-old single mother who lives on the city's North Side.
In the eight-page document, Sullivan told the Supreme Court that she is acting as her own attorney "with limited resources and has, up to this point, dedicated herself, her time and her energy to this cause. However, these resources are limited."
Sullivan, who has no formal legal training and is currently unemployed, has worked as a florist and a painter and is raising her son. Her lawyers said they will help her form a nonprofit corporation to accept money for a recall petition drive.
"The People of Spokane, along with Ms. Sullivan, could be faced with an unjust situation if the Supreme Court cannot immediately determine the viability of the Spokane County Superior Court's decision," her motion said.
State law requires a recall petition to spell out "an identifiable, factual basis" for the voters to make a choice.
Sullivan told the Supreme Court the legal appeal must be heard immediately "in order to have the recall election held this fall."
A delay "could cause further financial and public relation problems for the city of Spokane and its voting populace," her motion said.
Sullivan told the court that it's the intent of state law, enacted by the Legislature, to have "recall matters decided as expeditiously as possible."
"This is an emergency matter for the voters of the city of Spokane," Sullivan said in her motion.
"Under the current 'strong mayor' policy, the people of the city of Spokane can only be heard through this recall petition," the motion said. "To delay this matter is to delay their voices."
"Finally, from a public policy standpoint," her motion concluded, "it is imperative to send a message loud and clear that there is accountability in government."
"This will prevent the city of Spokane voting populace from feeling alienated and disenfranchised," Sullivan said.
Also Tuesday, KXLY reported results of a poll that showed 60 percent of residents believe the mayor should resign and 45 percent would support a recall with 27 percent undecided.
Local journalism is essential.
Give directly to The Spokesman-Review's Northwest Passages community forums series -- which helps to offset the costs of several reporter and editor positions at the newspaper -- by using the easy options below. Gifts processed in this system are not tax deductible, but are predominately used to help meet the local financial requirements needed to receive national matching-grant funds.
Subscribe now to get breaking news alerts in your email inbox
Get breaking news delivered to your inbox as it happens.
---