News > Features
Oatmeal adapts to savory, sweet recipes
Wed., June 29, 2005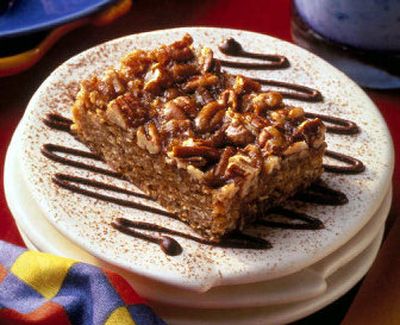 Whole grains often come into the conversation these days when healthful eating is increasingly the subject of debate, advice and shared information.
An easy way to include whole grains in the family diet is to find recipes that use them as an ingredient in versatile dishes with a wide appeal. The two here, one savory and one sweet, both use oatmeal to add taste and texture, as well as an element of wholesome nutrition. Each recipe takes less than an hour from start to finish.
A savory quick bread with Mediterranean flavoring, the Rosemary Olive Scones have a tender texture characteristic of a Southern biscuit, combined with a touch of heartiness from the oats. Eat them as a snack, or at a meal as accompaniment to another dish.
The Maple Pecan Oatmeal Bars are an appealing treat, lunchbox item or dessert to bake at any season, even when it's not maple sugaring time. The maple syrup flavors both the moist and chewy oatmeal cookie base and the sweet pecan topping.
Rosemary Olive Scones
Recipe developed for the Associated Press by Quaker Oats Co.
1 1/2 cups all-purpose flour
1 cup oats (quick or old-fashioned, uncooked)
1 tablespoon granulated sugar
2 teaspoons baking powder
1 1/2 teaspoons chopped fresh rosemary or 1/2 teaspoon dried rosemary, crushed
3/4 teaspoon black pepper
1/2 teaspoon salt (optional)
8 tablespoons butter or margarine, chilled
1/3 cup half and half or milk
2 eggs, lightly beaten
1/3 cup finely chopped onion
1/4 cup kalamata or ripe olives, pitted and coarsely chopped
Heat oven to 425 degrees. Lightly grease cookie sheet.
In large bowl, combine flour, oats, sugar, baking powder, rosemary, pepper and salt. Cut in butter with pastry blender or 2 knives until mixture resembles coarse crumbs. Combine milk, eggs, onion and olives; add to dry ingredients. Mix just until dry ingredients are moistened. Turn out onto lightly floured surface; knead 8 to 10 times. Pat dough into 8-inch circle about 3/4 -inch thick. Cut into 8 wedges; place wedges on cookie sheet. Bake 18 to 20 minutes or until light golden brown. Serve warm.
Yield: 8 scones
Nutrition information per serving using 1/3 cup milk ( 1/8 of recipe): 250 calories, 14 grams fat (8 grams saturated, 50 percent fat calories) 6 grams protein, 26 grams carbohydrate, 80 milligrams cholesterol, 2 grams dietary fiber, 260 milligrams sodium.
Maple Pecan Oatmeal Bars
Recipe developed for the Associated Press by Quaker Oats Co.
2 1/4 cups oats (quick or old-fashioned, uncooked)
2 cups all-purpose flour
1 1/2 cups firmly packed brown sugar
3/4 cup shredded coconut (optional)
1 teaspoon baking soda
1 teaspoon salt (optional)
12 tablespoons (1 1/2 sticks) margarine or butter, melted
1/3 cup maple syrup, or maple-flavored pancake syrup
1 egg, lightly beaten
1 teaspoon vanilla
For topping:
1 1/2 cups chopped pecans (about 6 ounces)
1/4 cup firmly packed brown sugar
1/3 cup maple syrup, or maple-flavored pancake syrup
Heat oven to 350 degrees. Lightly spray 13-by-9-inch baking pan with cooking spray.
For bars, combine oats, flour, sugar, coconut (if desired), baking soda and salt (if desired) in large bowl; mix well. In small bowl, combine butter, syrup, egg and vanilla; mix well. Add to oat mixture; mix well (dough will be stiff). Press dough evenly onto bottom of pan.
For topping, combine pecans and sugar in small bowl; mix well. Sprinkle evenly over dough, pressing down lightly. Drizzle evenly with syrup.
Bake 35 to 38 minutes or until edges are set but center is soft. (Do not overbake.) Cool completely in pan on wire rack. Cut into bars. Store tightly covered.
Yield: 32 bars
Nutrition information per serving ( 1/32 of recipe): 170 calories, 8 grams fat (1 gram saturated, 42 percent fat calories), 2 grams protein, 24 grams carbohydrate, 15 milligrams cholesterol, 1 gram dietary fiber, 100 milligrams sodium.
Local journalism is essential.
Give directly to The Spokesman-Review's Northwest Passages community forums series -- which helps to offset the costs of several reporter and editor positions at the newspaper -- by using the easy options below. Gifts processed in this system are not tax deductible, but are predominately used to help meet the local financial requirements needed to receive national matching-grant funds.
Subscribe now to get breaking news alerts in your email inbox
Get breaking news delivered to your inbox as it happens.
---