Sports
Surging A's steamroll over Mariners, 8-1
Wed., June 29, 2005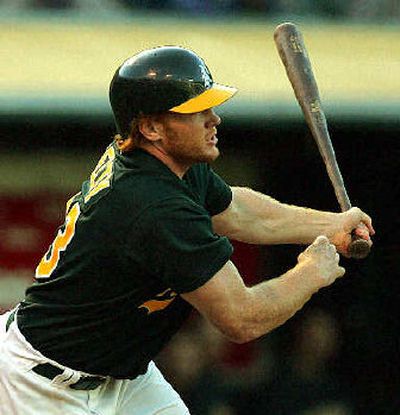 OAKLAND, Calif. – Marco Scutaro homered and Barry Zito earned the ninth straight win by an Oakland starter, leading the Athletics over the Seattle Mariners 8-1 Tuesday night for their season-high fifth consecutive victory.
Bobby Kielty hit a pair of two-run doubles for the surging A's, who won their ninth in 10 games and 12th in 15 to improve to 19-8 in their last 27. Eric Chavez had three singles and drove in two runs.
Ichiro Suzuki, who had three hits, homered to center leading off the game, his sixth of the season and third leadoff homer this year. It was his 15th career leadoff home run, but last-place Seattle still lost its third straight and fourth in five games and got a subpar outing from 42-year-old Jamie Moyer.
Zito (4-8), who had lost four of his last six decisions, allowed baserunners in every inning but the first, yet still was efficient. He is 8-0 against Seattle in the Coliseum and helped extend an impressive run by the A's young rotation. The starters are 9-0 in the last 10 games, with Zito getting a no-decision last Wednesday in a 5-4, 12-inning loss at Seattle in which he allowed just one run and four hits in 7 1/3 innings.
This time, he gave up one run and six hits in seven innings, struck out two and walked two.
Oakland moved past the Mariners into third place in the division last week and had momentum coming off its first sweep of San Francisco in a three-game series.Moyer (6-3) struggled after pitching 7 1/3 strong innings in his no-decision against Zito last week.
The soft-tossing lefty lost for the first time since a 3-1 defeat at Baltimore on May 25. He needed 37 pitches to get out of the first and reached 3-2 counts against three straight batters.
Both Kielty doubles – in the first and fourth – came on a full count. Moyer allowed three two-out singles and the double in the fourth and threw a wild pitch that allowed a run to score. He gave way to Shigetoshi Hasegawa after 3 2/3 innings, already having thrown 102 pitches.
Moyer allowed seven runs, eight hits and four walks. Hasegawa got a 1-2-3 inning in the fifth, the first for either team.
Local journalism is essential.
Give directly to The Spokesman-Review's Northwest Passages community forums series -- which helps to offset the costs of several reporter and editor positions at the newspaper -- by using the easy options below. Gifts processed in this system are not tax deductible, but are predominately used to help meet the local financial requirements needed to receive national matching-grant funds.
Subscribe to the sports newsletter
Get the day's top sports headlines and breaking news delivered to your inbox by subscribing here.
---