Sports
Daly back to grip it and rip it at Western Open
Thu., June 30, 2005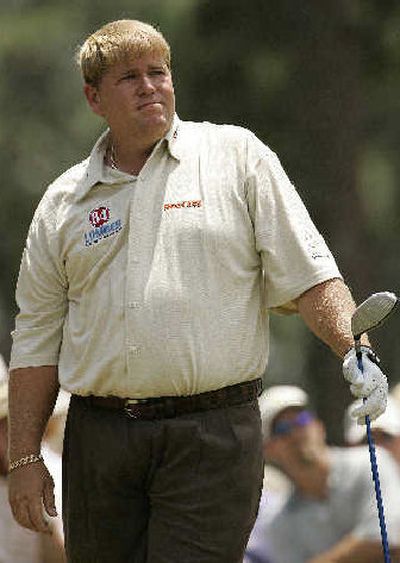 LEMONT, Ill. – Whether he's on the golf course or pulling his big motor home up to a promotional appearance, someone always wants to shake John Daly's hand.
Those booming drives and two major titles aside, fans look at him and see themselves. He struggles with personal problems just like they do, and he doesn't exactly have a typical athlete's physique.
"They just can't believe an overweight, out-of-shape guy like me can walk 18 holes," Daly said with a laugh after his pro-am round at the Western Open on Wednesday.
Daly has been the people's favorite since 1991, when, as the ninth alternate, he drove through the night to play the PGA Championship at Crooked Stick and wound up winning the whole thing. His drinking problems and marital woes only endeared him more to fans, all of whom know someone – a neighbor, friend, maybe even a brother or sister – just like he.
Back at Cog Hill Golf Club for the first time since 1996, Daly was trailed by some of the biggest galleries of the day.
"The fans have been through thick and thin with me," he said, "and it's nice to play decent golf for them."
Daly has quietly resurrected his career the last two seasons, winning last year's Buick Invitational for his first PGA Tour victory since the 1995 British Open. He had four other top-10 finishes and ended the year ranked 21st, his best showing since 1991.
This year, he lost the Shell Houston Open in a playoff with Vijay Singh, the second-best player in the world. He also tied for 17th at both the Mercedes Championships and the Match Play Championship, and is ranked 50th.
But he's also missed four cuts. At Bay Hill, he shot an 80 in the final round thanks to an 11 on the 18th hole. His best finish in the last five tournaments is a tie for 48th at the Byron Nelson, where he shot 64-73-71-69.
"You never know what … I'm going to do, so I'm not putting myself as a favorite," Daly said when asked who to watch this week. "I'm just going to be here and try my best, and whatever happens, happens."
Daly has only played the Western five times, with his best finish a tie for 15th in 1991. He missed the cut the next two years, then tied for 47th in 1996, his last appearance here.
"Usually this falls on an overseas trip or a week that I'm with my daughter," he said. "I had them last week … so it just kind of fit in this year."
The course is longer than Daly remembered it, and the long, patchy rough will wreak havoc on anyone who strays from the fairway. Asked if he's been hitting it straight, Daly grinned.
"Sometimes I do," he drawled, "sometimes I don't."
While Daly might be the sentimental favorite, he's hardly the only big name in the field. Singh and Tiger Woods, who have been trading the No. 1 ranking since last September, are both here. So are former Masters champ Mike Weir, 2003 U.S. Open champion Jim Furyk and hometown favorite Luke Donald.
Woods would seem to be the player to beat. He's already won three times this year, including his fourth Masters title, and was a runner-up at the U.S. Open. He's a three-time champion at the Western, and hasn't finished lower than 23rd since he turned pro.
But Singh has also won three times this year, and has 11 top-10 finishes.
Local journalism is essential.
Give directly to The Spokesman-Review's Northwest Passages community forums series -- which helps to offset the costs of several reporter and editor positions at the newspaper -- by using the easy options below. Gifts processed in this system are not tax deductible, but are predominately used to help meet the local financial requirements needed to receive national matching-grant funds.
Subscribe to the sports newsletter
Get the day's top sports headlines and breaking news delivered to your inbox by subscribing here.
---