News > Nation/World
Former hostages say president-elect was captor
Thu., June 30, 2005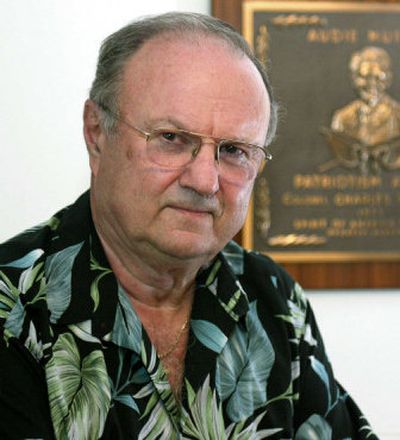 SAVANNAH, Ga. – A quarter-century after they were taken captive in Iran, five former American hostages say they got an unexpected reminder of their 444-day ordeal in the bearded face of Iran's new president-elect.
Watching coverage of Iran's presidential election on television dredged up 25-year-old memories that prompted four of the former hostages to exchange e-mails. And those four realized they shared the same conclusion – the firm belief that President-elect Mahmoud Ahmadinejad had been one of their Iranian captors.
"This is the guy. There's no question about it," said former hostage Chuck Scott, a retired Army colonel who lives in Jonesboro, Ga. "You could make him a blond and shave his whiskers, put him in a zoot suit and I'd still spot him."
Scott and former hostages David Roeder, William J. Daugherty and Don A. Sharer said Wednesday they have no doubt Ahmadinejad, 49, was one of the hostage-takers. A fifth ex-hostage, Kevin Hermening, said he reached the same conclusion after looking at photos.
Not everyone agrees. Former hostage and retired Air Force Col. Thomas E. Schaefer said he doesn't recognize Ahmadinejad, by face or name, as one of his captors.
Several former students among the hostage-takers also said Ahmadinejad did not participate. And a close aide to Ahmadinejad denied the president-elect took part in the seizure of the embassy or in holding Americans hostage.
The United States broke off ties with Iran after militant students seized the U.S. Embassy in Tehran on Nov. 4, 1979, and held 52 Americans hostage for 444 days to protest Washington's refusal to hand over Shah Mohammad Reza Pahlavi for trial.
The aide, Meisan Rowhani, said from Tehran that Ahmadinejad was asked during recent private meetings if he had a role in the hostage taking. Rowhani said he replied, "No. I believed that if we do that the world will swallow us."
Scott and Roeder both said they were sure Ahmadinejad was present while they were interrogated.
"I can absolutely guarantee you he was not only one of the hostage-takers, he was present at my personal interrogation," Roeder said in an interview from his home in Pinehurst, N.C.
Daugherty, who worked for the CIA in Iran and now lives in Savannah, said a man he's convinced was Ahmadinejad was among a group of ringleaders escorting a Vatican representative during a visit in the early days of the hostage crisis.
"It's impossible to forget a guy like that," Daugherty said. "Clearly the way he acted, the fact he gave orders, that he was older, most certainly he was one of the ringleaders."
Ahmadinejad, the hard-line mayor of Tehran, was declared winner Wednesday of Iran's presidential runoff election, defeating one of Iran's best-known statesmen, Ayatollah Hashemi Rafsanjani. The stunning upset put conservatives firmly in control of all branches of power in the Islamic Republic of Iran.
Scott, Roeder, Daugherty and Sharer said they have been exchanging e-mails since seeing Ahmadinejad emerge as a serious contender in Iran's elections.
"He was extremely cruel," said Sharer, of Bedford, Ind. "He's one of the hard-liners. So that tells you where their government's going to stand for the next four to five years."
After seeing recent newspaper photos, Sharer said, "I don't have any doubts" that Ahmadinejad was a hostage-taker.
Schaefer, of Peoria, Ariz., didn't recognize Ahmadinejad and said allegations that he had been a hostage-taker don't concern him as much as knowing hard-liners are back in power in Iran.
Scott gave a detailed account of the man he recalled as Ahmadinejad, saying he appeared to be a security chief among the hostage-takers.
"He kind of stayed in the background most of the time," Scott said. "But he was in on some of the interrogations. And he was in on my interrogation at the time they were working me over."
Scott also recalled an incident while he was held in the Evin prison in north Tehran in the summer of 1980.
One of the guards, whom Scott called Akbar, would sometimes let Scott and Sharer out to walk the narrow, 20-foot hallway outside their cells, he said. One day, Scott said, the man he believes was Ahmadinejad saw them walking and chastised the guard.
Local journalism is essential.
Give directly to The Spokesman-Review's Northwest Passages community forums series -- which helps to offset the costs of several reporter and editor positions at the newspaper -- by using the easy options below. Gifts processed in this system are not tax deductible, but are predominately used to help meet the local financial requirements needed to receive national matching-grant funds.
Subscribe now to get breaking news alerts in your email inbox
Get breaking news delivered to your inbox as it happens.
---