News > Spokane
Noted resort plus 40 acres near Glacier Park for sale
Thu., June 30, 2005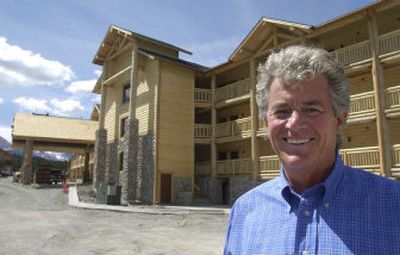 HELENA – A resort that stands next to Glacier National Park, and once hosted actor Ronald Reagan, is for sale along with 40 acres of land that could be developed.
Plans to sell the St. Mary Lodge and Resort, just outside the park's northeastern gate, were announced Wednesday. The business is owned by Hugh Black St. Mary Enterprises Inc., which includes the 102-year-old widow and five surviving children of Hugh Black, who started the resort in the 1920s.
"We all have mixed feelings" about selling, daughter Sally Black Welder of Kalispell said Wednesday. "But some (in the family) are at a different point in their lives and would rather invest in something else."
The asking price was not disclosed but the property is expected to bring at least $10 million and likely will go on the market next week, said Michael Cahill at the Denver office of HREC Investment Advisors, a brokerage.
The lodge and resort, marketed as a base for trips into Glacier, include 117 guest rooms, restaurants, a grocery store, a gas station and retail shops. Reagan and actress Barbara Stanwyck stayed at the resort during the filming of "Cattle Queen of Montana" soon after World War II.
Seven years after becoming a Glacier ranger in 1926, Black bought 86 acres next to the park. He constructed a small building that served as a gas station and grocery store, then built lodging. Recent additions include a hotel built in 2001.
The developed and vacant land total 86 acres. Asked about potential development of the 40 acres, Brace Hayden of the National Park Service said the agency has no authority over land outside Glacier's boundaries.
The chief spokesman for St. Mary Lodge and Resort is Roscoe Black, one of the owners who also works there. He has been outspoken on issues such as reconstruction of Going to the Sun Road in the park and the work's effect on tourism.
"We're hoping that Roscoe is one of the bidders for the hotel," Cahill said. Black did not immediately return a call seeking comment Wednesday.
The dominant company in Glacier's hospitality industry is Glacier Park Inc., which operates about half a dozen hotels in and near the park. Chairman Joseph Fassler said the company "would be a natural prospective buyer" of the St. Mary property and wants to learn more about it.
Cahill said HREC Investment Advisors soon will send about 12,000 North American hotel investors announcements about the property, and will advertise in magazines aimed at "investors who like to buy premier investment properties."
Local journalism is essential.
Give directly to The Spokesman-Review's Northwest Passages community forums series -- which helps to offset the costs of several reporter and editor positions at the newspaper -- by using the easy options below. Gifts processed in this system are not tax deductible, but are predominately used to help meet the local financial requirements needed to receive national matching-grant funds.
Subscribe now to get breaking news alerts in your email inbox
Get breaking news delivered to your inbox as it happens.
---