News > Spokane
Plaza worth pennies on dollar
Thu., June 30, 2005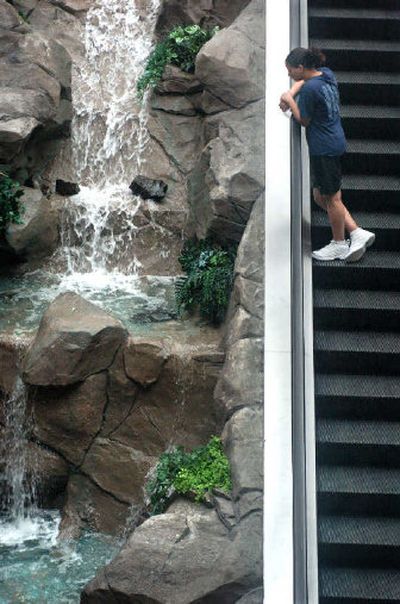 With its cascading interior waterfall, marble stairways and leaping bronze cougar statue, Spokane Transit Authority's downtown bus Plaza cost $20 million to build.
But it would barely fetch $4 million today, according to a commercial appraisal released Wednesday.
"This is truly a special-purpose property," said appraiser Scot Auble of Auble, Jolicoeur and Gentry. "Unless someone buys it for the same purpose, you typically sell it for pennies on the dollar because of substantial conversion costs."
Auble presented his findings Wednesday to a task force of STA board members, business people and riders, who were interested in exploring options for the Plaza.
He said the Plaza is worth $3.25 million as a vacant building or a little more than $4 million if STA were to sell it and lease the space back.
The configuration of the 80,000 square-foot building – wide open spaces that can't easily be divided into offices or shops – is one of the biggest issues, he said, adding that the quality of the construction and upkeep is top-notch.
The Plaza originally was planned to be a multistory building, with bus and public spaces on the first two floors and offices above. But STA didn't have the money to build such a structure and settled for the existing configuration.
A taller building would be more marketable now, Auble said.
The Plaza has been praised by riders and panned by critics.
Riders like having a place other than the sidewalk to wait for their ride, but others said it's a symbol of STA excess.
They say STA wasted too much money on a building that features an indoor fountain and marble. The project was plagued by cost overruns when it was built in 1995.
STA spends about $1 million a year operating the Plaza.
Some downtown business owners have also criticized the Plaza as a place where ne'er-do-wells hang out.
Auble downplayed complaints that the Plaza is detrimental to downtown. He pointed out that a number of financial institutions located their operations next to the Plaza after it was built.
"Actions speak louder than words," he said.
But in the midst of planning for possible service cuts, STA board members did some soul searching last year about the Plaza's value to STA's operations.
They ordered up the $15,000 appraisal of the building to see how much it's worth and if it could be better used for another purpose.
"Everyone says you've got this underground rumbling about the Plaza … Now you've got everything out in the open," said board member and Spokane Valley City Councilman Dick Denenny of the appraisal.
People shouldn't read too much into it, however, said board member and Spokane City Councilman Al French.
"This is not an appraisal for purposes of putting the STA Plaza on sale next week. It's a planning tool," French said.
If the STA Board did decide to sell the Plaza and move its bus hub out of the downtown core, it would cost almost $17.5 million to build a new bus station not including buying the land, said Auble. And that's without any bells and whistles.
That leaves a $14 million gap between what STA could earn selling the Plaza and what it would cost to replace it somewhere else.
"For $14 million is it worth the effort?" asked French.
"No," answered STA board member and Medical Lake City Councilwoman Brenda Redell.
And there are other reasons to stay downtown, said citizen member of the task force Ann Campeau.
"If you move it too far out of the downtown core, it won't be as convenient for all the people in the office buildings to run out and catch the bus," Campeau said.
Auble said that STA could increase revenue from the Plaza without selling it by leasing vacant space out to nonprofit groups that serve STA bus riders.
STA could also make about $38,000 a year by renting out the 32 parking spaces in the Plaza's basement.
Spokane County Commissioner and STA Board Member Mark Richard asked Auble if he had considered renting Plaza space to governmental agencies like the Washington Department of Social and Health Services.
"I thought the nonprofits are a better answer, a more palatable answer to the (surrounding) business community," Auble replied.
The task force asked Auble to present his findings to the full STA board of directors next month, where they could discuss the issues in a public forum.
The board is unlikely to make any decisions about the Plaza until this fall.
Local journalism is essential.
Give directly to The Spokesman-Review's Northwest Passages community forums series -- which helps to offset the costs of several reporter and editor positions at the newspaper -- by using the easy options below. Gifts processed in this system are not tax deductible, but are predominately used to help meet the local financial requirements needed to receive national matching-grant funds.
Subscribe now to get breaking news alerts in your email inbox
Get breaking news delivered to your inbox as it happens.
---