News > Home
Rose a living Civil War-era relic
Thu., June 30, 2005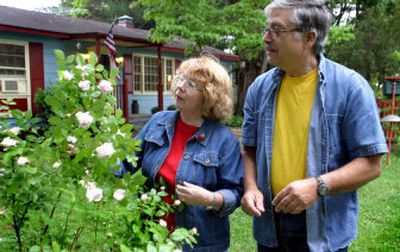 WASHINGTON – Even when it is fully open, the cabbage rose keeps its secrets, refusing to unveil a tiny yellow center that is heavily blanketed by layers of translucent, pale pink petals. The double flowers, heavy for their size, bend downward as though in perpetual mourning.
It is a living relic of the Civil War-era.
Many a soldier left behind such a rosebush in his mother's garden when he marched off to defend the Confederacy or the Union. Along the way, he most likely encountered the shrubs of large and heavy pink blossoms on farms and in small towns in states stretching from Maine to Georgia. An ancient cultivated rose (Rosa centifolia) from the Caucasus, its cuttings were brought to the new country and passed from neighbor to neighbor and mother to daughter at a time when there were no gray or blue states.
Also known as the Hundred-Petalled Rose, it was cherished for its early bloom and ease of propagation. Less popular now, it most often can be found at nurseries specializing in heirloom plants.
Rosa centifolia is not a good vase flower, and it tends to fade quickly once hot weather arrives, but such considerations do not deter Lucy Emily Dubraque and her husband, Nabril, of Manassas, Va., from carefully cultivating a single large bush in their front yard.
For Lucy Dubraque, it is a living connection to the Civil War, and to her great-grandmother Lucy Virginia Guerrant of Arvonia, Va., and her great-grandmother's husband, Peter, who was a private in the Army of Northern Virginia with a unit raised in Powhatan County.
"That rose is a part of history," Dubraque said recently as she showed off the shrub, which is part of an elaborate landscape of brick pathways, picket fences, other flowering plants and a large fish pond. "It's a country person's rose."
Dubraque traces her family to French immigrants who fought in the American Revolution. Her cabbage rose dates back at least to the old Guerrant homestead in Arvonia, near Farmville.
From there, a cutting was passed to Lucy Guerrant's daughter, Lucy Emily, who married dentist Charles William Anderson, a son of a Confederate soldier. The Andersons settled in the same town, taking with them the cutting of the old rosebush.
In turn, their daughter Lucy Emily, who was Dubraque's mother, married Robert Bernhard Murphy and moved to Alexandria, Va. Again, a cutting of the rosebush went along.
Dubraque's front-yard shrub is a cutting from her mother's cabbage rose bush.
The story of the rosebush and how it moved around Virginia reflects a tradition of passing something special on to the next generation at a time when material possessions were few, but a familiar blooming plant could carry a feeling of home to a new place. Americans leaving the East Coast for the new frontier of Ohio and beyond often took a cutting of a favorite rose or lilac bush with them.
Old-fashioned roses, such as the cabbage rose, can still be found growing near abandoned houses and in cemeteries. Old roses have few of the qualities of modern roses, not the shape or the color or the long blooming period. What they do have is a sweet perfume and a connection to the past.
Habil Dubraque laments the difficulty in finding enthusiastic recipients for cuttings of their rosebush. Each year, they start a few new ones in clay pots.
"People don't ask for them," he said, shrugging his shoulders. "No one wants them."
I wanted one, and it has joined my small garden dedicated to re-creating what soldiers saw as they trooped along the Valley Pike, now Route 11, in the Shenandoah Valley.
The 2-year-old cutting just produced two roses, cream-colored on the outside and soft pink inside, and wonderfully fragrant.
Local journalism is essential.
Give directly to The Spokesman-Review's Northwest Passages community forums series -- which helps to offset the costs of several reporter and editor positions at the newspaper -- by using the easy options below. Gifts processed in this system are not tax deductible, but are predominately used to help meet the local financial requirements needed to receive national matching-grant funds.
Subscribe now to get breaking news alerts in your email inbox
Get breaking news delivered to your inbox as it happens.
---