Sports
Sorenstam looks to get back to her typical winning ways
Thu., June 30, 2005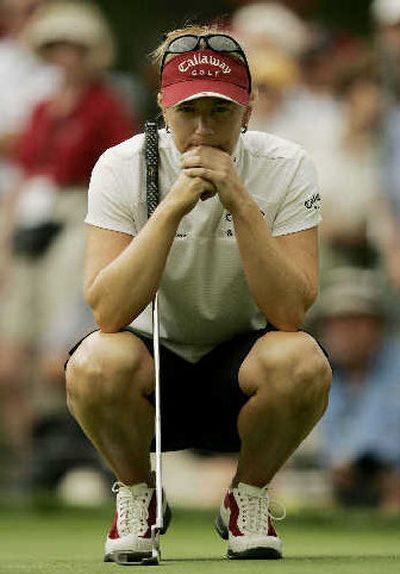 GLADSTONE, N.J. – Annika Sorenstam is ready for a new challenge after her disappointing finish in the U.S. Women's Open.
Her Grand Slam bid derailed last week at Cherry Hills, the Swedish star will open the inaugural HSBC Women's World Match Play Championship today against former Solheim Cup teammate Joanne Morley.
"Match play is very, very different than stroke play," Sorenstam said Wednesday. "I think it's fun to have a different format. It's a little bit more drama because anything can happen and every hole is a different match."
Last week in Colorado, she finished over par in a 72-hole event for the first time in four years, tying for 23rd at 12 over – nine strokes behind winner Birdie Kim.
"I've analyzed last week quite a bit, trying to figure out what happened and pretty much what really didn't happen," Sorenstam said. "I just came to the conclusion that I tried, but things just didn't add up. I was pretty happy with the way I hit the ball and pretty happy the way I was putting. I just wasn't happy with where I ended up."
Sorenstam has six victories – including major wins in the Nabisco and LPGA Championship – in nine starts this year to push her LPGA Tour total to 62. She will have to win six matches – four on the final two days – on Hamilton Farm's hilly, water-logged Highlands Course to take the $500,000 winner's check.
"Obviously, endurance is going to play a role, there's no doubt about it," Sorenstam said. "It's a hilly course and you've got to be in good shape, especially if the temperatures are up there. If we get the humidity, it could be quite tough. Having said that, I'm glad that I've been working out the last few years."
The Hall of Famer played her pro-am round Wednesday morning before heavy rain drenched the already soggy course 45 miles west of New York City.
"Today, I was playing very aggressive," Sorenstam said. "The fairways are quite wide and it's also very wet. You don't get a lot of roll. You hit it somewhere and know it's going to stop there."
Cristie Kerr, second behind Sorenstam among the 60 qualifiers from the money list in the 64-player field, will face Lindsey Wright. Third-seeded Lorena Ochoa will open against Laurie Rinker, and No. 4 Paula Creamer will play Maria Hjorth.
Local journalism is essential.
Give directly to The Spokesman-Review's Northwest Passages community forums series -- which helps to offset the costs of several reporter and editor positions at the newspaper -- by using the easy options below. Gifts processed in this system are not tax deductible, but are predominately used to help meet the local financial requirements needed to receive national matching-grant funds.
Subscribe to the sports newsletter
Get the day's top sports headlines and breaking news delivered to your inbox by subscribing here.
---