News > Idaho
Tumble Stone offers display of rock work
Thu., June 30, 2005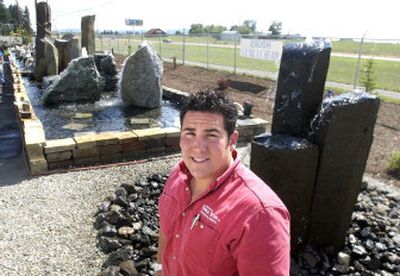 The construction boom in North Idaho has benefited the building stone business in a few ways. First and most obviously, more projects mean more business. Second, since concrete is difficult to obtain, paving stones are an alternative.
That's how the Rosdahls found Tumble Stone, which just opened its "showroom" at 13131 Government Way (almost where it merges with Highway 95 north of Hayden). We needed to replace our deteriorated wooden steps and porch floor and connect them with a paved "apron." However, we couldn't find a concrete-specialty contractor because they're all too busy with bigger projects. And we discovered concrete is almost impossible to get, especially for little jobs.
So we went looking for the desired products in paving stones. We searched many businesses, including Tumble Stone, which a colleague suggested.
What a fascinating place! It has an amazing variety of rock, both natural and fabricated, for building projects and outdoor creations. These include water features, ponds, benches, ledges, walls, walkways, stairs and planters. Many are like sculptures, and many are from basalt columns such as those along Interstate 90 west of Spokane.
The two-acre outdoor showroom includes a large pond with 80 to 100 stone fountains. The company's work area remains at its 7-year-old location at 1375 E. Honeysuckle, Hayden.
Originally from Spokane, owner John Marjamaa had the M&M Dock business for 20 years. Tumble Stone now has 18 employees and is open 8 a.m. to 5 p.m. weekdays and 9 a.m. to 4 p.m. weekends. Phone 762-3206. The Web site is www.tumblestone.com.
Shabby chic in historic house
Using the term "shabby chic" to describe an eclectic array of household decorative items, furniture and gifts, Mignon's Cottage has opened in what is believed to be the oldest house in Post Falls.
Owner Mignon Whitt restored the large house, built circa 1911, at 1301 N. Spokane St. and has filled the main level with hundreds of special items.
The inventory includes antiques, European furniture, stained glass, lamps, mirrors, ironwork, clocks, soaps, hand-made jewelry, candles, tea and coffee.
Customers can relax with espressos, coffee and tea on a patio, she said. A "guy section" is under creation inside.
Originally from San Diego, Whitt came to North Idaho in 1990 after discovering the area during a vacation. Friends and family help with the business; its hours are 10 a.m. to 6 p.m. Monday through Saturday. Phone 777-9002.
Buildings rise near Sunset
Two multi-tenant commercial buildings are under construction near the empty Sunset Bowl facility between Government Way and Highway 95.
Both are along Cedarblom Street, which connects Sunset Avenue to the rear of the Safeway store on Neider Avenue.
Owners Chris and Linda Gibbs are building the first of three planned mini-malls in 1.4 acres on the southeast corner on Sunset and Cedarblom. The 9,185-square-foot building will contain three suites, with units of 1,691 and 3,098 square feet available for lease.
The third space will house the Gibbs' Originals Digital Color business, which will move from 215 Kathleen Ave. With six employees, the large-format printing business makes signs, banners and posters.
Originally from Salida, Colo., the Gibbses moved here in 1991 after enjoying North Idaho during a vacation. He is with Lakeshore Realty. The central location is the prime asset of the project, which should be done in October, he said. Phone 659-7926.
On the southwest side of the old Sunset Bowl, James Dixon and Toni Beck are building a 9,200-square-foot, five-unit facility. One 2,200-square-foot unit will house her Beck Contracting company. He owns Creative Custom Homes construction company.
The four units still available should be completed in late August and are 2,200 and 1,530 square feet. They're ideal for businesses that need a small office area and a storage or work area, he said. Phone 964-4904.
Tidbits
•North Idaho's third Ironman event Sunday was terrific. Hats off to the thousands of volunteers and nearly 2,000 participants. Too bad so many people and pooches wandered into the biking/running tracks. One of the more obvious offenders was a tan Subaru with a sign identifying it as a support vehicle.
•With the Tidyman's building now empty off Highway 95, the co-tenant Global Credit Union this weekend is moving temporarily into the space between Tuesday Mornings and Fred's Appliance in the old Rosauers building. Later it'll move to a new building across from Costco.
Local journalism is essential.
Give directly to The Spokesman-Review's Northwest Passages community forums series -- which helps to offset the costs of several reporter and editor positions at the newspaper -- by using the easy options below. Gifts processed in this system are not tax deductible, but are predominately used to help meet the local financial requirements needed to receive national matching-grant funds.
Subscribe now to get breaking news alerts in your email inbox
Get breaking news delivered to your inbox as it happens.
---