Sports
Bulldogs wrap it up in style
Tue., March 1, 2005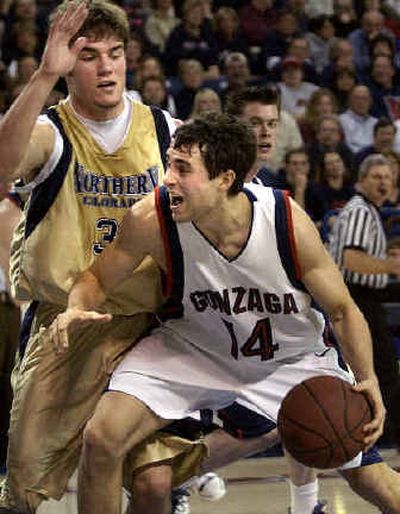 Ronny Turiaf went into his final home game as a Gonzaga Bulldog hoping he wouldn't get too emotional.
"I don't want to pass out," he said prior to Monday's non-conference Senior Night matchup against Northern Colorado.
Not to worry.
After a minor meltdown during pre-game ceremonies honoring fellow senior Brian Michaelson and himself, Turiaf used his warm-up jersey to wipe away the tears and then went out and torched Northern Colorado with 22 points, eight rebounds and two blocked shots as the Bulldogs rolled to an easy 87-60 win.
The victory was the 10th in a row for the 12th-ranked Zags (23-4), who enter this week's West Coast Conference Tournament as the No. 1 seed, having earned a bye into next Sunday's semifinals. And it capped a perfect 13-0 record in the Bulldogs' first season in the 6,000-seat McCarthey Athletic Center, which was packed again for this special night.
In addition, it proved to be a fitting way for those in attendance to say goodbye to Turiaf and Michaelson, a former walk-on, who played a career-high 27 minutes and scored four points.
"It was a great sendoff for them," GU coach Mark Few said. "I don't think we could have scripted it any better for two guys who have meant so much to this program."
Few admitted he worried about how the 6-foot-10 Turiaf might approach his final home game, especially with his mother and sister in the stands after having made the long trip from his hometown of Le Robert, Martinique.
"It was very emotional, and he's an emotional guy," Few explained. "But I thought our guys did a really good job of staying focused, sticking with it and executing our plan."
The Bulldogs, who also got 17 points from junior center J.P. Batista and 16 points from sophomore reserve Sean Mallon, raced to an early 38-14 lead over the cold-shooting Bears (8-20), who are in only their second season as a Division I program. GU led 50-19 at halftime, thanks, in part, to a Northern Colorado field goal drought that spanned just over 10 minutes, and was leading 69-31 when Few started clearing his bench with more than 8 minutes left in the game.
Michaelson, who had played only 11 minutes in GU's first 26 games, admitted he was a little overwhelmed by the excitement of Senior Night and the fact he was on the floor so long.
"The pressure got to me a little bit," admitted the 6-4 small forward from Portland, who was greeted by a loud round of cheers every time he touched the ball. "Not just mentally, but physically, as well. That wasn't the practice atmosphere I'm used to out there.
"But to be out there and spend so much time playing with (Ronny) … it was something so special. It was an all-around great night. I couldn't have asked for anything better."
Michaelson played 15 minutes in the first half, but didn't take a shot. He finished 1 for 3 from the field, with four assists and a couple of steals – much to the delight of Turiaf, who told Few before the game he wanted to sit and watch his last home game from the bench rather than play.
"I told him that wasn't going to happen," Few said.
Turiaf, who was named the WCC Player of the Year earlier in the day, made 10 of 13 field goal attempts and two of three free throws before leaving to a standing ovation and chants of "We love Ronny" with 6:46 left in the game.
Michaelson left to a similar ovation five minutes later.
"That's why I came back this year," said Turiaf, who decided not to declare for last year's NBA draft in order to play one last season as a Zag. "I didn't want to leave (Michaelson) by himself to walk out alone on Senior Night.
"He might have passed out."
Few said he plans to give his team today off before resuming preparations for postseason play.
"We're going to use the time to make ourselves better for the NCAA Tournament," he said.
Local journalism is essential.
Give directly to The Spokesman-Review's Northwest Passages community forums series -- which helps to offset the costs of several reporter and editor positions at the newspaper -- by using the easy options below. Gifts processed in this system are not tax deductible, but are predominately used to help meet the local financial requirements needed to receive national matching-grant funds.
Subscribe to the sports newsletter
Get the day's top sports headlines and breaking news delivered to your inbox by subscribing here.
---