News > Idaho
Toddler's mother defends lies to police
Thu., March 3, 2005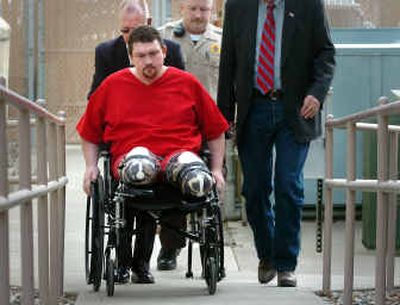 The mother of 15-month-old Brandon McAdoo, who died of suspected child abuse in January, explained in court Wednesday why she initially lied to police about how her baby was injured.
Angela Cowles told emergency workers and sheriff's deputies on Jan. 14 that she slipped on the ice and fell on top of Brandon. Later, she changed her story, saying that two days earlier the baby's father, Barry Lane McAdoo, 30, told her he had injured the child when trying to revive him after he choked on a piece of plastic bag.
"I was afraid if you guys didn't catch Barry I wouldn't live long enough to raise my other child," she told the court.
Following the testimony of Cowles and other witnesses, Magistrate Judge Robert Burton found probable cause to bind McAdoo over to district court on the charge of first-degree murder. He returned to the Kootenai County Jail, where he's being held without bail until his arraignment and trial.
McAdoo also told two different stories to Kootenai County sheriff's Detective Dan Mattos, the detective testified at the preliminary hearing Wednesday.
His first version was similar to what he allegedly told Cowles, that while he was baby-sitting Brandon on Jan. 12, Brandon choked on a piece of plastic grocery bag. McAdoo couldn't remove the plastic with his fingers, he told Mattos, but after Brandon stopped breathing, he was able to use a pair of scissors to pull the plastic out of this mouth, Mattos testified.
To get Brandon to start breathing again, he told Mattos, he threw Brandon up into the air, and Brandon fell on his back on the floor and started breathing again.
Mattos said he confronted McAdoo later, saying he didn't believe his story because it didn't coincide with the results of the autopsy on Brandon. "I basically told him that I knew he wasn't telling the truth."
Mattos said he then asked McAdoo if he "slapped him upside the head," and that McAdoo responded, "Yes."
McAdoo's second story was that Brandon was standing on the bed, screaming and crying, and that McAdoo became angry, struck Brandon in his arm and shoulder area, knocking Brandon against the wall of the small camping trailer where they lived, Mattos said. Brandon's head hit the wall, the detective said.
McAdoo sat in a wheelchair during the proceedings – he recently lost his legs to frostbite while on the run after Brandon's injuries. As Mattos spoke, McAdoo leaned his head on a hand, shook it and wiped his eyes with a tissue.
It wasn't the first time McAdoo had been rough with the child, testified Jenny Ann Irwin, a friend of Cowles who also lived in the same mobile home park on Lake Coeur d'Alene Drive. Irwin worked with Cowles at the La Quinta Inn and Suites on Sherman Avenue as a housekeeper.
One day Irwin was making a bed in a second-floor room when she saw McAdoo pushing Brandon in a stroller down the sidewalk.
McAdoo had stopped. "He picked him up by the arms," she said. "Brandon was almost out of the stroller and then he shoved him back into the stroller. It was like he was frustrated with Brandon."
Defense attorneys questioned the relevance of this and other testimony, and suggested that Cowles was partially responsible for the death of her child for failing to call for medical help earlier.
Cowles, 33, testified that when she left for work the morning of Jan. 12 , Brandon was fine. But when she returned about 1:30 p.m., he didn't move. When she suggested that they get help, McAdoo "kept telling me to wait, he'd be fine."
That night, Brandon started throwing up, she said. That continued through the next day.
"He was motionless," she said. "He would cry when we'd move him just right."
McAdoo still discouraged her from seeking help that day, she said. On that Friday, Jan. 14, Brandon wouldn't move or open his eyes, and McAdoo ordered Cowles to stay in the trailer, she said. A broken knob required that she use pliers to leave the trailer, and when she looked for the tool, she couldn't find it, she said. The two previous days, however, she left several times to use the RV park restroom, because there was no running water in their trailer.
That evening, when Brandon stopped breathing, Cowles went to the park pay phone and called 911. She said she could see McAdoo leave the trailer while she was on the phone. McAdoo told Mattos that he took 50 sleeping pills and rat poison, and then wandered in a hallucinatory fog for several days before frostbite in his feet forced him to seek medical care.
Brandon died Sunday, Jan. 16, at Sacred Heart Medical Center in his mother's arms. Pediatrician Thomas Rau said that Brandon's CT scan showed a blood clot under his skull and that his brain was very swollen. He also had "massive" hemorrhaging in his retinas – all of which together are indicative of shaken baby syndrome, Rau said.
Eight days later, Mattos tracked down McAdoo at the same hospital, where he had both legs amputated because of his frostbite.
Before McAdoo left his dying son in the trailer, Cowles testified, "he said he'd never go to jail again. He'd die before he did that."
McAdoo has convictions in Kentucky for domestic violence and property crimes.
Local journalism is essential.
Give directly to The Spokesman-Review's Northwest Passages community forums series -- which helps to offset the costs of several reporter and editor positions at the newspaper -- by using the easy options below. Gifts processed in this system are not tax deductible, but are predominately used to help meet the local financial requirements needed to receive national matching-grant funds.
Subscribe now to get breaking news alerts in your email inbox
Get breaking news delivered to your inbox as it happens.
---