News > Spokane
Four get prison in home-sales scheme
Fri., March 4, 2005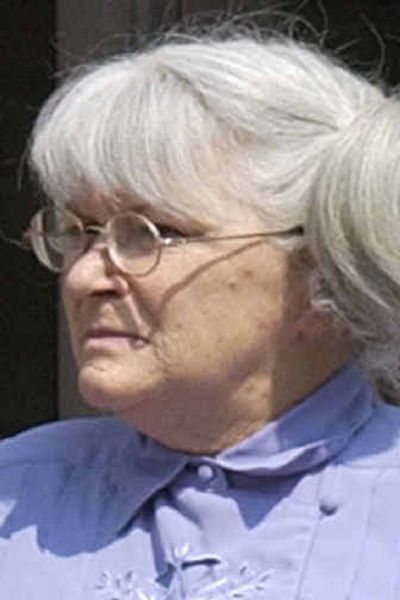 Four people, including the former owners of Century Mortgage, are heading to prison for defrauding first-time home buyers and their lenders who agreed to loans significantly exceeding the market values of the houses in Spokane.
Federal investigators estimate the loss in the scheme, which lasted from 1997 through 2000, approached $1 million, but U.S. District Court Judge Robert Whaley calculated restitution based on $300,000.
"My loss calculations are conservative," the judge said at a four-hour sentencing hearing Thursday afternoon.
Dale D. "Sage" Gibbons, the former co-owner of Century Mortgage, was sentenced to 60 months in prison, well under the 78 to 97 months he faced under federal sentencing guidelines. He was convicted by a jury on 16 counts of wire fraud.
Former Realtor Sally L. Gibson, who was convicted of a dozen counts of wire fraud, was sentenced to 30 months in prison. She sent her home buyers to Century Mortgage for financing.
Co-defendants Ronald Lee Burger and Cathy M. Patrick pleaded guilty and testified as prosecution witnesses against Gibbons and Gibson, getting credit for "substantial assistance to the government" at sentencing.
Burger, also a co-owner of Century Mortgage, was sentenced to 37 months in prison.
Patrick, who was a closing agent who assisted in the fraud, was sentenced to 60 days in jail under work-release conditions, as part of three years probation.
The judge allowed all the defendants to "self-report" to federal prison, and took under advisement a motion to stay the sentences until appeals of Gibbons and Gibson are heard.
The fifth player in the conspiracy, appraiser John T. Hansen, will be sentenced at a later date.
In the home-sales fraud conspiracy, scores of first-time buyers bought houses for far more than market value, then found themselves facing balloon payments, high interest rates, foreclosure and even bankruptcy.
Margaret Eastman, of Spokane, told the court the defendants sold her a home for $98,000, knowing the actual value was only $44,000.
"They suckered me," she said. What "was supposed to be my dream home" turned into "a kind of hell," Eastman told the judge.
"I'd like to see them put on an island for the rest of their lives," she angrily said in front of the packed courtroom.
Stephen Puller said he and his wife paid $63,500 for a house Gibbons had bought a few days earlier for $40,000 before he "flipped it," tricking a mortgage company with a false appraisal.
"We wanted what everybody wants – a piece of the American dream of owning your own home, but, basically, we got ripped off," Puller told the judge.
Victim Sherene Thomas said the judge needed to fashion a sentence so the defendants "can never do this to other people again."
Gibbons and Burger not only got commission payments for obtaining financing, but many of the homes involved in the conspiracy were sold by another company they co-owned, B&G Properties LLC.
For example, their company bought a home for $22,000, sold it to a buyer for $45,000 and told the out-of-state mortgage company it was appraised at $67,000.
The scheme involved a widely advertised sales pitch that promised potential buyers $100 if Century Mortgage couldn't find them a home. With the financing mechanism Gibbons and Burger engineered, buyers could get into homes with nothing down, but quickly faced financial nightmares.
Most of the purchasers were "young, vulnerable first-time buyers," many with bad credit, Assistant U.S. Attorney George Jacobs told the court.
"The defendants turned the American dream of owning a home into the American nightmare," the federal prosecutor told the court.
Gibbons and Gibson told the judge they still don't believe they were doing anything illegal, and were only following common practices in the real estate industry.
Gibson, who claims she has been a lifelong advocate for the poor and disenfranchised, said she was merely a "convenient scapegoat" who was targeted for prosecution.
Gibbons said his life has been ruined by the criminal charges.
"The last three years of my life is like being in prison," the former mortgage company co-owner told the judge. "I'm broke and we lost our home."
Burger was represented by defense attorney Bevan Maxey who said the former Century Mortgage executive "is not an evil person. He's a person who tried to do good things, and a lot of them didn't work out."
Attorney Mark Vovos said his client, Cathy Patrick, deserved a light sentence for her minimal role and early willingness to cooperate with agents of the FBI and Department of Housing and Urban Development, which investigated the case.
The judge said Gibbons and Burger clearly were the leaders in the conspiracy.
Whaley said a 12-member jury that heard the evidence decided "beyond a reasonable doubt" that the co-owners of Century Mortgage were guilty of defrauding home buyers and committing wire fraud. The jury also found that the amount of loss didn't accurately reflect the seriousness of the offense.
The judge said he agreed with the jury's findings and that the scheme hurt those who could least afford it.
"The people that got the help were the people that made $300,000 in a little over a year," Whaley said, referring to Gibbons and Burger.
The judge said Gibson initially may have thought she was helping people, but soon became aware she was involved in an illegal conspiracy. The judge referred to a 1999 memo sent to Gibbons by Remax broker William Main, outlining her questionable dealings and conflicts of interest.
At the end of the proceeding, the judge allowed Gibson to fire her court-appointed attorney, Byron Powell.
"You mean I'm going to prison for almost three years?" Gibson then asked the court.
"Yep, 30 months," the judge responded.
"Can I have work-release?" the ex-Realtor then asked.
"Nope. Court's adjourned."
Local journalism is essential.
Give directly to The Spokesman-Review's Northwest Passages community forums series -- which helps to offset the costs of several reporter and editor positions at the newspaper -- by using the easy options below. Gifts processed in this system are not tax deductible, but are predominately used to help meet the local financial requirements needed to receive national matching-grant funds.
Subscribe now to get breaking news alerts in your email inbox
Get breaking news delivered to your inbox as it happens.
---