Sports
Louisville star O'Bannon puts on show in hometown finale
Fri., March 4, 2005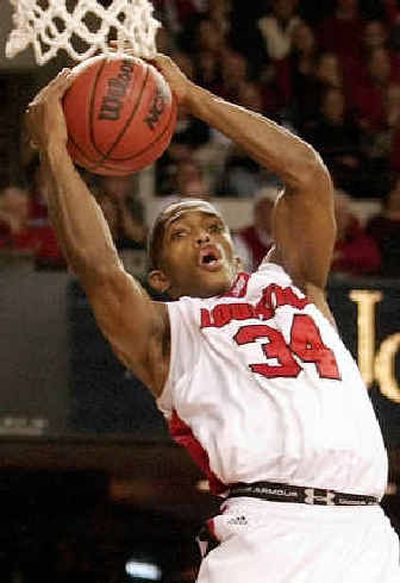 Larry O'Bannon turned his final home game into the biggest night of his career.
The Louisville native scored a career-high 33 points — 26 in the first half — to help No. 9 Louisville clinch a share of the Conference USA regular-season title with a 94-82 victory over No. 18 Charlotte on Thursday night.
"Your hometown fans are going to remember you in your last game," O'Bannon said. "I didn't know it was going to be like that."
The 6-foot-4 O'Bannon, one of three seniors playing in Freedom Hall for the last time, tied a school record for points in a half, hitting his first five 3-pointers.
"Larry O'Bannon had a very, very special night," Louisville coach Rick Pitino said. "It was a Hollywood ending for a nice young man."
Junior Taquan Dean made six 3-pointers and added 27 points for Louisville (25-4, 13-2 Conference USA), which clinched the top seed in next week's conference tournament in Memphis, Tenn.
Dean, diagnosed with mononucleosis in late February, missed a career high by four points.
"I wasn't feeling it, I was exhausted," Dean said. "Once I hit a couple of shots, then things started to go."
Ellis Myles had a career-high 10 assists for the Cardinals, who can secure their first outright regular-season Conference USA championship with a victory at DePaul on Saturday.
Myles, a fifth-year senior, is the last holdover from the Denny Crum era. He has never played in the NCAA Tournament after missing last season to recover from a knee injury he suffered the previous year.
"It was a very emotional night for me and the team," Myles said. "Nobody thought I would make it this far."
But the night belonged to O'Bannon, who took over the game during a fast-paced, competitive first half.
Constantly finding gaps in Charlotte's defense, the Louisville native was 9 of 10 from the field in the opening 20 minutes and scored eight points during a half-ending, 16-4 run.
"I just hit my first couple of 3s and my teammates started looking for me," O'Bannon said. "I do it every day in practice. I guess it just carried over."
Brendan Plavich, guarded by O'Bannon much of the game, hit seven 3-pointers and scored 28 points for the 49ers (21-5, 12-3), who had a seven-game winning streak snapped.
O'Bannon's game overshadowed an impressive shooting display by Plavich, who came into the game second in the nation in 3-pointers per game. Plavich made five 3-pointers in the first half, two of them from 30 feet.
(2) North Carolina 91, Florida St. 76: At Chapel Hill, N.C., Sean May scored a career-high 32 points to help the Tar Heels (25-3, 13-2) clinch at least a share of the Atlantic Coast Conference regular-season title with the win over the Seminoles (11-18, 3-12).
(6) Duke 83, Miami 59: At Durham, N.C., J.J. Redick led the Blue Devils (22-4, 11-4 ACC) with 29 points, and senior Daniel Ewing had the first double-double of his career with 14 points and a career-high 10 assists in his final game at Cameron Indoor Stadium. The Hurricanes fell to 16-11, 7-9.
(25) Nevada 55, Hawaii 47: Nick Fazekas scored 20 points, including four late free throws, and had 12 rebounds as the Wolf Pack (23-5, 15-2 WAC) defeated the Rainbow Warriors (14-12, 6-11) to wrap up the Western Athletic Conference regular-season title.
It was the ninth straight victory for the Wolf Pack and their first win ever at Hawaii.
Kevinn Pinkney added 14 points and 13 rebounds for Nevada, which reached its best mark since the 1945-46 season.
Local journalism is essential.
Give directly to The Spokesman-Review's Northwest Passages community forums series -- which helps to offset the costs of several reporter and editor positions at the newspaper -- by using the easy options below. Gifts processed in this system are not tax deductible, but are predominately used to help meet the local financial requirements needed to receive national matching-grant funds.
Subscribe to the sports newsletter
Get the day's top sports headlines and breaking news delivered to your inbox by subscribing here.
---