Sports
Baugher comes up big as Vikings earn shot at title
Sat., March 5, 2005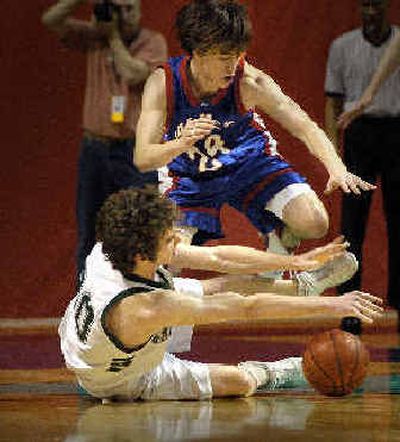 It's easy to spot the difference between a good Willapa Valley team and a championship one.
After all, he's 6-foot-11.
Valley big man Zach Baugher missed most of the first 18 minutes Friday because of foul trouble, but returned to spark a 17-2 run as the Vikings pulled away from Northwest Christian for a 55-39 win in a State B tournament semifinal at the Spokane Arena.
"He's a very emotional player, and we took a chance at halftime," Valley head coach John Peterson said of Baugher. "I always bring my starters back (at the beginning of the half), but I figure with three fouls, if he gets his fourth right off the bat, we lose him for the quarter, so we waited two minutes. He was cool about it. He said, 'Coach, I just want to win.' "
Down 27-26 with 2:39 left in the third, Valley (27-0) began the run with three free throws by sophomore Brady Langer, followed by a Baugher basket inside. On the Vikings' next possession, Baugher kicked it out to Garrett Foster, who drained a 3-pointer from the right wing.
Junior guard Ryan Freeman, who led all scorers with 14, fed sophomore Rick Bannish for a breakaway layin and a 36-29 lead. Baugher then hit a turnaround and then converted a three-point play. The final bucket of the spurt was from Freeman's spinning move in the lane while being fouled. Freeman hit the ensuing free throw and the Vikings led 43-29.
Not coincidentally, Valley's run also began when NWC (26-4) junior post Karl Richardson picked up his fourth foul. Richardson had been effective in limiting Valley inside, playing well taller than his 6-3 frame. He also scored eight of his 13 points in the second quarter.
"The idea was they made that run at the end of the third quarter, and that hurt," NWC head coach Ray Ricks said. "If we could have got (Richardson) through the end of the third quarter, we would have been in decent shape."
In the span of 5:35, NWC missed four shots and turned over the ball four times. Baugher's return allowed Valley to play its 2-3 zone with 6-3 Foster, 6-5 Lance Anderson and the 6-4 Freeman guarding the 3-point line, and Baugher changing shots inside.
"I tried to keep my hands up and play defense," Baugher said. "Every time I try to get in there, I have a big wingspan so I get my hands out and do things they can't call fouls on."
Freeman also played a big role in Valley's second half, as he finished with eight rebounds and five assists. Foster and Anderson also pulled down eight rebounds apiece. Langer was the other Vikings player in double figures with 12, shooting 9 of 11 from the foul line. Valley shot 28 free throws to nine for the Crusaders.
Last year, the Vikings' run ended in two straight losses at the Arena, a semifinal loss to eventual champion Republic and on a last-second shot by Tekoa-Oakesdale in the third-place game.
"If we'd have finished third, maybe we would have been a little more satisfied," Peterson said. "Maybe that was a way of telling us we have to get back to work."
This is the Vikings' first appearance in the championship game since 1981, when Valley took home the gold ball. That was the school's only State B championship.
"As big as this win is, my wife's been a coach's wife for years," Peterson said. "I said, 'What do you think of that, momma?' She said, 'You've got some work to do. Get your head in the game.' That brought me back to earth real quick."
Local journalism is essential.
Give directly to The Spokesman-Review's Northwest Passages community forums series -- which helps to offset the costs of several reporter and editor positions at the newspaper -- by using the easy options below. Gifts processed in this system are not tax deductible, but are predominately used to help meet the local financial requirements needed to receive national matching-grant funds.
Subscribe to the sports newsletter
Get the day's top sports headlines and breaking news delivered to your inbox by subscribing here.
---