News > Idaho
Committee pushes aside tax relief issue
Sat., March 5, 2005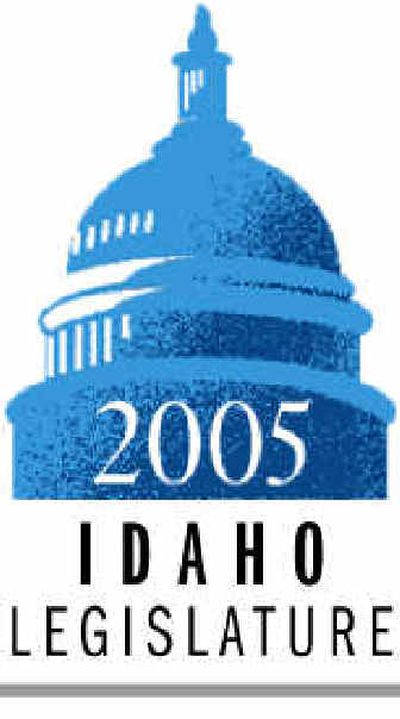 BOISE – Eight property tax relief bills finally got a hearing in a House subcommittee on Friday, but the panel took no action and may push the issue off to an interim study committee.
"I'm disappointed," said Rep. Frank Henderson, R-Post Falls. "This is my No. 1 priority."
Henderson was among three North Idaho lawmakers who proposed property tax relief bills. The others were Reps. George Eskridge, R-Dover, and George Sayler, D-Coeur d'Alene.
"I'd just like to see us get this addressed by the Legislature and come up with something that's fair," said Eskridge.
He told the House Revenue and Taxation subcommittee that property values in North Idaho are escalating so quickly that people are ending up not being able to afford their property taxes – a prospect they never anticipated when they bought the homes.
"The residential owner is bearing the burden," Eskridge said. "We need to fix it, or the people are going to fix it for us," by running a voter initiative.
Residential property, which long has paid most of the property tax in Idaho, has seen its share of the burden increase dramatically since 1990, according to state Tax Commission statistics, while nearly every other type of property, including commercial, agricultural, mining and utility property, has seen its share fall.
Several factors have helped magnify that trend – from faster-rising markets for residential real estate than for other types of property, to the Legislature's willingness over the years to grant big property tax breaks to groups ranging from farmers to land developers. The way Idaho's property tax system works, when any taxpayer gets a break, everyone else must pay more to make it up; the system still collects the same amount of money.
Sayler's bill, HB 275, would allow people who have lived in their home for 10 years or more to apply to have their taxable value frozen and any increases deferred until they sell the house or move. That would keep their taxes from rising so quickly, but the deferred taxes would be due later, when the home is sold.
"We need to help people, particularly in the areas where there are rapid increases in property values and taxes are escalating," Sayler said. "The deferral I think would help that … but it wouldn't negatively impact counties where they don't have that problem."
Eskridge's bill, HB 242, would increase the homeowner's exemption from the current $50,000 maximum to $75,000. Idaho currently allows homeowners to be exempted from tax on up to 50 percent of the value of their home, but only up to a maximum of $50,000. That amount hasn't been raised since the exemption was enacted by initiative in 1982.
"This is a Band-Aid approach," Eskridge told the subcommittee. "It doesn't solve our property tax issue, but it does give some relief."
Eskridge's bill is co-sponsored by Rep. Bill Deal, R-Nampa; Rep. Eric Anderson, R-Priest Lake; and Sen. Shawn Keough, R-Sandpoint.
Several subcommittee members were dubious about all the bills, saying the real problem is too much government spending. "Yours is as good as anything else we've looked at this morning," Rep. Lenore Barrett, R-Challis, told Eskridge, "but we're looking at the wrong end. Spending has to be addressed at all levels of government."
"We need good schools; we need good roads," Eskridge responded. "The question is how do we pay for it in a fair and equitable way, and increasing the value on somebody's home is not a fair and equitable way to do that."
Henderson's bill, HB 243, would expand the homeowner's exemption to include the value of the land as well as the value of the home. It would stay at the $50,000 maximum level for most homeowners, but for low-income seniors or low-income people who are disabled, blind or widowed, it would raise the maximum exemption to $75,000.
Henderson said his bill would benefit two groups of people: those who live in modest homes and now aren't able to take full advantage of the exemption because their houses are valued at less than $100,000; and older or disabled people on limited incomes.
He passed out multiple charts, calculations and examples to the subcommittee to show how his bill would work. When people call him to complain about property taxes, Henderson said, he tells them they'd do best to attend the budget hearings of their city council, highway district and county commission, "but I will do my very best as a representative in the state Legislature to find you some relief."
Henderson said he'd hoped to propose something more far-reaching, but scaled back his bill to increase the chances it would pass.
"I'll be greatly disappointed if we just ignore the needs of those people," he said. "We shouldn't do that."
The other bills presented Friday included one to raise the maximum homeowner's exemption to $70,000; one to give a tax break to people over age 70; one to raise income guidelines for the low-income "circuit breaker" tax exemption; and one to defer a portion of home-value increases for seniors.
Rep. Gary Collins, R-Nampa, the subcommittee chairman, said the panel will meet again. But asked if he thought the Legislature would take some kind of action on property taxes this year, he said, "I wish I could say yes. I just don't see that happening."
Collins said lawmakers are wary of shifting taxes from one group of taxpayers to another. "If property values continue to increase and transfer onto the residential taxpayer, none of these is going to make that much difference," he said.
Local journalism is essential.
Give directly to The Spokesman-Review's Northwest Passages community forums series -- which helps to offset the costs of several reporter and editor positions at the newspaper -- by using the easy options below. Gifts processed in this system are not tax deductible, but are predominately used to help meet the local financial requirements needed to receive national matching-grant funds.
Subscribe now to get breaking news alerts in your email inbox
Get breaking news delivered to your inbox as it happens.
---