News > Business
Gas prices likely to spike next week
Sat., March 5, 2005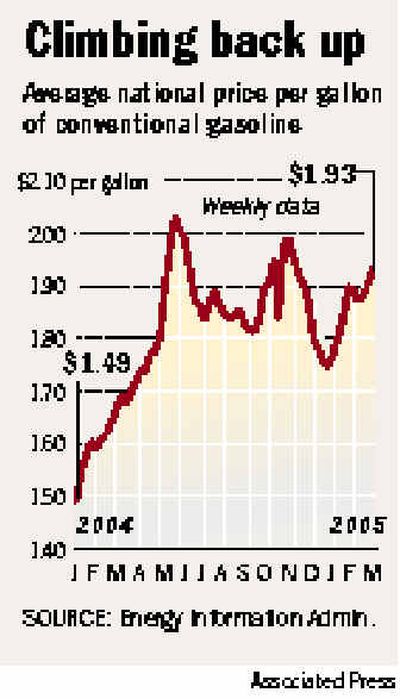 WASHINGTON – With the petroleum industry pumping just barely enough fuel to keep the world's economic engine humming, a buying frenzy on oil markets is setting the stage for sharply higher gasoline prices as early as next week.
Crude oil futures traded above $53 a barrel again on Friday, and analysts said the global supply tightness is likely to persist through 2005 due to an economic expansion that so far appears only moderately slower than the year before. But the cycle of rising incomes and ever-higher energy prices won't last forever.
"Those people who think we've entered a new paradigm where high oil prices don't affect economic growth are wrong," said Lawrence Goldstein, president of the Petroleum Industry Research Foundation in New York.
What's happening today, Goldstein said, is that the blistering pace of economic growth in China, and to a lesser degree the United States, is overshadowing the financial drag that typically would be more prominent when energy prices soar. "Right now we're riding a wonderful cycle," he said.
Indeed, reports released this week showed that most of the big retail chains posted strong sales gains in February, workforce productivity is rising, manufacturing is expanding, and the U.S. economy added a better-than-expected 262,000 jobs last month.
But for many drivers, it soon will be difficult to find any gas stations across America selling regular unleaded for less than $2 a gallon, analysts said. That's because gasoline prices on futures markets have soared 20 percent in the past week alone. The average retail price of gasoline was $1.93 per gallon last week, a 21 cent increase from a year ago, according to the Energy Department.
"I have already heard from gasoline retailers that new shipments are costing them a dime more (per gallon)," said Peter Beutel, president of Cameron Hanover Inc. of New Canaan, Conn., a provider of petroleum market analysis. "By next week prices will be 10-15 cents higher at the pump in many places."
"I believe oil prices and the economy are on a collision course and that it's only a matter of time," Beutel added.
The greatest financial squeeze will surely be felt by low- and fixed-income families, who spend about three times as much of their wealth on energy as do middle-income families.
But many economists are quick to point out that the hit to the U.S. economy won't be as bad as history might suggest, since the country is twice as efficient as it was 30 years ago and gasoline prices would have to rise another $1 per gallon to approach all-time highs on an inflation-adjusted basis.
Local journalism is essential.
Give directly to The Spokesman-Review's Northwest Passages community forums series -- which helps to offset the costs of several reporter and editor positions at the newspaper -- by using the easy options below. Gifts processed in this system are not tax deductible, but are predominately used to help meet the local financial requirements needed to receive national matching-grant funds.
Subscribe now to get breaking news alerts in your email inbox
Get breaking news delivered to your inbox as it happens.
---