News > Idaho
Her job is looking out for seniors
Sat., March 5, 2005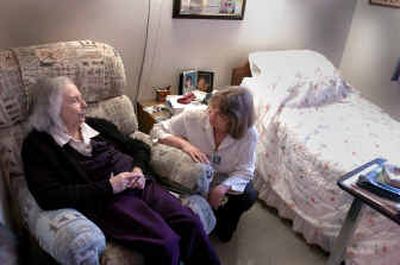 The fingernails tipped off Jan Young.
Something was wrong. The woman in the wheelchair was well into her 80s, frail and confused. She was in a nursing home for 24-hour care, yet her dirty fingernails suggested that care was less than ideal.
"I go to the director of nursing and ask, 'Why are her nails so cruddy?' " Young says. "Residents deserve dignity and respect and to be happy. That's their home. They deserve quality care."
Young is the North Idaho ombudsman for Aging and Adult Services, a state agency that advocates for seniors. She monitors 10 nursing homes and 34 assisted living centers that care for about 1,900 seniors in the five northern counties. She needs help.
"I feel all the facilities in the area are good but not perfect," she said. "They're understaffed. Accidents happen, staff burn out. It's how facilities remedy these things that are important."
Last year, 574 complaints were filed with her office against centers that care for the oldest generation. Those complaints range from eviction, confinement, abuse and neglect to irritable staff, lack of privacy and roommate disputes. Just over a third of those cases were settled.
People complain most about nursing homes that evict recalcitrant residents by depositing them at the hospital emergency room. Young battled one nursing home for months after it fit three beds instead of two into each of its resident rooms. Residents complained about the lack of privacy and cramped quarters.
"I yelled loud and long. Privacy is a right," Young said. "The staff there was great but the corporation running it wanted to make a buck."
Young investigates complaints, researches, negotiates, spouts rules and regulations, and calls in the Bureau of Facility Standards or the state Department of Health and Welfare if she has to. She made little headway with the three-bed problem, but learned recently the center returned to two beds per room under pressure from residents' families. She wants to replicate that informal advocacy throughout the Panhandle with volunteer ombudsmen.
Young is the only paid ombudsman for seniors in the Panhandle, but she has trained two volunteers as "deputies." Young asks them to visit senior care centers, train their senses to tune them into problems and listen to residents. For example, she walked past a woman slumped and sleeping in a wheelchair in a nursing home hallway recently and paused.
"I believe she's had an accident," Young said. "She may need her clothes changed. It may have just happened. We'll see."
Young tries to visit every facility in North Idaho every few months. People don't relinquish their rights to live in centers, and some facilities need reminding of that, she said.
Mickey Henkle lives at LaCrosse Health and Rehabilitation Center in Coeur d'Alene. Her daughter moved her to the center six years ago after she nearly died in another facility. Henkle, who's had Parkinson's disease for 30 years, said workers at her first facility forced her to use the bathroom on their schedule and didn't take care of her.
"I got sick. I was close to death and my daughter rescued me," she said. "I felt I couldn't complain because there was no one to complain to."
Henkle recovered at LaCrosse and was elected president of the resident council there. The center usually responds well to her complaints, she said, but knowing Young visits regularly comforts her. When other residents voice complaints to Henkle, she points them to Young.
"If they want to get something done, she'll do it," she said.
Young wants volunteers who can spend about three hours each week in senior care centers, befriending residents and watching and listening for problems. Volunteers will go through a background check and training that includes information on the aging process, dementia, Parkinson's and Alzheimer's diseases and state and federal regulations.
Ombudsmen aren't enforcers but advocates, she said, which means working with everyone involved to reach a solution that's good for the senior.
"They have to be dedicated, compassionate and have common sense," Young said. "Just visiting makes a big difference in residents' lives."
Local journalism is essential.
Give directly to The Spokesman-Review's Northwest Passages community forums series -- which helps to offset the costs of several reporter and editor positions at the newspaper -- by using the easy options below. Gifts processed in this system are not tax deductible, but are predominately used to help meet the local financial requirements needed to receive national matching-grant funds.
Subscribe now to get breaking news alerts in your email inbox
Get breaking news delivered to your inbox as it happens.
---