Marketing > Advertorial
Innovative new Audi A4 stands out
Sat., March 5, 2005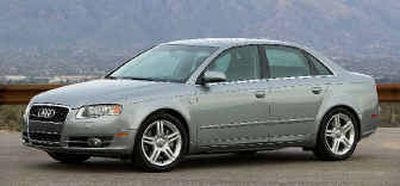 Audi's A4 has been a great car from the day it was introduced in 1993. It spearheaded the company's revival out of the dark days of the late 1980s and early '90s.
Good as it has been, though, it could always be better and Audi has made sure of that with a new-generation 2005 model.
What gets noticed first about the new A4, of course, is its new front fascia. Following the lead of the A6, the littlest Audi gets the deep-dish grille that has inspired reams of both vitriol and praise online.
Like it or not, it puts the A4 beak on the radar, especially when glimpsed from the rearview mirror.
There are other significant styling changes as well. In particular, a strong character line runs the length of the car, emphasizing the A4's sport-sedan proportions and adding definition to a car that was handsome but perhaps somewhat amorphous.
Numerous other styling details come together to create an A4 that is readily distinguishable from its predecessor. In sum, it carries a lower, more aggressive look, even at a standstill.
It's marginally larger, due mainly to the new front-end design.
At its introduction, the A4 created a stir for interior design that exceeded expectations. Even a base A4, with a price tag in the mid-$20,000 range boasted a world-class interior. Without getting into the hoary details — we'll save those for the full product review — we'll just say here that the new interior does not disappoint. It's of a wrap-around style that cozily surrounds both driver and passenger in fine materials beautifully detailed.
Excellent packaging produces both a comfortable rear seat and a spacious trunk.
We couldn't talk Audi without talking engineering, and the new A4 gets some fairly marvelous innovations, including Audi's new direct fuel-injection system that squirts the fuel directly into the combustion chamber. Many benefits potentially result but in the case of the A4, it allowed engineers to raise compression ratios and increase engine efficiency.
A new 2-liter turbocharged four replaces last year's 1.8-liter version, boosting output by some 30 percent to 197 horsepower. The 3.1-liter V-6 makes 252 hp, also an increase of 30.
The four has enough torque throughout the power band to make a convincing case that the six is superfluous. Since superfluity reigns these days, the new S4 will be arriving shortly, bearing its 340-hp V-8.
The A4 continues to be available in sedan and wagon and front- and all-wheel-drive versions. Audi's mechanical AWD system, called quattro, is 25 years old and remains one of the best on the market.
It wouldn't be a new Audi if it hadn't picked up a handful of suspension tweaks and, perhaps, even a new steering system. And both are here. Even the base suspension picks up some tricks from the high-performance S4 and the optional sport suspension produces a remarkable blend of fluidity and comfort.
A Servotronic steering mechanism ties effort to vehicle speed and improves steering feel.
Unfortunately, the makeup of the test drives at the product launch prevented us from truly wringing out this new car but every indication is that it represents a substantial step up, deepening its intrusion into BMW territory.
With prices starting at around $27,000, the new Audi A4 is a remarkably crafted and satisfying machine. For Audi's sake, we're hoping it performs at the box office as well as it does on the road.
Local journalism is essential.
Give directly to The Spokesman-Review's Northwest Passages community forums series -- which helps to offset the costs of several reporter and editor positions at the newspaper -- by using the easy options below. Gifts processed in this system are not tax deductible, but are predominately used to help meet the local financial requirements needed to receive national matching-grant funds.
Subscribe now to get breaking news alerts in your email inbox
Get breaking news delivered to your inbox as it happens.
---