Lois Jansson remembered as adventurous, witty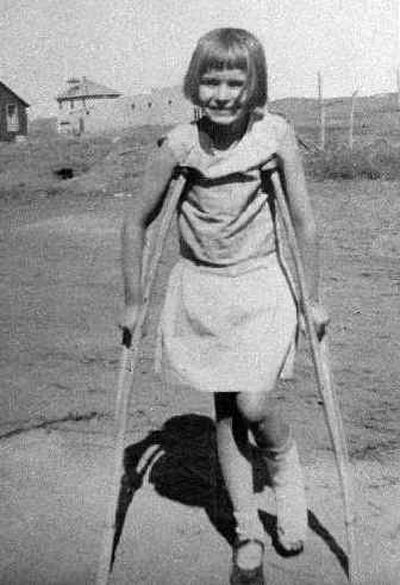 Lois Jansson was a devout, warm, bright and loving wife, mother, friend and teacher who left to those whom she loved a profound yet often witty history of her adventurous life.
She died Jan. 25 at the age of 85, a victim of the Parkinson's disease that seized her body eight years ago but never quenched her spirit.
Lois was a Forest Service wife. A native of Enid in Eastern Montana, she married Bob Jansson in October 1941 as they were completing their studies at the University of Montana, she in social work, he in forestry.
Their first assignment was to the Helena National Forest in Montana where, by 1949, he had worked up to ranger of the Canyon Ferry District and she had borne three children, Ruth, Paul and Roger.
On Aug. 5 of that year, Ranger Jansson summoned a planeload of smokejumpers to a smoldering fire in the Gates of the Mountain Wilderness. It was in a ravine named Mann Gulch.
The fire blew up, and 12 smokejumpers and a fireguard from Bob's district were killed. Jansson, on the lower end of the fire when it crowned, fell unconscious and barely escaped death himself.
When he recovered, his duties included aiding two jumpers who lived briefly after the blowup, then finding and identifying the horribly burned bodies of the other victims.
Mann Gulch had a profound effect on many lives, including those of the sensitive ranger and his family.
"Bob came home … so tired and unstrung he hardly seemed like the husband and father we knew," Lois wrote.
Three months later, Ranger Jansson escorted a fire researcher, Harry Gisborne, into Mann Gulch. There, Gisborne died of a heart attack.
All those deaths, accusations from a few of the dead jumpers' families that the Forest Service was negligent, plus a steady barrage of requests for personally escorted tours of Mann Gulch drove the family from Helena. They transferred to Priest Lake in the spring of 1950.
In a memoir, Lois noted, "Bob's final act before we drove away from the Helena house was to burn the uniform hat he had worn at Mann Gulch, and the jacket he had been wearing the evening Mr. Gisborne died."
She recalled in a letter written several years later that, "Priest Lake was primitive, 13 bars and no churches, so we both got lay speakers' credentials and founded The Priest Lake Community Church."
Devout Methodists though they were, the Janssons' congregation included 13 denominations. She wrote, "We found out all the things Protestants can manage to divide over: what type of baptism – sprinkling, pouring or immersion; what kind of Communion and how often; what hymns to sing; what kind of church government to set up; whether to work with the Council of Churches or remain independent; and on and on far into the night of each board meeting."
They also helped set up the first Camp Fire Girls group and Boy Scout troop in the area.
In 1954, Bob Jansson fell ill and, after a series of tests, doctors determined he'd inherited a rare and incurable disease, polycystic kidneys, that would probably take his life within 15 years.
The Forest Service transferred the family to Newport, Wash., to be nearer to Spokane and Coeur d'Alene, where he could receive palliative treatment.
She wrote of "the difficulty of trying to keep our ship on an even course when the captain is not at the wheel. I remember one Christmas Eve I was helping him clean up after breakfast when he said, 'This is the 25th!' The nurse said, 'Oh no, Mr. Jansson. This is only the 24th. I think they plan to let you go home for Christmas.' "He said, 'I didn't mean the date. I was counting up, and it's my 25th hospitalization.' "
And there were many more after that.
Because of mounting drug expenses, Lois decided to teach since, she reasoned, there would be more job opportunities in teaching than in social work. She commuted to Cheney, where she earned an education degree at Eastern Washington University, then began a 25-year teaching career.
Her first classrooms were in Oldtown, Idaho, and Newport. Then, when her husband was transferred to the Coeur d'Alene Forest headquarters in 1960, she taught second-graders in the Dalton and Hayden grammar schools.
Her husband died in 1965 and, since then, so has her daughter, Ruth. Her son Paul is on a waiting list for a kidney, while Roger recently received a kidney transplant.
Through an extensive correspondence with him, Lois became a good friend of author Norman Maclean, who wrote "Young Men and Fire" about Mann Gulch. Her remembrances of her husband's role in that fire and its aftermath found their way into that best seller.
And after the elder Maclean's death in 1990, she began a friendship and correspondence with his son, John, helping him with research that led to his book "Fire on the Mountain," the story of a 1994 Colorado fire that killed 14 fire fighters.
Through it all, Lois continued to care for others outside her shrinking family circle. She was a volunteer at the Coeur d'Alene Women's Shelter, working on its crisis hotline, and Paul recalls many night missions when she rescued women from abusive mates.
Friend Yvonne McDonald remembers her teaching adult Sunday school and working in the kitchen of Coeur d'Alene's Community United Methodist Church.
Some of the most moving memories of Lois Jansson are from a man who calls her "my godmother." Peter Truong, South Vietnam Army veteran and now a deputy with the King County, Wash., Sheriff's Office, says Lois Jansson "adopted" him after he fled Vietnam to land in Coeur d'Alene in 1975.
"She was a very, very caring woman. I met victims of domestic violence who were staying in her house. And she was tutoring students up through high school for free.
"She taught me English, helped me with my schoolwork, how to deal with Americans. I worked up to manager of Sambo's Restaurant because she taught me about young people."
Lois's son Roger, who fights forest fires with the Idaho Department of Lands, says his mother never expressed concern about his career, but a few years ago he read over her shoulder one of her journal comments: "I do hate it that Roger fights fire. One is enough to give to the cause."
---