News > Business
More investors seek farm land
Sat., March 5, 2005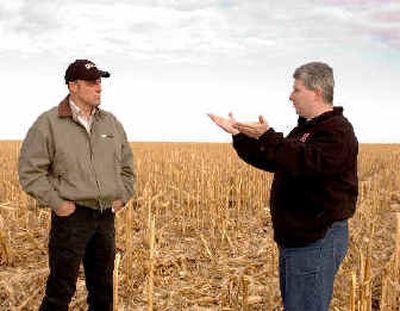 IMPERIAL, Neb. — Frederick Gillis grew up in a big city, and the most he'd heard about farming came from stories his father told of working on a cousin's South Dakota land during the Depression.
But the prospect of a good return on farm land investments lured the 37-year-old money manager into buying 320 acres in western Nebraska to help balance his investment portfolio, which was largely in stocks and bonds.
"You're not going to make a million dollars in five years," Gillis said of the investment. "But it's an engine. It pays for itself with the crops."
Gillis, who works for A.G. Edwards & Sons Inc. in Boston, is among a growing number of investors who diversify their portfolios with farm land, said Lee Vermeer, vice president of real estate operations for Farmers National Co. of Omaha, one of the largest farm management companies in the country.
Despite a drought, Gillis estimated he made $16,000 with his first harvest of irrigated corn and dryland wheat, or a 6.5 percent return on his $246,000 investment. The income came after making payments on his $150,000 mortgage and a $96,000 equity line on his home that he used to buy the land, and paying 10 percent of gross profit to Farmers National, which helps work the land.
At the same time, the value of Gillis' land increased by at least 8 percent.
By comparison, the Standard & Poor's 500 had an annualized return of 11.97 percent from 1986 to 2004.
Investing in farm land is not a new trend, but it has attracted more buyers in recent years through listings on the Internet. Farm land is also advertised in magazines and newspapers and through mailings prospective investors.
More than 40 percent of U.S. farm land is owned by people who don't actually work the land, and that has been the case since at least 1988, according to the U.S. Department of Agriculture.
Gillis and his wife, Shelly, who is from northeast Nebraska, turned to land as they discussed new ways to invest. "We were driving down the street one day and she said 'Let's buy a farm,"' Gillis said.
A disappointing stock market performance and low interest rates on mortgage loans have raised interest in owning farm land, Vermeer said.
Those selling their land have been getting good returns, too. Across the country, the value of land and buildings on farms has grown from an average of $599 an acre in 1987 to $1,360 an acre in 2004, a 52 percent increase when adjusting for inflation.
The highest percentage of absentee farm ownership occurs in the most fertile area of the country — the Midwest and into the Mississippi Delta — because it provides the best returns, said Lynn Henderson, president of publishing and economic forecasting company Doane Agricultural Services of St. Louis.
Farmers National, which was founded in 1929, manages more than 3,600 farms and ranches on about 1 million acres in 22 states. The company and other farm managers help land owners decide what crops to plant and at what price to sell; they buy seed and other farm inputs in bulk to help cut costs and they provide regular financial updates.
Farmers National charges about 8 percent to 10 percent on gross profits, depending on the management agreement. Its clients average 4 percent to 7 percent returns on their investments, after expenses, Vermeer said.
Management arrangements include having land owners lease the property to a farmer; split the costs and benefits of a crop; or simply pay to have the work done.
Gary Schall of Springfield, Ill., invested in farm land during the 1980s farm crisis although he'd never worked in agriculture. Schall, 61, bought 260 acres in Illinois along with his brother, Bob, at $310 an acre and they nearly tripled their investment when they sold the land for $900 an acre in 1991.
The Schalls, who also invest in stocks and bonds, now own and lease 1,700 acres in central Illinois. Through Farmers National they recently bought 1,140 acres in western Nebraska.
Farm land "should be part of any balanced portfolio," Schall said.
But agricultural land as an investment does have a downside, cautioned Bruce Johnson, an agricultural economist at the University of Nebraska-Lincoln. The farm crisis of the 1980s dropped land to the point that by 1987 it was worth about 40 cents on the dollar in Nebraska, Johnson said. Real estate values have climbed steadily since, he said.
"We will have booms and busts in real estate," Johnson said. "That's just a fact of life."
Allen Dever, an economist with Doane Agricultural, said farmers who work the land for owners make money through smart management as they strive for strong yields and high market prices for crops. Government payments contribute to farmers' incomes and help level out difficult years, but, Dever said, "you can't survive just on government payments."
Gillis, for example, had a good yield on his irrigated corn, and Farmers National locked in a high contract price in May of last year at $2.90 a bushel on 20 percent of the crop. Gillis' wheat had moisture damage from rain as the drought began to ease in parts of Nebraska, but crop insurance helped make up that loss.
Local journalism is essential.
Give directly to The Spokesman-Review's Northwest Passages community forums series -- which helps to offset the costs of several reporter and editor positions at the newspaper -- by using the easy options below. Gifts processed in this system are not tax deductible, but are predominately used to help meet the local financial requirements needed to receive national matching-grant funds.
Subscribe now to get breaking news alerts in your email inbox
Get breaking news delivered to your inbox as it happens.
---