News > Features
Oprah learns that Oscar isn't a statue of limitations
Sat., March 5, 2005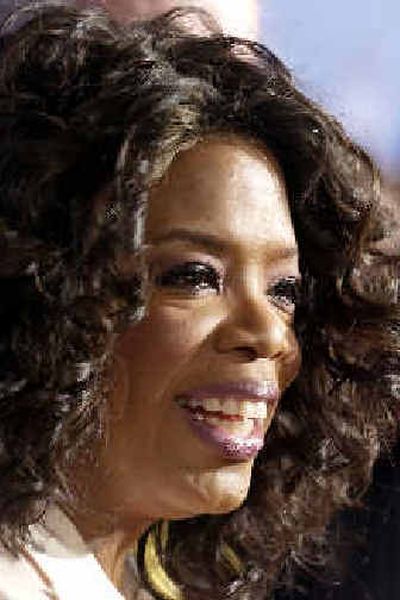 IT'S NOT ALWAYS easy to cast an Oscar winner in a TV movie, but Oprah Winfrey did just that for "Their Eyes Were Watching God." Although they're friends, Winfrey said she was "a little nervous" about asking Halle Berry to star in the film because she had won an Oscar for "Monster's Ball."
"I don't know what happens to you once you win an Academy Award," Winfrey said. "I didn't know whether she was going to be, like, 'Now I have an Oscar. I'm sorry. I cannot talk to you.'
"No, she's too sweet to do that. But I didn't know whether or not she would be interested in doing television."
Winfrey, who frequently championed books on her daytime talk show, produced the TV movie adaptation of the novel by Zora Neale Hurston, which airs Sunday at 9 p.m. on ABC.
Berry stars as Janie Crawford, whose journey takes her through three marriages with very different men.
Leftovers on the fashion plate
Speaking of Oprah Winfrey, her La Perla sweats and the rest of her self-described "classic, fun and relaxed" look has earned her a spot on Vanity Fair magazine's best-dressed list for a second year in a row.
Also on the list again are Sofia Coppola, Kate Moss, Queen Rania of Jordan and actress Sienna Miller.
Among men making the grade were Miller's fiance, Jude Law, along with fellow actor George Clooney, Outkast's Andre 3000, newscaster Anderson Cooper, musician Charlie Watts and director Wes Anderson.
She just wants her fair share
Cher is suing Warner/Chappell Music Inc. for breach of contract, claiming that the music publisher has not paid song and performance royalties for the past four years.
Cher and former husband and singing partner Sonny Bono reached a royalties agreement in the 1960s with Atlantic Recording Corp. Warner/Chappell, which acquired Atlantic, breached that contract, the suit says.
The shortfall is estimated at more than $250,000.
C'mon, quit stalking your pray
An Idaho drifter who claimed he was on a mission from God to pray with actor-director Mel Gibson was convicted of felony stalking Friday.
Jurors deliberated for less than three hours before finding Zack Sinclair guilty. Sinclair, 34, faces up to 16 months in prison.
Sinclair, a fan of Gibson's "The Passion of the Christ," was arrested in September after repeatedly going to the gate of the actor-director's Malibu estate and once showing up at his church, seeking to pray with him.
Sorry, Mel – no island is a man's
Meanwhile, Mel Gibson's purchase of a Pacific island hideaway in northern Fiji faces opposition from villagers who claim it's rightfully theirs.
Gibson bought Mago Island from Japan's Tokyu Corp. for about $15 million. But a landless tribe of indigenous Fijians say their ancestors were forced from the island in the 19th century – and they want it back.
The 500 tribe members are raising funds to challenge the sale in court.
The birthday bunch
Actor James B. Sikking ("Hill Street Blues," "Doogie Howser, M.D.") is 71. Actor Dean Stockwell is 69. Actor Fred Williamson is 67. Actor Michael Warren ("Soul Food," "Hill Street Blues") is 59. Singer Eddy Grant is 57. Comedian-magician Penn Jillette is 50. Singer Teena Marie is 49. Model Niki Taylor is 30. Actress Eva Mendes ("2 Fast 2 Furious") is 27. Actor Jake Lloyd ("Star Wars") is 16.
Local journalism is essential.
Give directly to The Spokesman-Review's Northwest Passages community forums series -- which helps to offset the costs of several reporter and editor positions at the newspaper -- by using the easy options below. Gifts processed in this system are not tax deductible, but are predominately used to help meet the local financial requirements needed to receive national matching-grant funds.
Subscribe now to get breaking news alerts in your email inbox
Get breaking news delivered to your inbox as it happens.
---