Sports
Perry finds silver lining in Idaho loss
Sat., March 5, 2005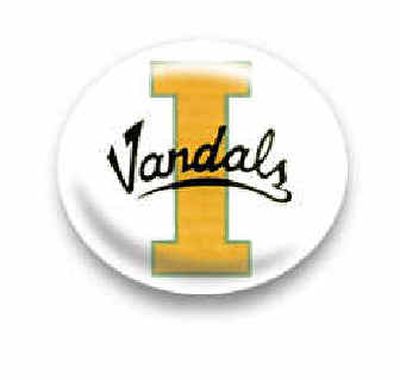 LOGAN, Utah – The final result was a lopsided 22-point difference. In University of Idaho coach Leonard Perry's mind, though, the Vandals made progress in the 65-43 loss to Big West Conference rival Utah State Friday night.
The progress, Perry said, was the Vandals played with an energy and enthusiasm that largely have been absent as UI reeled through a seven-game skid to end the regular season.
"Our intensity was there," Perry said. "Our enthusiasm was there. It wasn't a lack of effort. Tonight we played as hard and as together as we have for a long, long time."
What prevented the Vandals from changing the outcome were the opponent and the location. Utah State is an annual fixture atop the Big West standings and its home – the 10,000-seat Smith Spectrum – has earned a reputation as the conference's most difficult venue for an opposing team.
In the jumbled Big West race, two seeds were determined Friday night – Idaho (8-21, 6-12) is No. 8 and Utah State (22-7, 13-5) is No. 2 behind 17th-ranked Pacific. The Vandals open tournament play Wednesday evening at 6 against the No. 5 seed, which will be determined after tonight's games.
The Vandals led early and for 13 minutes of the first half, the game was a low-scoring tussle during which UI was able to stay close. But as happened on so many occasions this season, the Vandals hit a scoring lull, allowing the opponent to steadily pull away. By the half, Utah State led 30-19, although the Aggies had leads of as many as 15 points.
The pace picked up in the second half and the Vandals were able to trim USU's lead to single digits twice. Again, though, a minimal shooting percentage and untimely turnovers allowed the Aggies to stretch their lead to the untouchable range.
Nevertheless, a hoarse Perry was complimentary of his team.
"We played a good Utah State team in a hostile environment," Perry said. "The ball just didn't go in when we needed it to go in.
"I haven't been this proud of this team in a long, long time. I thought our kids played like our Vandal teams of the last three years."
Senior swingman Dandrick Jones, who led the Vandals with 21 points, drew Perry's praise – but not necessarily for his offensive output.
"I thought Dandrick was tremendous," Perry said. "Not because of his points but because of the way he held this team together."
Jones was the only Vandals player to reach double digits. Next up were Tanoris Shepard and Jerod Haynes, with seven points each. Lionel Davis had five, while Anton Lyons was held scoreless for the first time this season.
Senior forward Matt Anderson, a walk-on from the UI golf team, played 7 minutes and had two rebounds after requiring 11 staples after hitting his head on an exit sign in the team hotel before the game.
Utah State 65, Idaho 43
Idaho (8-21, 6-12)–Jones 8-23 3-4 21, Lyons 0-4 0-0 0, Davis 2-5 1-2 5, Haynes 3-9 0-0 7, Shepard 3-12 0-0 7, Higdon 0-1 1-2 1, Rose 0-0 0-0 0, Johnson 0-0 0-0 0, Anderson 0-0 0-0 0, Kale 1-1 0-0 2. Totals 17-55 5-8 43.
Utah State (22-7, 23-5)–Neil 1-1 0-0 2, Nelson 6-13 7-9 20, McVey 1-1 0-0 2, Brown 0-0 0-0 0, J.Williams 3-7 0-0 8, Pak 1-5 1-1 3, Matheus 3-5 0-0 6, Harris 6-8 1-2 13, Edwards 0-0 0-0 0, Carroll 2-12 1-1 5, Huber 1-3 0-0 3, T.Williams 1-1 0-0 3. Totals 25-56 10-13 65.
Halftime–Utah State 30, Idaho 19. 3-point goals–Idaho 4-15 (Jones 2-5, Haynes 1-2, Shepard 1-6, Lyons 0-1, Higdon 0-1), Utah State 5-19 (J.Williams 2-5, T.Williams 1-1, Nelson 1-2, Huber 1-2, Pak 0-2, Carroll 0-7). Fouled out–none. Rebounds–Idaho 31 (Jones 7), Utah State 41 (Nelson 10). Assists–Idaho 5 (Shepard 2), Utah State 15 (Nelson, Pak 4). Total fouls–Idaho 13, Utah State 11. A–10,270.
Local journalism is essential.
Give directly to The Spokesman-Review's Northwest Passages community forums series -- which helps to offset the costs of several reporter and editor positions at the newspaper -- by using the easy options below. Gifts processed in this system are not tax deductible, but are predominately used to help meet the local financial requirements needed to receive national matching-grant funds.
Subscribe to the sports newsletter
Get the day's top sports headlines and breaking news delivered to your inbox by subscribing here.
---