News > Voices
Punctum Studios right at home in Saltese Flats
Sat., March 5, 2005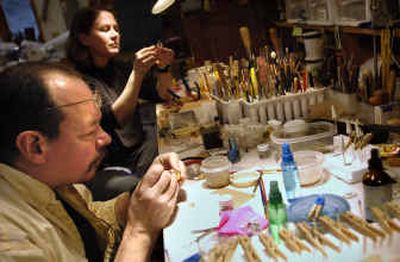 Sculptor Kurt Madison and Margot Casstevens have been living in the Spokane Valley's Saltese Flats area for five years.
Their business, Punctum Studios, came with them. An art, design and manufacturing studio, Punctum means "that accident which pricks me (but also bruises me, is poignant to me)." The quote comes from "Camera Lucinda" by French historian, writer and philosopher Roland Barthes. To Madison and Casstevens, punctum is the feeling one gets while looking at a work of art.
The studio consists of a working space, a Web site ( www.punctumstudios.com), and a name under which to file taxes. Through the studio, they are commissioned to do sculptures, design awards, murals and jewelry.
Though sculpture still remains at their roots, jewelry has become their passion. "Jewelry is a small-scale sculpture in fine metal," Madison said.
Using Art Clay, a new metal clay product from Japan, Madison and Casstevens create wearable art, more affordable than its life-sized counterpart. Art Clay is used with both silver and gold, and produces high quality metals.
Currently, Madison makes art, teaches and refines his metal techniques. Casstevens sculpts, teaches, works at a bookstore, and gardens. Both have created award-winning Art Clay silver pieces. One such piece, titled "World Heart Beat' won a chairman's award for jewelry making. The winning necklace earned Casstevens a trip for two to Tokyo to attend the awards ceremony.
Both artists create pieces from different angles.
Madison approaches the task through the never-ending process of learning, teaching and experiencing new techniques through his design.
Casstevens said her process "centers around consciousness and all of those questions we end up asking as children and as teens but then discard as adults, especially 'Who am I?' "
Madison earned a fine arts degree from the University of Wisconsin in 1976. There he studied metalsmithing, sculpture, drawing and lithography. Later, he studied philosophy in Scotland and went on to earn a master's degree in sculpture in 1987 from Tyler School of Art at Temple University.
Casstevens has a bachelor of fine arts in drawing and print making from Washington University in St. Louis, and a graduate degree in sculpture from the University of South Florida.
The couple met in New York City while applying for the same position teaching college level art. Neither got the job.
They married in Chicago in 1991, eventually moved to Scotland and then Indiana, all the while working in the arts, from sculpting to gardening. Their son, Jacob, was born in 1992,
Deciding that a reconnection of the family was in order, Madison and Casstevens chose the Pacific Northwest as a good place to settle. Casstevens' father had once lectured in Cheney.
Upon visiting Spokane, some activity was going on at Riverfront Park, and Madison and Casstevens decided that Spokane had a satisfactory environment in which to pursue art, and enough urban culture to "survive." They have settled comfortably into their Saltese Flats home and continue to create their visions in their studio.
As for being a husband and wife team, Casstevens said "we've gotten beyond the ego. We support each other's pursuits."
They have never collaborated on any work of art other than their son who is presently mastering the art of karate.
Local journalism is essential.
Give directly to The Spokesman-Review's Northwest Passages community forums series -- which helps to offset the costs of several reporter and editor positions at the newspaper -- by using the easy options below. Gifts processed in this system are not tax deductible, but are predominately used to help meet the local financial requirements needed to receive national matching-grant funds.
Subscribe now to get breaking news alerts in your email inbox
Get breaking news delivered to your inbox as it happens.
---