News > Idaho
Stuntman career exciting, rewarding, painful
Sat., March 5, 2005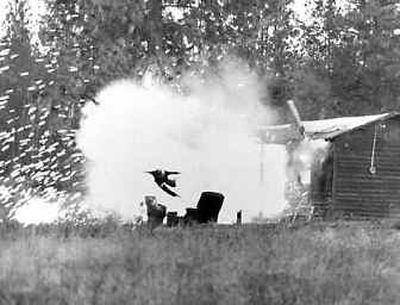 Dan Bell, aka "Boss," in his early 40s, has been an "Enemy of the State" and "Gone in 60 Seconds," and was thrown off "Con-Air."
His career choice is exciting, financially rewarding and painful. As a Hollywood stuntman, Bell has worked with big stars in the movie business as a double, stuntman and stunt coordinator.
Movie credits include "True Crime," "Mumford," "Snow Falling on Cedars," "The Rock," "What Dreams May Come," "Father's Day," "Outbreak," "Buddy Faro" and "Martial Law."
After 15 years, many bones have been broken and much blood has been shed on the job, leading him to consider a more sedate lifestyle someday (bounty hunter and Alaska bush pilot are on the list).
Past hobbies included bar fights, but he now prefers fishing on a quiet lake. North Idaho offers his preferred lifestyle; however, the movie business requires he spend much time in California and on set locations.
What is your job title? "Stuntman and stunt coordinator."
How long have you been doing this? "15 years."
How did you choose this line of work? "The short version, I had experienced of lot of bar fights, 'Tough Guy' competitions, trained in martial arts and boxing. One day a guy asked me to do a fight in a low-budget nonunion movie, that's where it started."
Are you paid: (a) well; (b) more than you are worth; (c) slave wages, (d) could be better? "(b)."
What is the best thing about your job? "Playing with toys, i.e., machine guns, car wrecks, motorcycles, etc."
What is the worst thing about your job? "The Hollywood politics – you have to be in it to understand."
Do you plan on doing this job (a) until retirement; (b) until something better comes along? "(b), Until something better comes along. I'm also a pilot and U.S. Coast Guard-rated Captain and plan to pursue flying and fishing full time."
Do you have any on-the-job funny stories? "There is always confusion going on at the set. I was in Frisco, where I was supposed to smash up a car on the freeway. I did the gag, it was good and I was standing next to the car when a 'bogie' (a person unknown on the set) is going, 'Oh my God!' I said, 'Yah, nice, eh?' – all proud. 'My car, my car!' This guy had parked in the stunt car area by mistake and somebody handed me the wrong car – this poor guy was in tears. I'll never forget walking off the set with this guy, consoling him."
Bell also tells the story of a famous actor who cussed him out early in the movie filming for something he didn't do. The actor apologized the next day and then spent the next two days bringing Bell coffee, food, water and calling him on the set radio to see if he needed anything.
Any bad experiences? "Other than injuries, no. I did break three ribs on 'Con-Air' (on the first fall). I did that gag five times – falling off a moving airplane, onto the top of a fuel truck, then onto the cement. Every time I saw that 130 (C-130 airplane) taxi back, I lowered my head knowing they were gonna want me to do that again. This is also with a third-degree, open, draining burn on the back of my lower right calf. In fact, Makeup took photos of the burn and duplicated it on the actors when they were 'burned.' Directors so many times think stunt guys don't get hurt. They keep getting creative thinking, – 'Oh, a shot from under the truck would be beautiful. Let's do it again!' There are no tricks to falling off an airplane, onto the top of a fuel truck, then to the ground. Yes, I had elbow, knee and a thin back pad. So what – it hurt!"
If there was a movie made about you and your job, what actor should play you? "Emilio Estevez."
Local journalism is essential.
Give directly to The Spokesman-Review's Northwest Passages community forums series -- which helps to offset the costs of several reporter and editor positions at the newspaper -- by using the easy options below. Gifts processed in this system are not tax deductible, but are predominately used to help meet the local financial requirements needed to receive national matching-grant funds.
Subscribe now to get breaking news alerts in your email inbox
Get breaking news delivered to your inbox as it happens.
---