News > Idaho
Woman turns passion for style into business
Sat., March 5, 2005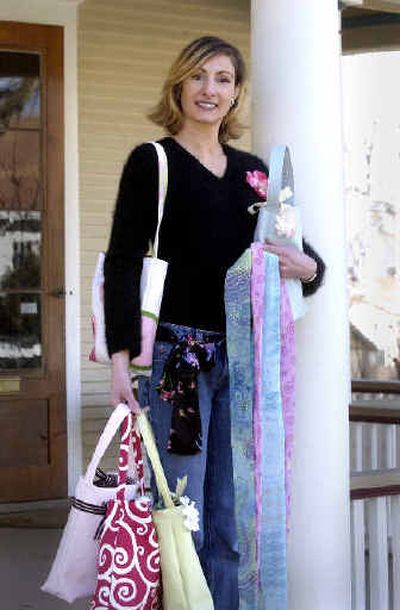 Brenna Rose Matous makes and sells handmade, one-of-a-kind home décor and women's accessories
Her friends used to tease her and call her "Martha," but Brenna Rose Matous doesn't mind.
Matous has successfully turned her passion for creating stylish and fun home and fashion accessories into a growing home-based business called Brenna Rose Divine Designs.
"Ever since I was a little girl, I have had an artistic flair and a desire to create," Matous says.
From building her own dollhouse furniture to sewing her own prom dress, she has had a passion for crafting exactly what she wanted.
While most of her girlfriends weren't into the domestic arts, Matous found out quickly that she could create something very unique.
"I enjoy the domestic arts," Matous says. "I learned to sew very young out of necessity."
Matous grew up in the Seattle area, graduated from the University of Washington, and, after a brief career in pharmaceutical sales, moved to Coeur d'Alene with her husband and two small children.
Matous started out making tablecloths, table runners, napkins, pillows and acrylic paintings. Word-of-mouth marketing kept the phone ringing. She was so encouraged by the sales of those items that she soon expanded her merchandise line to include women's accessories like scarves, bags, belts, pins, ponchos and wraps.
All her products are handmade and one-of-a-kind. She shops at local fabric stores, watches The Style Network, and checks out color and fashion trends in such stores as Banana Republic, BCBG and Nordstrom's.
Her inspiration comes from designer Kate Spade, who twice has been named best accessory designer of the year by the Council of Fashion Designers. Matous' handbags are classically styled and are made to complement an everyday wardrobe.
Matous also admires the quintessential style icon, Audrey Hepburn. Hepburn, possibly more than any female star before or after her, was known for her impeccable style, choosing not to follow cyclical fashion trends, but always staying loyal to clothes that suited her best.
"Hepburn had a very feminine, simple but elegant look, that I strive to achieve in my fashion accessories," Matous says.
Fun and quirky, sophisticated and classical describe Matous' sumptuous color schemes, and she chooses to label her style as "fashion forward."
"I use color to brighten up and make basic outfits look spectacular," Matous says. "Rose-colored pins on jean jackets, and bright, floral belts can be used to develop an individual's sense of style."
Dana Ramseyer met Matous through a mutual friend and immediately liked her style. Ramseyer has purchased pillows, silky belts and purses from Matous.
"Brenna has a great sense of style in fashion and home décor, and it shows in what she creates," Ramseyer says. "It fun and trendy, and very reasonably priced."
Matous recently started a children's room décor line called Rosie Joe, named after her 2-year-old daughter, Josie Rose. Several original Rosie Joe paintings will be on display at a new downtown store Baby and Me, which will open this month
Although she is as busy as she wants to be, Matous is taking growth incrementally. Future plans include continuing to display at community fairs and area boutiques.
Matous finds that her designs appeal to all ages.
"The women in Coeur d'Alene are very fashion conscious, seem to like my styles, and find my pricing very reasonable," says Matous.
Local journalism is essential.
Give directly to The Spokesman-Review's Northwest Passages community forums series -- which helps to offset the costs of several reporter and editor positions at the newspaper -- by using the easy options below. Gifts processed in this system are not tax deductible, but are predominately used to help meet the local financial requirements needed to receive national matching-grant funds.
Subscribe now to get breaking news alerts in your email inbox
Get breaking news delivered to your inbox as it happens.
---