Sports
Count on him to be at the B
Sun., March 6, 2005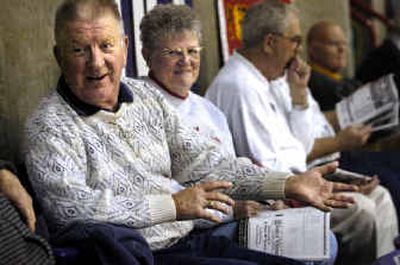 For the last 48 years, Joe Bussard has been at every State B basketball tournament.
Bussard has a program from every one of them to prove it, but they won't show that he's sometimes had to travel from as far as the Southwestern U.S. to make it some years.
"I haven't had things come up with family, work, or whatever. I've been lucky as far as health goes," says Bussard, a former barber and industrial safety specialist.
He's been to the big-school tournaments and admits a high level of basketball is played, but wouldn't trade it for this one.
"When they say, 'These kids aren't going anywhere' … (that's right) they're not going to jail. This basketball keeps them out of a lot of trouble. I just think it's great for a kid to feel this kind of experience."
He played for the Metaline Falls team from 1949-53, but missed its state appearance in 1951 while he was a junior varsity player. After graduating, he started attending as a fan and began bringing along other hoopaholics. One year, some area kids wanted to attend with him, but Bussard was cautious.
"I said, 'I won't come to your house and pick you up. But if you're hitchhiking, I'll pick you up,' " he remembered. "So, I told them what time I was leaving and they're down at the bridge, waiting for me. I took them and got them back home that night. Those kids still remember that."
Ultimately, it is the community feeling of the B tournament that is the difference for him.
"When you come out here between periods and everyone is around, that's what I like," says Bussard. "Everybody knows everybody. It's the camaraderie and closeness of these little towns."
Though he's only had two chances to root for his local teams (Metaline, Selkirk) in 48 years, he is against a proposal to create a "C" classification in Washington to give smaller schools a chance to attend state.
"I think they're really going to mess up the B tournament," said Bussard. "I wouldn't come anymore. It isn't going to be the B tournament anymore. There's certain schools that come here almost every year – and always some schools that are here for the first time. That is part of the mystique of this tournament."
Wujek was on target
Her name is now near the top of some all-time State B records for free throws, alongside the likes of legends Jennifer Stinson and Tammy Tibbles.
DeSales senior Andrea Wujek, a 5-foot-10 center, went 34 of 40 at the free-throw line over four games as her team earned fifth place with a win over Garfield-Palouse on Saturday. A couple of stellar single-game performances (12 of 13 Thursday and 11 of 12 Saturday) helped propel her to an overall efficiency of 85 percent. More importantly, with games on the line she was the focus.
"She's the heart and soul of our team this year, that's for sure," said Irish coach Tim Duncan. "In the four years she's been with our program, she's one of the best athletes at the B level. She hasn't always been the best basketball player, but she's really stepped up skill-wise, especially this year. You can tell by the way she shoots free throws. She's, by far, one of the best players in this tournament right now."
On Friday, she made all eight free-throw attempts in the fourth quarter to put her team in the trophy round. Then, on Saturday, she overcame foul trouble to help hold off a determined Gar-Pal team that had beaten DeSales by 10 at the district tournament a week ago.
After returning to Saturday's game midway through the fourth quarter and seeing it become tied at 42, Wujek hit a bucket and made a beautiful pass to set up the next basket to give her team a 46-42 lead it would never relinquish.
After the game, Wujek said she was unaware of the free-throw marks but said a family ritual has honed her skill.
"After practice, my dad actually made this tradition with me where you have to 'clean the ball' by shooting a free throw and make a perfect swish while shooting with a practice ball," she said.
A senior's moment
They are the core of the 2004 State B boys championship team – seniors Kyle Lehn, Zach Gianukakis, and Tyler Orestad – and they went out in fashion.
On Friday they made sure their team was around for a trophy with a win over Riverside Christian. Then, on Saturday, they led their team to a blowout win over Neah Bay to get that hardware, albeit not what they wanted.
It was Orestad who stood out time and time again in the final two games, diving for loose balls, stealing others, dishing out passes, hitting big baskets, and playing tough straight-up defense
After Friday's game, he admitted it was hard for the team to readjust its expectations from title contender to fighting for fifth.
"It was hard," Orestad said of having their hopes dashed on Day One. "We just decided that we needed to place because we deserved to. … I just didn't want it to be our last game. I didn't want it to end losing."
He saved his best for last on Saturday with a line of 21 points, 15 assists, nine rebounds, and five steals. His 54 assists in four games (6.7 apg) may be the best of all-time.
"I'm glad we ended it like we did," Orestad said after the trophy game.
Afterwards, the players went into the stands and shared hugs and tears with their fans.
"I went up there and I told myself I wasn't going to cry," said Orestad, allowing the moisture in his eyes to dissipate.
Then, with a look of contentment on his face, he lingered courtside and tightly clutched the game ball.
"I don't want to let go of it; I don't want to let go of anything," he said.
Local journalism is essential.
Give directly to The Spokesman-Review's Northwest Passages community forums series -- which helps to offset the costs of several reporter and editor positions at the newspaper -- by using the easy options below. Gifts processed in this system are not tax deductible, but are predominately used to help meet the local financial requirements needed to receive national matching-grant funds.
Subscribe to the sports newsletter
Get the day's top sports headlines and breaking news delivered to your inbox by subscribing here.
---