Sports
Altidor-Cespedes picks perfect time to shine
Mon., March 7, 2005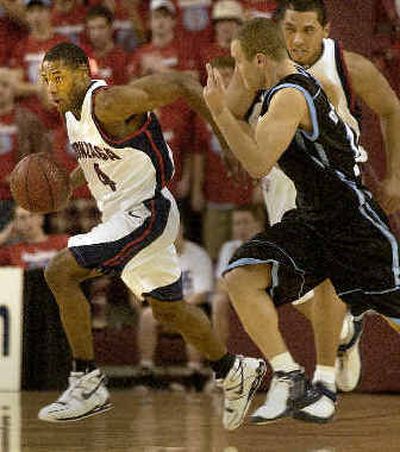 SANTA CLARA, Calif. – He may never allow himself to be the star, but Pierre Marie Altidor-Cespedes at least allowed himself to be something else Sunday night.
A difference maker.
Adam Morrison and J.P. Batista were the big guns in Gonzaga's 90-74 blitz of San Diego in the semifinals of the West Coast Conference basketball tournament – Morrison with one of the more spectacularly versatile games in school history. But when the Bulldogs made their two first-half surges to separate themselves from the Toreros, the unlikely catalyst was the sometimes reluctant freshman the Zags know simply as "P-MAC."
Now the Zags will play in their eighth straight WCC title game – and 10th in 11 years.
Altidor-Cespedes has had, as do many freshmen, a sometimes fitful transition to the college game, but he was a bold force on Sunday, as a shooter, playmaker and defender. He only made three baskets, but all were 3-pointers – and all came at what proved to be critical junctures.
And all came when the Toreros dared him to beat them.
"Sometimes the defender who was guarding me would back down, which would limit the options for the big guys so I couldn't give them the ball," Altidor-Cespedes said. "So I just told myself the next time they do that, I'm just going to try to hit the shot."
The Toreros had thrown a different defensive look at Gonzaga point guard Derek Raivio, double-teaming him with a big man in the backcourt in hopes of disrupting GU's offensive flow and wearing him down. Altidor-Cespedes' entry eight minutes into the game immediately opened things up – first with an uncontested 3, and then with a steal and feed to get Raivio his first shot, a 3-pointer, midway through the first half. It was another P-MAC 3-pointer that gave the Zags their first lead of more than three points, at 25-21.
Then, with Raivio on the bench with his second foul, Altidor-Cespedes triggered the run that broke the game open – first with another 3, then with a nervy pass to Batista on the break. Morrison finished it with a shooter's-roll fadeaway and a pass to Sean Mallon for a dunk, and the Zags had delivered a 21-point knockout punch at halftime.
"We were playing so well as a team," said Altidor-Cespedes, who finished with five assists and two steals to go with his career-high nine points. "It was nice to see sometimes when the ball wouldn't even touch the floor, we were passing it so well and finding each other. That's a real sign of good ball movement."
But coach Mark Few was more relieved to see his freshman's assurance in taking the necessary shot.
"He's a good shooter," Few said. "He's shown an incredible reluctance slash resistance to that concept, but thankfully tonight he didn't show that."
And it gave the Zags just one more weapon for teams to worry about.
"I've been in this league 11 years and this team is one of the harder teams to defend," said USD coach Brad Holland. "I can't find a weakness in their game."
Considering the Zags put together the rout with center Ronny Turiaf managing just two points, it was a suggestion that they've found their rhythm at the right time.
"The perfect time," said Altidor-Cespedes, "but it's not over yet."
Local journalism is essential.
Give directly to The Spokesman-Review's Northwest Passages community forums series -- which helps to offset the costs of several reporter and editor positions at the newspaper -- by using the easy options below. Gifts processed in this system are not tax deductible, but are predominately used to help meet the local financial requirements needed to receive national matching-grant funds.
Subscribe to the sports newsletter
Get the day's top sports headlines and breaking news delivered to your inbox by subscribing here.
---