News > Spokane
Barrel Room 6, cafe, PacSun poised for debut
Thu., March 10, 2005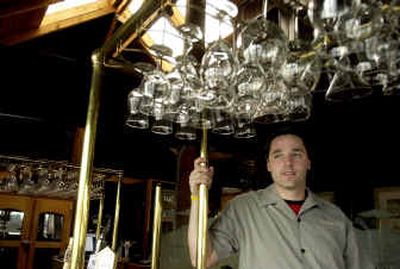 Don't go running out the door to find the first three places mentioned below. They're pretty interesting, but they're coming in the future. Offering wine by the glass and bottle and simply a pleasant evening, Barrel Room 6 should open in June at 503 Sherman Ave., Coeur d'Alene, next to Doma Coffee Shop across from KVNI radio.
Emphasizing the seven products of its parent company, Coeur d'Alene Cellars, Barrel Room 6 will serve wine and hors d'oeuvres in a pleasant atmosphere of tables, chairs, couches and a stand-up bar. Low-key entertainment will often be there. Other wines, primarily from Northwest wineries, also will be available.
Owners Bob and Kimber Harris and her parents, Charlie and Sarah Gates, opened Coeur d'Alene Cellars in Commerce Park last November. The 8,000-square-foot winery has six barrel rooms.
"It will be of a pleasant but modern atmosphere," Bob said. "But it'll also be comfortable so people can nestle down and be romantic."
Barrel Room 6 will be open afternoons and evenings, probably six days a week. The building has about 2,000 square feet.
Good Day! It's not Cheesecake
Everyone asks, "When will the Cheesecake Factory open?"
Don't hold your breath – or your fork. The restaurant planned for the northwest corner of Highway 95 and Canfield Avenue (beside Olive Garden) is not even related to the famous Cheesecake Factory chain. It will be called Good Day Idaho Cafe.
Of course, it probably will have cheesecake as one of its main items. The owners evidently have several cheesecake-centered restaurants in Canada. At this point, the menu is a mystery.
With plans just submitted for a project review by the City of Coeur d'Alene, the restaurant will be 6,540 square feet with a patio and garden wall. The acre-plus property will have 66 parking stalls. Watch for more later on this project.
PacSun plans mid-April opening
This business with a loyal following will open in Coeur d'Alene. Pacific Sunwear, more commonly known as PacSun with its pacsun.com Web site, plans an April opening in Silver Lake Mall. The 4,000-square-foot store will be off the food court between Regis Hair and Vanity Clothing.
The store's inventory includes summer and beach clothing and accessories.
PacSun began in 1980 in Newport Beach, Calif. Its founders soon realized that competition was tight next to similar neighbors and business was cool when the weather was – so they moved to a mall where the neighbors and weather weren't factors. That worked. The company now has 860 stores in all 50 states.
Cedars, Beverly's finish renovations
Two of Coeur d'Alene's lakeside restaurants are open this week after being closed for major remodeling and refurbishing during the winter months.
The Cedars Floating Restaurant on Blackwell Island will open Friday. The kitchen and dining room have been completely redone and redecorated, according to manager Dan Duer. New menus offer a variety of items from 5 to 10 p.m. daily. The current 20 employees will expand to 60 in the summer. The restaurant began in 1965 and was rebuilt in 1991. Phone 664-2922.
Meanwhile, Beverly's Restaurant on the seventh floor of the Coeur d'Alene Resort is open after its major renovation. Hours are 11 a.m.-2:30 p.m. and 5-10 p.m. Monday through Saturday and Sundays at 5 p.m. Phone 765-4000. Both restaurants are owned by Hagadone Hospitality.
Tony's Supper Club, another lakeside restaurant, will reopen in April. The longtime Bennett Bay place also has been closed for a major remodeling.
Local journalism is essential.
Give directly to The Spokesman-Review's Northwest Passages community forums series -- which helps to offset the costs of several reporter and editor positions at the newspaper -- by using the easy options below. Gifts processed in this system are not tax deductible, but are predominately used to help meet the local financial requirements needed to receive national matching-grant funds.
Subscribe now to get breaking news alerts in your email inbox
Get breaking news delivered to your inbox as it happens.
---