News > Spokane
Discrimination complaint gets federal probe
Thu., March 10, 2005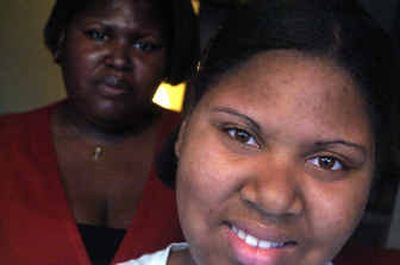 Federal civil-rights investigators are looking into a Spokane mother's complaint that school officials failed to adequately respond to racial slurs and other inappropriate actions directed at her daughter.
Kiondra Bullock claims that her African American middle school daughter was called racial slurs by a special-education student who acted like a monkey while delivering the insults. The slurs came almost daily in the fall at Sacajawea Middle School, Bullock said.
When Bullock asked school officials to take action, she said, she was told their hands were tied because the student had free speech rights, was in the special-education program and in a protected class.
Now Bullock's situation has attracted the attention of the U.S. Department of Education's Office of Civil Rights. District officials received a letter Monday stating that the national office is opening an investigation into the discrimination complaint.
"The complaint alleges that the district did not take appropriate steps to address racial slurs and harassment against a student at Sacajawea Middle School," wrote Gary Mackenstadt, special projects coordinator with the Office of Civil Rights, in a letter to Superintendent Brian Benzel.
Benzel and Associate Superintendent Nancy Stowell said through district spokeswoman Terren Roloff that they could not respond to the specific allegations because of federal privacy laws.
Sacajawea Principal Paula Ronhaar initially said she wanted to respond to the allegations but asked for time to learn more about the complaint first. Ronhaar did not respond to requests for an interview Tuesday or Wednesday. Other district officials could not be reached for comment.
Bullock sent her complaint to the Department of Education offices in Washington, D.C. The complaint says her daughter was harassed and then punished for responding.
"She has tried to follow the rules of the school and report her harassment, but she is being told there is nothing the school can do to prevent children from calling her a 'nigger' on a regular basis," Bullock wrote to the agency. "Yet, if she says something to the students that harass her or attempts to defend herself, she is reprimanded immediately."
Bullock's daughter Taylor Bruce moved into Spokane Public Schools from Missouri last fall. Bullock said by September her daughter was getting into trouble at school.
Her daughter had been a straight-A student in Missouri, Bullock said.
"How did her grades go from straight A's to C's and B's?" Bullock said.
Before the slur incident, Bullock's daughter had a conflict with another girl. Bullock shared her daughter's discipline records with The Spokesman-Review. Bruce said she was defending herself. Bullock said the other student, who was white, was not punished. Bruce served one day of in-school suspension, and school officials forgot to bring her a lunch, Bullock said.
Bullock began working through the school system complaint process and said she believed her daughter was receiving more discipline reports in her student file than students who were not African American.
In an Oct. 26 letter from Principal Ronhaar, several actions were promised in response to Bullock's concern that her daughter was being unfairly targeted for discipline. The letter promised to provide more training to school investigators.
"On behalf of Sacajawea Middle School and myself, I apologize for any hurt to Taylor, and appreciate the opportunity to earn back your trust," Ronhaar wrote.
About two weeks later, Bullock said, her daughter was subjected to racial slurs by a special-education student, which led to the federal investigation.
The solution offered by both Sacajawea and district officials was to move her daughter to another school, Bullock said.
"When I started with this it was to get a fair shake for Taylor," Bullock said.
She said she's found other parents from diverse backgrounds who say they've had similar troubles.
"I think there is a huge lack of concern for black kids in the school district," Bullock said. "They say I'm uncooperative. They offered me (their) best possible solution, and I said no."
Bullock said her responses to Ronhaar have been direct.
"I told her I would see her fired before I move Taylor to another school," Bullock said.
On Feb. 9, Bullock explained her conflict at a school board meeting. In the hallway outside the meeting, Irene Gonzales, a district director who oversees middle schools, told Bullock she would set up a district meeting. Bullock said she has not heard from any district official on the matter. Gonzales could not be reached for comment.
Bullock said that in the week of Feb. 15, she spoke with the district equity office director, Vickie Countryman.
"My job is to review what happened and look through an equity eye about what can be done," Countryman said.
Generally speaking, Countryman said, "When we have a special-education kid, there are extra policies (that apply). It is never at the expense of other children."
Countryman said she met with Bullock several times. But in their last meeting, Bullock made it clear she was proceeding with legal representation.
"The last meeting we had she stated very publicly to me that she was very happy with me but she was going to proceed on," Countryman said.
Local journalism is essential.
Give directly to The Spokesman-Review's Northwest Passages community forums series -- which helps to offset the costs of several reporter and editor positions at the newspaper -- by using the easy options below. Gifts processed in this system are not tax deductible, but are predominately used to help meet the local financial requirements needed to receive national matching-grant funds.
Subscribe now to get breaking news alerts in your email inbox
Get breaking news delivered to your inbox as it happens.
---