News > Voices
Full of character
Thu., March 10, 2005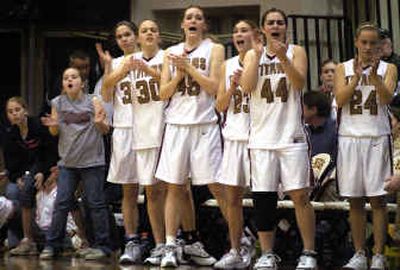 Mark Kuipers gave fair warning.
The University High School girls basketball assistant coach looked around the U-Hi gym, watching as the Titans practiced for the final time on their home floor before taking off for the State 4A tournament.
"You want to talk to the girls on our bench?" he asked. "I hope you brought spare batteries for your recorder. These girls are a bunch of characters. Once you get them started you'll be here for hours."
That, in a nutshell, is the secret to University's success. OK, the secret that comes right after having an outstanding collection of talent.
The Titans have a dedicated collection of talent sitting on their bench, sweating each day in practice – pushing the starting five, never settling for less than 100 percent effort and never, ever, missing an opportunity to crack a joke.
Just watch a practice session. It's an inseparable combination of work and play that has most players grinning from the time they step on the court after school to the time they put away the basketballs.
"We all get along so well together," junior post Janna Erickson said. "But we can be so goofy, too. That's part of why we all have so much fun together."
Some basketball teams celebrate their character. Others are made up of unique characters. University celebrates the fact that they're all characters – with good character.
Like any successful team, the supporting cast makes all the difference. And the fact that the entire cast gets along famously.
"I really look forward every day to practice," sophomore wing Dara Zack said. "I can be having a bad day, and practice will pick me right up. We all get along so well, and we have so much fun in practice.
"That goes back to coach (Mark) Stinson, too. Before every game he writes our goals for the game on the blackboard. At the bottom, he always writes, 'Have Fun.' "
The Titans are deep, a major benefit as they quest for a state title. At 6-feet, Erickson gives the Titans height. Senior Jessie Schmedding and junior Kara Crisp both come off the bench at the guard spot, while Zack provides depth at wing.
To a player, the Titans show one another a deep respect earned through long hours of hard work and shared dreams.
"People should know that we're all great friends off the court, too," Schmedding said. "We have a blast being together every day in practice."
It spills over after practice. The girls support one another off the court as well.
When senior Alyssa Lanker, U-Hi's Lilac Princess, competed for the Lilac Festival crown, her teammates were there to cheer her on.
"That was a lot of fun," Erickson said. "It was great to celebrate the fact that we all have facets of our lives away from basketball."
But there had to be some good-natured kidding to go along with the support.
Erickson laughed.
"Of course!" she said. "Let's just say that, when we had senior night, we made sure everyone knew that Alyssa was 'The True Princess of our Court.' "
But that's not all.
"Wow – you should hear one of our film sessions," Erickson laughed. "Every single one of us has an opinion, and none of us is afraid to voice it.
"The good thing is that we all trust each other. If someone has something they feel they need to say, they can say it without hurting someone else's feelings."
Monday was a day to bask in the glow of the Titans' regional championship, with pats on the back and congratulations pouring from every quarter of the school. The coaching staff had planned to retreat to the back corner of the fieldhouse for their final practice session – all the better to be out of the way of the spring sports athletes moving in and out of the building.
"The girls vetoed that," Kuipers said. "They wanted to be out on the main court for one last time. I guess we can't blame them for that."
Meanwhile, the team was poised for their final four games.
"I guess I'm one of the cut-ups and potential troublemakers," Crisp said with a laugh. "Janna and Tara and I talked about rooming together, and the coach was like, can we trust you to even sleep at night?"
She turned serious.
"You know, we would never do anything to derail what we have to accomplish this weekend," she said. "We're going to have fun, but we're there to get a job done. One team; one dream."
Local journalism is essential.
Give directly to The Spokesman-Review's Northwest Passages community forums series -- which helps to offset the costs of several reporter and editor positions at the newspaper -- by using the easy options below. Gifts processed in this system are not tax deductible, but are predominately used to help meet the local financial requirements needed to receive national matching-grant funds.
Subscribe now to get breaking news alerts in your email inbox
Get breaking news delivered to your inbox as it happens.
---