News > Voices
Hutton aims to give kids chance to succeed in life
Thu., March 10, 2005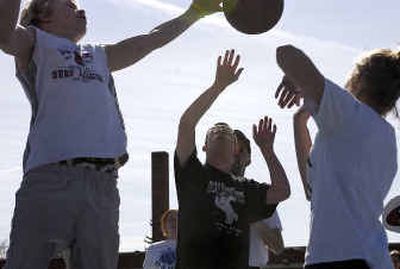 Kids living at Hutton Settlement Children's Home are tackling physical and community challenges and, in the process, discovering they can move mountains.
Years ago the mission of the 86-year old settlement, which provides an alternative to foster care, was nurturing and meeting basic needs.
Within the past few years, the staff has created programs that challenge children to reach beyond themselves – and their pasts – to become major players in their community.
"Just getting them through high school is no longer a success for us. We want them to succeed and achieve higher things," said David Milliken, director of programs.
The settlement, started by May and Levi Hutton in 1919, sits on 319 acres on Upriver Drive, just east of Argonne Road. It has four cottages, staffed by house parents, which 35 children and teenagers, ages 5 to 18, currently call home.
The historic campus and its programs are funded by settlement-held investments and private donations.
Josh Kling, 13, has lived at Hutton Settlement for the past five years and enjoys the campus activities.
"We do a lot of things that are fun. It's a great place to live," Kling said.
He participates in Skill building, Attitude and Leadership United Through Education (SALUTE) and in Odyssey, an adventure program that builds self-confidence.
Through helping others, children learn to contribute to their community while gaining perspective on their own lives.
Last winter, SALUTE members gathered coats and warm clothing for the homeless. The kids are currently fund-raising for the American Cancer Society's Relay for Life.
While helping to train Special Olympics athletes on the basketball court recently, Kling discovered he also was in training.
"We're not really the ones teaching them. They're teaching us," Kling said.
"I'm learning about myself. I've learned that I'm a pretty good caretaker."
Other campus activities cater to a broad range of interests, including theater and drama and even raising lambs on campus through 4-H. The programs all have character-building components.
"I think children need a little more today than I think they did 10, 15, 20 years ago," said Michael Butler, administrator of Hutton Settlement.
"Every child is different, so we have to adjust our approach for each child."
Like most good parents, staff members want to raise children who grow up to become loving parents and make a difference in the world.
The staff faces the same parental challenges in bucking the modern-day me-first attitude that dominates society.
"Our society seems to emphasize if it feels good, that's where we go," Butler said. "We need to teach that there's more to life than what feels good."
Kids participating in Odyssey learn survival skills, sailing, kayaking and more. Milliken is planning a regional adventure dubbed the "Amazing Race," which he's keeping under wraps until summer.
Some adventures are symbolic of life's challenges. During a 3-mile hike last fall, Kling and others climbed a mountain while carrying 30-pound backpacks.
"The whole group was able to make it up the hill. It was pretty fun," Kling said.
Kyle Patterson, activities director, said the adventures help children tackle things they never envision doing and, in the process, rebuild self-esteem that may have been damaged by childhood abuse or family tragedy.
"We really challenge them to do things they wouldn't normally do. They have to encounter things they don't think they can do," Patterson said.
It also empowers kids who've dealt with tragedies ranging from illness and death of a parent to parents using drugs or serving jail sentences.
The decision to let the settlement raise children is often heart-wrenching for families, who usually stay in contact with their kids.
"It takes time. That's not an easy thing to overcome. Often these kids are scarred by their pasts," Milliken said.
Working with people with developmental disabilities has sparked an interest in a career in teaching for Kling.
"I would like to teach computers. I think I'm going to go to Eastern Washington University."
His dream is possible because Hutton Settlement children who graduate from high school are eligible for settlement scholarships to help pay for college or trade school.
To ensure academic success, volunteers tutor kids who struggle in certain subject areas. Students from Whitworth College and Gonzaga University also serve as tutors, mentors and role models.
Kids are required to study at least one hour, five nights a week and, as a result, the children, who attend schools in the West Valley School District, are bringing home report cards boasting plenty of As and Bs.
"We've also seen overall grades increase," Butler said.
Milliken said the programs and educational support are helping kids look beyond the present toward a bright future.
"These kids are dreaming big and I love it."
Local journalism is essential.
Give directly to The Spokesman-Review's Northwest Passages community forums series -- which helps to offset the costs of several reporter and editor positions at the newspaper -- by using the easy options below. Gifts processed in this system are not tax deductible, but are predominately used to help meet the local financial requirements needed to receive national matching-grant funds.
Subscribe now to get breaking news alerts in your email inbox
Get breaking news delivered to your inbox as it happens.
---