Sports
Irvine ousts Idaho
Thu., March 10, 2005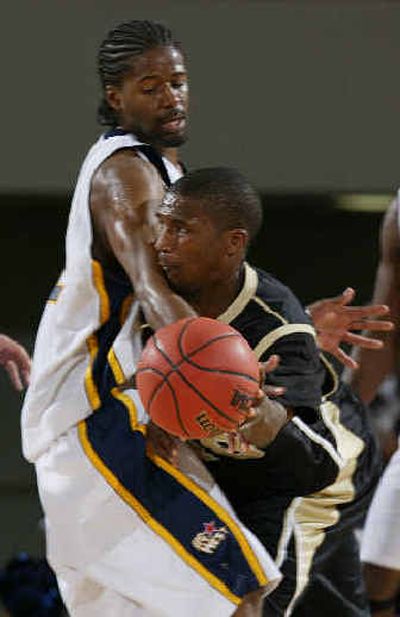 ANAHEIM, Calif. – The Idaho Vandals waved goodbye to the Big West Conference with a performance that symbolized their bizarre season.
The Vandals had one of their better offensive showings, even with their customary lull or two per half. Their defense yielded 80 points for the sixth time this season, but that unit was only partly to blame.
The latest culprit in a season that saw problem areas develop game by game was rebounding, as the Vandals allowed UC Irvine to shoot until it finally got it right, which led to Idaho's 80-67 loss Wednesday in the opening round of the Big West men's basketball tournament at the Anaheim Convention Center.
Idaho, which opened the season with seven straight losses, closed it with eight consecutive setbacks. The eighth-seeded Vandals, who move into the WAC next season, finished 8-22, their most losses since the 1984-85 season.
"We got pounded on the glass," Idaho coach Leonard Perry said. "In my eyes, that's the story of the game."
And the story of the latter third of the season. Idaho was outboarded in eight of its last 10 games. Vandals senior Anton Lyons, who led the Big West in rebounding, finished with one rebound in 20 minutes.
No. 5 UC Irvine, which piled up a 50-25 rebounding advantage, advances to face No. 4 Cal State Northridge tonight. No. 3 Cal State Fullerton takes on No. 7 seed UC Santa Barbara, which knocked off No. 6 Long Beach State 55-49. No. 1 Pacific and No. 2 Utah State await tonight's winners.
In one telling first-half sequence, four Vandals in pursuit of a rebound fumbled the ball out of bounds. Seconds later, junior guard Aaron Fitzgerald hit a 3-pointer – the first of his six – to boost UC Irvine's lead to 30-22.
"It just seemed they were a little more determined to go get shots they missed," Perry said. "In the first half we caused them to miss quite a few and they had nine offensive rebounds. That's part of the game you can't overcome."
Fitzgerald, who made 24.1 percent of his 3-pointers in conference games, was 6 of 11 from long distance en route to a career-high 30 points. He also had several run-ins with the Vandals, including one face-to-face jawing session with Dandrick Jones that required an official to separate the two.
"We were trying to push the ball up the court and the Idaho guy got in my way and we just had some words," Fitzgerald said.
Idaho's offense clicked early. When Jones rose up from the right wing and hit a 3-pointer, Idaho led 20-16 with the game barely seven minutes old. Seven minutes later, Idaho was still sitting on 20 points.
Sophomore wing Dillon Higdon, in just his ninth start of the season, rescued Idaho with a pair of 3-pointers – his fourth and fifth of the half – as Idaho closed within 38-36 at intermission. During a timeout following Higdon's fifth 3-pointer, his father, Charlie, set his video camera down for a minute and could be seen in the back row of section 219 with his arms raised in celebration.
The euphoria didn't last, though Higdon continued to play well. The Vandals were within 58-55 after a Higdon layup, but they only scored one point in the next seven minutes. Anteaters reserve forward Darren Fells, who racked up 10 points and 12 rebounds, started a 10-1 run with a layup.
"We came unglued, point blank," Idaho guard Tanoris Shepard said.
Idaho made one last run, closing to 70-67 on Lionel Davis' three-point play with 2:26 remaining. The Anteaters burned up 30 seconds on the shot clock before Fitzgerald stepped back and drained a back-breaking 3-pointer.
The shot couldn't have been pleasant for Perry, who has been experiencing severe stomach pain when he breathes.
"We've not been equipped enough, and I'll take responsibility for it, to fight through any adversity this year," Perry said. "When adversity hits us on the offensive or defensive end, we haven't been able to get through it, from the very first road trip."
Jones and Higdon combined to make 9 of 13 3-pointers. Each finished with 19 points and Shepard added 16.
UC Irvine 80, Idaho 67
Idaho (8-22) – Higdon 7-12 0-2 19, Lyons 2-8 0-0 4, Davis 2-6 2-3 6, Jones 7-16 1-2 19, Shepard 5-11 6-7 16, Haynes 1-6 0-0 3, Bowden-Key 0-0 0-0 0, Anderson 0-0 0-0 0, Kale 0-0 0-0 0. Totals 24-59 9-14 67.
UC Irvine (16-12) – Gloger 5-9 2-2 12, Campbell 1-4 1-2 4, Ethington 4-9 2-4 10, Fitzgerald 9-15 6-7 30, Schraeder 2-11 0-0 6, Fells 3-5 4-4 10, Armstrong 2-3 0-0 6, Sanders 1-3 0-0 2, Bruckner 0-0 0-0 0, Metelski 0-2 0-0 0. Totals 27-61 15-19 80.
Halftime—UC Irvine 38, Idaho 36. 3-point goals—Idaho 10-20 (Dilla 5-7, Jones 4-6, Haynes 1-5, Shepard 0-2), UC Irvine 11-23 (Fitzgerald 6-11, Armstrong 2-3, Schraeder 2-6, Campbell 1-2, Ethington 0-1). Fouled out—None. Rebounds—Idaho 25 (Davis 8), UC Irvine 47 (Fells 12). Assists—Idaho 11 (Jones 4), UC Irvine 15 (Fells, Fitzgerald 3). Total fouls—Idaho 15, UC Irvine 13. A–NA.
UC Santa Barbara 55, Long Beach St. 49
The seventh-seeded Gauchos (11-17) upset the sixth-seeded 49ers (10-20) to advance in the tournament. UCSB rallied from a five-point halftime deficit to outscore Long Beach State 30-19 in the second half.
Local journalism is essential.
Give directly to The Spokesman-Review's Northwest Passages community forums series -- which helps to offset the costs of several reporter and editor positions at the newspaper -- by using the easy options below. Gifts processed in this system are not tax deductible, but are predominately used to help meet the local financial requirements needed to receive national matching-grant funds.
Subscribe to the sports newsletter
Get the day's top sports headlines and breaking news delivered to your inbox by subscribing here.
---