News > Voices
Mt. Spokane senior attending Senate youth program in D.C.
Thu., March 10, 2005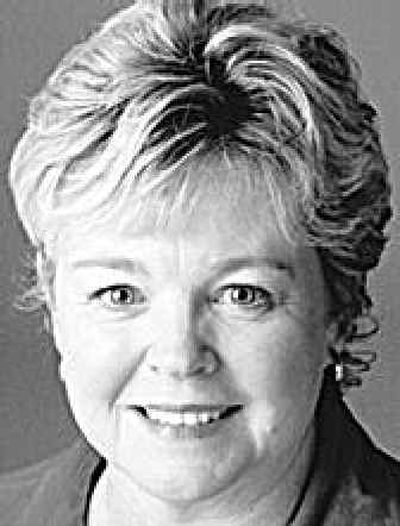 Adam Membrey, a senior at Mt. Spokane High School, is spending a week in Washington, D.C. He received the all-expenses-paid trip and was awarded a $5,000 scholarship as one of only 100 recipients nationwide of the U.S. Senate Youth Program, sponsored by the William Randolph Hearst Foundation.
Membrey was nominated by his peers at student leadership camp. In November, he went to Olympia to complete a written exam on his knowledge of U.S. government and was interviewed by a committee of educators and leaders in state government.
Membrey has a 3.92 grade-point average, is active in student government, and has participated in jazz band, concert band, football, basketball and excelled in soccer. He has accomplished all this as a student with profound deafness, losing his hearing at age 4 after contracting meningitis.
One of Membrey's goals is to pursue a career in public service.
Ignatian service award recipients announced
Gonzaga Prep senior Caitlin McKenna, and sophomore Elizabeth Burunova, have been presented the Ignatian Service Award, which honors students who best represent the Ignatian spirit of community service and being a person for others.
McKenna is the daughter of John and Molly McKenna.
Neil Kempen, director of community service at Gonzaga Prep, nominated McKenna. Kempen stated, "Caitlin is truly an inspirational person. She has excelled in terms of being generous with her time and her gifts. I admire how Caitlin is able to keep a smile on her face and to always be in a positive frame of mind. I am sure she has served many people with her enthusiastic attitude and winning personality. It has been a pleasure getting to know her."
McKenna's commitment to volunteerism and involvement in school are evident in her list of accomplishments. She has been a volunteer at Holy Family Hospital since the summer of 2002, served more than one hundred hours as an acolyte and Eucharistic minister at St. Charles Parish, and volunteered at Hoopfest in the first aid tent. She is a National Honor Society tutor, an Ancilla member, and was active in G-Prep's food drive and homeroom community garden.
Burunova is the daughter of Viktor and Olga Burunova.
In his nomination of Burunova, Kempton stated, "Being only a sophomore, it is amazing to me that Elizabeth has already accumulated over five hundred hours as a tutor to high school students. Stronger than mere words, this unselfish action shows her commitment towards helping people in need. I am sure Elizabeth will achieve much in her high school years and beyond."
In addition to tutoring students, Burunova is involved in the 4-H program. She has volunteered in the main office at G-Prep and is in Phase II Jazz Choir.
St. George's student named National Merit finalist
Jonathan Steenblik, a senior at St. George's School has been named a finalist by the National Merit Scholarship Corporation.
Steenblik, the son of Paul and Mary Steenblik, is on of 15,000 high school seniors nationwide who are finalist to earn Merit Scholarship awards. He has met all the requirements to advance to the finalist standing.
Students enter the National Merit program by taking the Preliminary SAT/National Merit Scholarship Qualifying Test, a test which serves as an initial screen of approximately 1.3 million entrants each year, and by meeting program requirements.
Award winners will be named later this spring.
Gonzaga Prep Jazz Ensemble presents 'Cabaret Night'
The Gonzaga Prep Jazz Ensemble will present "Cabaret Night," from 6 to 9 p.m., Friday in the Barbieri Student Center on campus, 1224 E. Euclid.
In addition to an Italian dinner and dessert, there will be door prizes, a DVD raffle, casino games, dancing and music provided by the Jazz Ensemble with special guests.
Tickets are $10. For reservations, contact Anna Oberg at 435-1844, or band director Tom Molter, at 483-8511.
Open house and placement testing at St. George's
Placement testing for prospective students in grades 6 through 12 will be held from 9 a.m. to noon on Saturday at St. George's School, 2929 W. Waikiki Rd. Top high school scores qualify students to apply for a $3,000 scholarship.
An open house for students entering grades six through eight will be held at 6 p.m. March 22. The open house precedes the middle school's academic and art fair.
To register for placement testing or to attend the open house, contact Debbie Duvoisin at 466-1636, ext. 304, or e-mail Debbie.duvoisin@sgs.org.
Local journalism is essential.
Give directly to The Spokesman-Review's Northwest Passages community forums series -- which helps to offset the costs of several reporter and editor positions at the newspaper -- by using the easy options below. Gifts processed in this system are not tax deductible, but are predominately used to help meet the local financial requirements needed to receive national matching-grant funds.
Subscribe now to get breaking news alerts in your email inbox
Get breaking news delivered to your inbox as it happens.
---