News > Features
Rev. Sharpton puts in his two cents about 50 Cent
Thu., March 10, 2005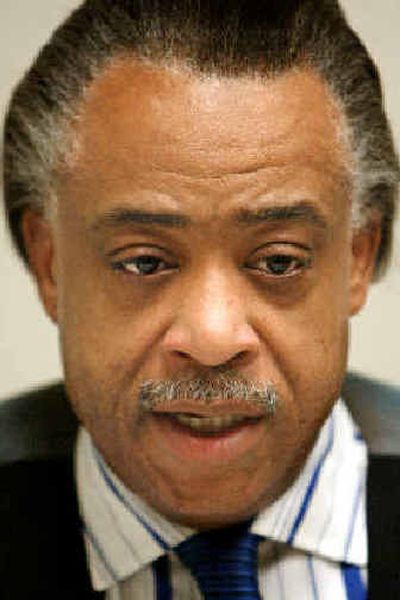 The Rev. Al Sharpton is weighing in on the latest drama involving rapper 50 Cent. The civil rights leader is proposing that musicians connected to any violent acts be denied airplay on radio and television for 90 days.
That follows last week's shooting outside a New York radio station involving a dispute between supporters of 50 Cent and a former protege turned rival, The Game.
"Black kids are expected to shoot each other, and nobody cares?" Sharpton said. "Well, I care, and I think somebody should do something about it."
Meanwhile, 50 Cent and The Game publicly patched up their feud on Wednesday, appearing together to make donations to the Boys Choir of Harlem.
"I'm launching a new foundation … to help people overcome obstacles and make a change for the better in their lives," 50 Cent said, adding: "Game and I need to set an example in the community."
Such is the law of Rule
Rapper Ja Rule has apologized to the city of Toronto after pleading guilty to assault at a downtown nightclub last year and receiving a $1,200 fine.
He said he was provoked by a crowd that shouted "derogatory" comments about his public feud with 50 Cent. As he was leaving, he punched a bystander.
The judge in turn apologized to Ja Rule for the "disgraceful" comments shouted at the nightclub, calling them an "embarrassment" for the city.
That's, like, totally lame
Limp Bizkit singer Fred Durst is suing 10 Web site operators who posted a homemade sex tape after it was stolen from his computer – possibly by the same hackers who got into Paris Hilton's cell phone.
The lawsuit seeks more than $70 million in damages and any profits the site operators reaped in recent weeks, when the three-minute clip of Durst and a former girlfriend began appearing on the Internet.
Investigators are looking into whether the incident involving Durst's computer was related to Hilton, who had the contents of her mobile phone posted online.
Have some sympathy for the little devils
A British judge has banned the broadcast of video footage showing Elizabeth Jagger having sex with her boyfriend in a London nightclub.
Jagger, the 20-year-old daughter of Rolling Stones frontman Mick Jagger and model Jerry Hall, sought the injunction against the manager of Kabaret's Prophecy Nightclub.
The judge ruled that Jagger and her boyfriend had a "legitimate expectation of privacy" when they engaged in sexual activities just inside the club's doors last month. They were captured on a closed-circuit television camera.
You go, girl!
Twisted Sister frontman Dee Snider has stepped in to make a high school talent show safe for rock and roll.
Hamburg (Pa.) Area High School officials had banned rock bands from the competition for fear of injuries caused by "moshing," but backed down after Snider took up the cause on his radio show.
Snider, who also helped arrange for extra security for the show, says he may even step onstage when one of the acts covers his group's "We're Not Gonna Take It."
The birthday bunch
Singer Dean Torrence (Jan and Dean) is 65. Actress Katharine Houghton is 60. Actress Shannon Tweed ("Falcon Crest") is 48. Actress Sharon Stone is 47. Actress Jasmine Guy ("A Different World") is 41. Country singer Daryle Singletary is 34. Rapper-producer Timbaland is 33.
Local journalism is essential.
Give directly to The Spokesman-Review's Northwest Passages community forums series -- which helps to offset the costs of several reporter and editor positions at the newspaper -- by using the easy options below. Gifts processed in this system are not tax deductible, but are predominately used to help meet the local financial requirements needed to receive national matching-grant funds.
Subscribe now to get breaking news alerts in your email inbox
Get breaking news delivered to your inbox as it happens.
---