Sports
University, Lewis and Clark win openers among talent-laden field
Thu., March 10, 2005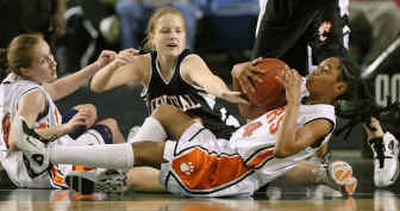 TACOMA – So far, so good for University and Lewis and Clark as they journey a State 4A girls basketball tournament highway fraught with potential roadblocks.
On opening day in the Tacoma Dome, the U-Hi Titans dispatched Redmond 70-43, not surprising except perhaps by its margin. The LC Tigers, despite a shaky start common to tournament openers, handled outmanned Central Kitsap 55-43.
The victories advanced both to the quarterfinals for the second straight year, LC (24-2) at 5 p.m. today against state perennial Prairie (24-3), and the Titans (24-1) against Monroe (22-3) at 7.
Both are hoping for outcomes better than last year's in a girls tournament coaches involved say is the strongest and most wide-open it has been.
Last year's State 3A champion Meadowdale, one of the teams considered a title contender, can attest to that. The Mavericks gave up the final eight points in regulation and 10 straight in overtime and were knocked out of contention.
Rebounding and defense will determine which teams are playing on Saturday night, said U-Hi coach Mark Stinson. His counterpart, LC's Jim Redmon, concurred.
"The bottom line is you have to take care of the ball and rebound as you go up the line," Redmon said.
Lewis and Clark 55, Central Kitsap 43
Redmon altered his starting lineup, going small with the thought that maybe his team could run the Cougars off the floor.
Instead, the Tigers missed their first 10 shots from the field and found themselves locked in an 8-8 struggle with less than a minute to play in the first quarter.
"We were out of sync," Redmon admitted.
It was up to LC's "bigs," Heather Bowman and Hanna Rothstrom, to salvage the quarter.
Once Rothstrom took the floor she provided a steadying influence. Bowman scored eight points, including the final four for a 12-8 lead.
Their rebounding played a big part in the 17-4 first-half run that enabled LC to break away. Each had five rebounds by intermission. The Tigers increased the lead to as many as 19 points in the third quarter and their biggest margin was 49-28 early in the fourth.
"I typically do start," Rothstrom said. "But we wanted to try something different and weren't necessarily ready for that. Once I got in it all worked out."
Bowman finished the game with 24 points.
"Her body control is fabulous," Central Kitsap coach Denise Baxter said of Bowman. "She's a great athlete. It also helps when 12 (Briann January) is another player we wanted to key on. They're hard to guard."
Bowman said that she wasn't pressured around the basket as is customary and it made for easy shooting.
The result was a first-day victory against a relatively outmatched foe.
"It was a typical first game," said Redmon. "I think there were some nerves. When we got going it was OK."
University 70, Redmond 45
The Titans were able to score at will in the first half, but the Mustangs hung around by earning a rebounding standoff and scoring eight points in the final minute to halve a 12-point deficit.
"We felt pretty good," said Redmond coach Pat Bangasser. "Then it seems we ran out of gas and I don't know why."
The Titans ran off the first 11 points of the third quarter for a 46-29 lead and parlayed tough perimeter defense and a 28-12 second-half rebounding advantage to win going away.
"We talked about giving them too many easy shots and shored up the defense and boards in the second half," Stinson said. "Their shots stopped falling and once we got separation their heads were down a bit."
U-Hi guards Alissa Lanker, Tonya Schnibbe and Angie Bjorklund made sure that if the Mustangs were going to shoot 3-pointers, they wouldn't get too many uncontested looks. If the Mustangs tried to drive – and a couple are left-handed, which made it a challenge – they'd sag inside and help each other.
"We don't switch. It's confusing," Lanker said of U-Hi's man-on-man defensive style. "We'd fight through screens and talk."
U-Hi trailed 3-2 early, but Jami Bjorklund's nine first-quarter points and a quarter-ending rebound basket and free throw by reserve Dara Zack staked the Titans to a 19-11 lead.
The Titans were ahead 33-21 on the scoring of Angie Bjorklund and Emily Kuipers before Redmond's half-ending spurt.
The Bjorklunds and Kuipers divided up the first 11 points of the third quarter and U-Hi's reserves more than held their own in the fourth.
Angie Bjorklund finished with 21 points and seven rebounds. Jami Bjorklund added 16 points and nine rebounds, and Kuipers scored 11 points.
Other scores
Garfield 57, Kentlake 41: Chanieka Williams and Samantha Tinned each scored 14 points to lead the Bulldogs (23-1) past the Falcons (22-4).
Auburn Riverside 52, Meadowdale 45 (OT): Rylee Denbo totaled 17 points and 13 rebounds, and the Ravens (19-7) hit 8 of 10 from the line in overtime to defeat the Mavericks (22-2).
Prairie 63, Eisenhower 60: Katie Madison scored 18 points and freshman Ashley Corral had eight assists to lead the Falcons (24-3) past the Cadets (23-3) of Yakima, who played their first state game in 12 years.
Monroe 46, Foss 39: Arizona State University-bound Kristen Thompson scored six of her 13 points early in the fourth quarter, sparking a 10-0 run and leading the Bearcats (22-3) past the Falcons (19-7).
Richland 50, Bethel 41: Hayley McCoy and Michelle Briggs combined for 27 points to guide the Bombers (23-3) past the Braves (23-3), who are 0-11 all-time at state.
Snohomish 52, Gig Harbor 38: Daesha Henderson scored 20 points, hitting 7 of 12 from the floor, in leading the Panthers (23-1) past the Tides (18-8).
Local journalism is essential.
Give directly to The Spokesman-Review's Northwest Passages community forums series -- which helps to offset the costs of several reporter and editor positions at the newspaper -- by using the easy options below. Gifts processed in this system are not tax deductible, but are predominately used to help meet the local financial requirements needed to receive national matching-grant funds.
Subscribe to the sports newsletter
Get the day's top sports headlines and breaking news delivered to your inbox by subscribing here.
---