News > Spokane
Agency to try to help slake state's thirst
Fri., March 11, 2005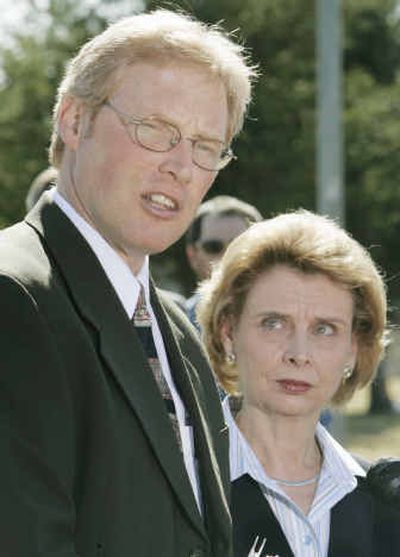 OLYMPIA – Washington Department of Ecology director Jay Manning said his agency will focus on helping farmers, communities and streams get the water they need, now that Gov. Christine Gregoire has declared a drought emergency.
"Unfortunately, I cannot promise that everyone will get all the water they want," Manning said.
"In some cases, we will be able to provide only enough water for people to get by. We will manage available water supplies the best we can, but we can't replace what nature doesn't give us."
The Pacific Northwest is girding for the worst drought in 28 years, with precipitation at or near record lows in Washington, and mountain snowpack averages running 26 percent of normal.
Many rivers are at or near record lows for this time of year.
The drought is also plaguing Oregon, Idaho and Montana.
In Washington, the state departments of agriculture, health, and fish and wildlife will work with Ecology to identify problems.
Manning said the state Conservation Commission will work with local conservation districts and individual farmers on best practices for conservation and irrigation.
Meteorologists blame the drought on a weak El Nino, which brought unusually mild weather to the region in January, February and, now, March.
Water managers say the situation hasn't been this bad since 1977.
Gregoire's emergency declaration authorizes the state Department of Ecology to issue emergency water permits and temporary transfers of water rights, and it releases funding from the state's Drought Emergency Account.
The last time a statewide drought emergency was declared was in 2001.
That year the Spokane region was not heavily impacted, according to Curt Hart, a Department of Ecology spokesman.
So how will this year's impending drought affect the area?
"It's too early to tell," Hart said. "Droughts tend to unfold very slowly and affect different areas in different ways."
Hart said snowpacks in Canada could help out border areas.
"There are a lot of ways people can reduce their water use to protect our streams and to keep the farms and businesses that power our state's economic engine running," Gregoire said.
"We can manage this challenge if we all contribute to the solution."
The governor noted that Yakima Valley irrigators are feeling the greatest pinch now but that water users around the state are dusting off their drought plans.
"Some communities have invested in systems to reuse and conserve water, and they'll survive this drought better than communities that haven't done as much," she said.
"Throughout this spring and summer, citizens need to pay close attention to what their local water providers are saying about water supplies in their area, and follow the instructions they are given.
"For most areas, every drop of water we save now is water that will be available later when we may really need it."
Local journalism is essential.
Give directly to The Spokesman-Review's Northwest Passages community forums series -- which helps to offset the costs of several reporter and editor positions at the newspaper -- by using the easy options below. Gifts processed in this system are not tax deductible, but are predominately used to help meet the local financial requirements needed to receive national matching-grant funds.
Subscribe now to get breaking news alerts in your email inbox
Get breaking news delivered to your inbox as it happens.
---