A&E > Entertainment
Blues' King pays Spokane a visit
Fri., March 11, 2005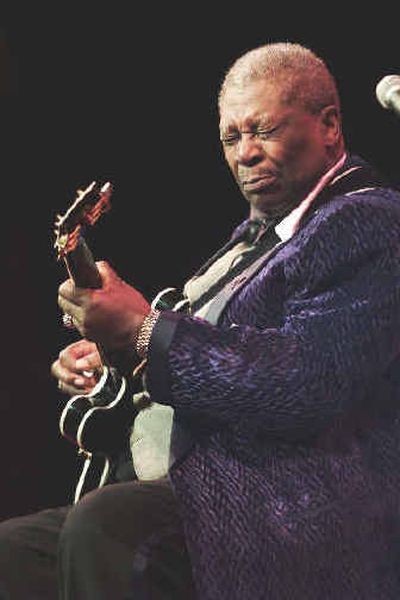 It's hard to think of the blues without B.B. King coming to mind.
Ever since he introduced audiences to his signature sound on 1951's "Three O'Clock Blues," his first Billboard hit, King has been one of the most recognizable names in music.
Five decades later, he has released more than 50 albums, performed in more than 90 countries, won 13 Grammys and, in 1987, was inducted into the Rock 'n' Roll Hall of Fame. Facing his 80th birthday in September, King continues to play more than 200 shows each year.
"Every night that I'm on stage, I have a good time," King said from his hotel room in Anaheim, Calif., before a show. "It's always fun to be able to make people laugh and make friends."
King's endless tour pulls into Spokane at 7 p.m. Wednesday at the Spokane Opera House. Tickets are $39.50 and $49.50 through TicketsWest, (800) 325-SEAT or www.ticketswest.com.
Born Riley B. King in 1925, King was raised near Indianola, Miss., where he grew up without electricity until he was 16. His introduction to music was as a singer. But a career in music wasn't what his family had in mind; they had hoped he would become a preacher. Ironically, it was Sundays in church that derailed King's path toward the pulpit.
"I wanted to play guitar because my pastor played guitar. I wanted to be like him," he said. "I always thought I would be a gospel singer."
On Saturdays, King played guitar and sang on street corners, taking requests as well as tips. On a good night, he could bring home $60, dwarfing the $22.50 he made during the week driving a tractor on a plantation.
"(In) my early years I thought I was pretty good, till I got to Memphis," he said.
Even today, King says it's not hard for him to find musical inspiration.
"If you keep your ears open, I hear young people, old people and in-betweens playing things that I wish I could," he said. "I always hear something that I can enjoy, of any kind of music."
Universal Music will release on Tuesday "The Ultimate Collection," a retrospective look at Kings' career from 1951 through 2000. King's not particularly excited about the release; he's more interested in finishing his new album, which includes a duet with Elton John and should be available before his September birthday.
"The company's putting ('Ultimate') together, not B.B. King," he said. "I don't have any quells with them. Anything they release, I think some work is good in it." Featuring tunes such as "The Thrill Is Gone," "Everyday I Have the Blues" and "Please Love Me," it's not hard to find a few satisfying.
Well past the age when many Americans pass on work for a daily tee-time, King has no plans to retire. He says as long as he's physically able, he will continue to tour and record music.
"Music is a big part of the way we live as a people. I just don't see how I could live without it very well," King said.
Local journalism is essential.
Give directly to The Spokesman-Review's Northwest Passages community forums series -- which helps to offset the costs of several reporter and editor positions at the newspaper -- by using the easy options below. Gifts processed in this system are not tax deductible, but are predominately used to help meet the local financial requirements needed to receive national matching-grant funds.
Subscribe to the Spokane7 email newsletter
Get the day's top entertainment headlines delivered to your inbox every morning.
---