Sports
Cougs come to familiar end
Fri., March 11, 2005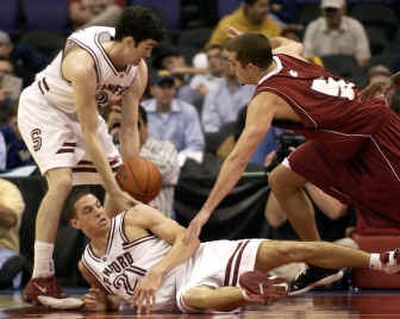 LOS ANGELES — Washington State University came to the Pacific-10 Conference tournament at the Staples Center having won just one game this season when giving up 60 points or more.
And with the stifling defense the Cougars had played against Stanford in two previous games this season, getting to that 60-point mark would have seemed difficult at best. But the Cardinal did just that, scoring their 59th and 60th points on a Rob Little layup with 17.3 seconds left to beat WSU 60-58.
Senior Chris Schlatter, playing in what turned out to be his last game as a Cougar, couldn't match the feat as a 15-foot fadeaway jumper bounced off the rim as time expired.
The defeat was the eighth by three points or less for WSU (12-16) this season, and in a season full of close losses, this was easily one of the most painful.
"Another one," head coach Dick Bennett said. "It's (eight) times we've had great chances. Somebody, somewhere, the law of averages will come back."
Unlike other close losses this year, WSU had to make a comeback late in the game to have a chance at victory. Down 50-41, the Cougars went on a run and pulled ahead 57-56 on a Schlatter 3-pointer with 1:09 left.
If not for the unusual WSU late-game surge, Stanford (18-11) could have run away with this third game between the two teams this year. With WSU shooting brilliantly from the perimeter out of the gate — the Cougars hit their first seven 3-point attempts — its offense suddenly went comatose after Stanford switched to a 2-3 zone.
Perhaps it was out of desperation, as the Cougars had mysteriously dominated the Cardinal in two previous games and for much of the early going on Thursday night in the first round of the conference tournament. But as soon as Stanford first experimented with the zone defense, it was as if the hex WSU held over it vanished.
The Cougars had hoped that their No. 6 seed in this tournament would play to their advantage as they had beaten the third-seeded Cardinal twice this year by a combined 20 points, including an 11-point road win seven days before this final rematch.
"We've never been able to attack a zone because we can't score inside," Bennett said. "But they sucked it up defensively, forced a few turnovers.
"In this one I was more proud of the way the kids battled back."
Thomas Kelati, fresh off of his All-Pac-10 selection, and, as it turned out, playing his last game as a Cougar, enjoyed a remarkable game shooting the ball. The senior from Walla Walla didn't miss in five first-half attempts, four of them from outside the arc, in scoring 14 points. But Stanford's zone locked in on him with double teams on the perimeter thereafter, and Kelati managed six in the second half, leading WSU with his 20 points.
"I've been in (the tournament) before and I just wanted to bring it upon myself to bring these guys further," Kelati said. "It's been the same story all year. Close games, we can't finish them out. It's the one thing that kept us from being successful."
Stanford hadn't scored more than 16 in the first half this season against WSU but eclipsed the 20-point mark with just less than four minutes to go before halftime on Thursday. The Cougars' own hot shooting allowed them to take a 31-24 halftime lead.
Local journalism is essential.
Give directly to The Spokesman-Review's Northwest Passages community forums series -- which helps to offset the costs of several reporter and editor positions at the newspaper -- by using the easy options below. Gifts processed in this system are not tax deductible, but are predominately used to help meet the local financial requirements needed to receive national matching-grant funds.
Subscribe to the sports newsletter
Get the day's top sports headlines and breaking news delivered to your inbox by subscribing here.
---