News > Business
Entertainment goes mobile
Fri., March 11, 2005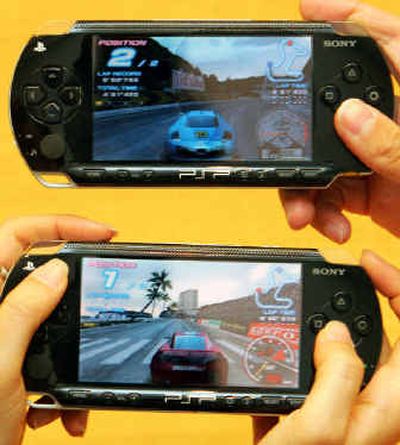 When the PlayStation Portable arrives in North America later this month, consumers will be able to play video games, watch movies, listen to music and view photos on the black, book-sized device.
But don't call it an iPod killer or a competitor with Nintendo's DS gaming handheld, insists Kaz Hirai, Sony Computer Entertainment America Inc.'s chief executive.
"We look at the PSP as being a mobile entertainment device. We're trying to create a new market," Hirai told The Associated Press. "I don't see any of those products being a direct competitor."
Much like the Walkman pioneered the market for portable music players 25 years ago, Sony officials hope the PSP will change what consumers expect from portable electronics.
Once people have used a PSP, Sony believes, consumers will want to stick with a device that serves up games, audio and video on the go — even if the disc format is proprietary.
Analysts consider the PSP a portable multimedia dynamo, delivering crisp color graphics on a 4.3-inch screen, stereo sound and wireless capabilities. And at its core, the PSP is a dedicated gaming system.
Market research firm DFC Intelligence expects the PSP and Nintendo's dual-screen DS to drive the global portable games market from $3.9 billion in 2003 to $11.1 billion in 2007. The overall global video game industry saw sales of about $23 billion in 2003.
DFC Intelligence president David Cole says Sony may be calling it mobile entertainment but that's only to justify the PlayStation Portable's cost. The DS is $100 cheaper than the $250 PSP.
"I mean, it really is a game machine. I think the other things are really Trojan horse features," Cole said. "I think their feeling is, 'We have a great game machine, now we have to justify the price difference."'
The PSP comes a decade after Sony entered the video game business with the PlayStation console.
The wildly successful follow up, the PlayStation2, has sold about 34 million units in the United States, boosting Sony's games business into one of its most profitable divisions.
One reason for the PlayStation's success, Hirai said in a telephone interview, was the video game content made internally and by third-party publishers such as Electronic Arts, Inc. and Konami.
A library of about 24 games costing in the $40 price range should be available when the PSP launches March 24. The first million sold will ship with a Sony movie, "Spider-Man 2," Hirai said.
However, many industry observers say Sony's use of proprietary storage media — the 1.8-gigabyte Universal Media Disc for movies and games and the Memory Stick Duo for music and pictures — could hamper Sony's ambitions beyond games.
Sony's in-house studio, Sony Pictures Home Entertainment, will release PSP versions of action movies including "XXX," "Hellboy," "Resident Evil 2" and "Once Upon a Time in Mexico" by the middle of next month.
Only one other studio so far has agreed to port its movies to the silver dollar-sized UMD format. Last week, Lions Gate Entertainment said it would bring movies such as "House of the Dead," and "Total Recall" shortly after the PSP is released.
Hirai said Sony was in talks with other movie studios but he could not discuss any specifics. He said prices for UMD movies will likely be in line with current DVDs.
"I do believe the PSP as a gaming system will be a success," said Peer Schneider, senior publisher with the IGN Network. "I'm skeptical that as a movie device it will be a success, simply because of the format."
Cole called UMD a major issue because it forces consumers to buy two versions of the same movie, one on DVD and another for the PSP.
"The idea of being anytime, anyplace, anywhere is that you can take content from your living room and take it with you anywhere," he said. "You're doing something that works in game industry but has been a real challenge in music and movies. Those areas want standardization."
Harai said the PSP will work with Sony Connect, the company's digital music service, which Sony says it plans to enhance in coming years to offer movies and games.
"We're not just limited to motion pictures," Hirai said. "That's important, but I think there's also a new market to create for content that's shorter than two hours for people on the go."
A precedent for such a jack-of-all trades strategy was set when Sony billed the PS2 as a DVD movie player as well as a game machine, Schneider said.
"It broadened the gamer audience by reaching people that hadn't played a console game before," he said.
As for gaming, Hirai said he's excited about new opportunities for online games where people could gather in local PSP networks as well as though Wi-Fi hotspots.
Gamers playing wirelessly on their PSP could even compete against people who are on their PS2 or Sony's next-generation PlayStation, which will use powerful Cell processors developed by Sony and IBM Corp.
The new console isn't expected until 2006.
Local journalism is essential.
Give directly to The Spokesman-Review's Northwest Passages community forums series -- which helps to offset the costs of several reporter and editor positions at the newspaper -- by using the easy options below. Gifts processed in this system are not tax deductible, but are predominately used to help meet the local financial requirements needed to receive national matching-grant funds.
Subscribe now to get breaking news alerts in your email inbox
Get breaking news delivered to your inbox as it happens.
---