News > Spokane
Students to bring speaker to EWU
Fri., March 11, 2005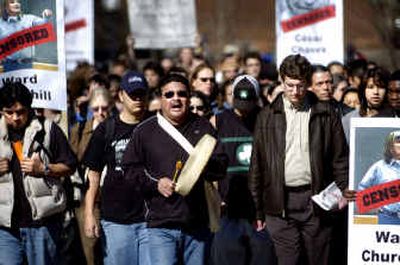 A student group says it will bring controversial Colorado professor Ward Churchill to Eastern Washington University next month as planned, despite university President Stephen Jordan's cancellation of Churchill's talk.
The Native American Student Association made the announcement Thursday during a noon demonstration protesting Jordan's refusal to reverse his decision to cancel Churchill's scheduled visit. About 300 people participated in the campus protest.
Churchill is at the center of a national controversy sparked by a 2001 essay in which he compared victims of the Sept. 11 terrorist attacks to a Nazi leader. Churchill, an expert in ethnic studies, has received death threats around the country. Several other colleges have canceled his scheduled speeches, including the University of Oregon.
Jordan cited security concerns in his decision last month to cancel Churchill's visit to Cheney, even though members of the university's faculty asked him to reconsider on grounds of academic freedom and freedom of speech. Last week, Jordan announced he was sticking to his original decision.
Jordan was traveling Thursday and had not been updated, said university spokesman David Rey. Last week, EWU released a student e-mail correspondence with Churchill that seemed to indicate he was coming, but that wasn't confirmed until Thursday, Rey said.
"Are we going to have to make a plan? Yes," Rey said.
The details of any plans are unclear because the administration doesn't know exactly what the Native American Student Association will do with Churchill, Rey said. The administration has made it clear that no EWU facilities can be used to host Churchill's talk, Rey said.
Keven Shipman, an association spokesman and Shoalwater Bay Indian, said at the very least, Churchill, who planned to discuss Native American issues, will meet with Indian students in a private event and tour campus. They'd also like Ward to speak on campus, possibly outdoors at the commons area.
"We want to bring President Jordan to the table and discuss some of these possibilities," Shipman said.
At Thursday's rally, speakers giving emotional talks supporting free speech also included students from the Chicano association, the Black Student Union and student government. Two EWU professors and a Gonzaga University philosophy professor spoke at the outdoor rally in the center of campus.
In an article published after the Sept. 11, 2001, terrorist attacks, Churchill compared Americans working in the Twin Towers to Adolf Eichmann, who devised plans for German concentration camps but did not actively participate in them. Churchill says American "technocrats of empire" essentially support a system that has brought death and warfare to others around the world and at home, and that an armed response should have been expected.
"Whether or not we agree with Churchill's deliberately provocative analysis of America's relations with the rest of the world, silencing him erodes the right to free expression of all citizens, students and teachers," said EWU history professor Bob Dean. "As a historian of 20th century U.S. history, I find this troubling, because the pattern that we see at Eastern and elsewhere closely resembles that of an earlier period, commonly known as the McCarthy era."
Gonzaga philosophy professor Tom Jeannot said there's a national debate about everyday Americans' role in the war in Iraq, a discussion that has included comparisons to German citizens during the rule of the Nazi Party. Churchill is part of that debate and should be allowed to have that discussion as part of academic freedom, he said.
"A lot of us who defend Ward Churchill don't necessarily agree with his views," he said.
EWU President Jordan has said in the past that he strongly believes in freedom of speech and that canceling Churchill's appearance was a difficult decision. Jordan said it was done out of concern for safety.
Nancy Fletcher, professor of the African American education program, brought cheers when she sang a civil rights song, "We are not afraid," a variation on the gospel song, "We Shall Overcome."
Students then marched around the EWU campus in silence, a statement on what they called the attempted silencing of Churchill.
Local journalism is essential.
Give directly to The Spokesman-Review's Northwest Passages community forums series -- which helps to offset the costs of several reporter and editor positions at the newspaper -- by using the easy options below. Gifts processed in this system are not tax deductible, but are predominately used to help meet the local financial requirements needed to receive national matching-grant funds.
Subscribe now to get breaking news alerts in your email inbox
Get breaking news delivered to your inbox as it happens.
---