Sports
Vandals give it their all, but fall short
Sun., March 13, 2005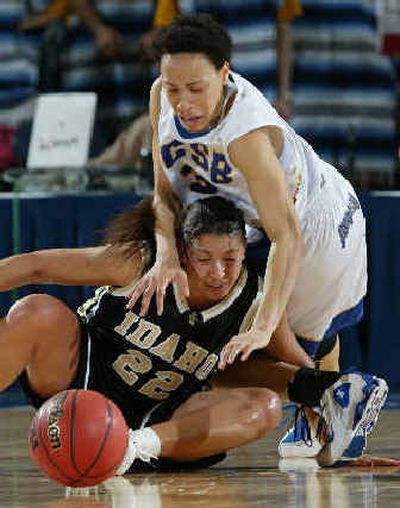 ANAHEIM, Calif. – It was one of Idaho women's basketball coach Mike Divilbiss' proudest moments and one of his most disappointing at the same time.
He had just watched his team come tantalizingly close to knocking off nine-time defending Big West tournament champion UC Santa Barbara, only to see an 11-point second-half lead melt away as the Gauchos claimed a 74-66 title-game victory in front of 1,226 Saturday at the Anaheim Convention Center Arena.
After wiping tears from his eyes at the awards ceremony, Divilbiss entered the locker room and repeated a speech he'd given only once before in his 18 years as a head coach, the last four at Idaho.
"This is only the second time in my career where I've stood before a team after a game that dictated our future and felt like we'd given everything we could, everything, and it wasn't good enough," said Divilbiss, noting the other was during his tenure at Lewis-Clark State College. "It's a very surreal feeling when there's nothing more to give and it wasn't good enough. We can walk out with our heads high because we're strong enough."
For nearly 30 minutes, Idaho looked stronger than Santa Barbara. The Vandals, trying to chase down the second NCAA Tournament berth in program history, had connected on three rapid-fire 3-pointers and point guard Leilani Mitchell had completed another of her patented slashing drives for a layup. Idaho was shooting 63.6 percent and led 57-46 with 12 minutes left.
And then, nothing but empty possessions.
At the defensive end, Mitchell picked up her fourth foul and UCSB power forward Kristen Mann and guard Mia Fisher went to work. While Idaho went 0 for 8 from the field, 0 for 2 at the free-throw line and committed three turnovers, the 6-foot-2 Mann dominated inside against the shorter Vandals and Fisher, freed of Mitchell's unrelenting defensive pressure, drove for easy baskets.
The Gauchos rattled off 19 unanswered points to take a 65-57 advantage before Mitchell ended Idaho's 8-minute, 21-second dry spell.
There was time for one more run from the Vandals, playing their third game in three days. Scoring machine Emily Faurholt, who played every minute in the tournament, hit a 3-pointer over tourney MVP Mann with 32 seconds left and Idaho trailed 69-66.
Forced to foul, Faurholt reached around Mann near midcourt and was assessed an intentional foul that clearly wasn't warranted. Mann hit both free throws with 15.5 seconds left and UCSB retained possession because of the intentional foul. The Gauchos wrapped it up with three more free throws.
It was the second straight year the Vandals (19-11) had lost to UCSB (21-8) in the championship game and they won't get another shot because they will join the Western Athletic Conference next season. The Gauchos, winners of 25 straight Big West tournament games, will learn their NCAA pairing today.
"This is a lot tougher to take," said Faurholt, who scored 21 points, but only seven in the second half against the physical defense of Brandy Richardson. "We played a really good game, we played tough and we did a lot of things we wanted to do."
But, as Divilbiss said, "It was more what they did than what we did. They played very well."
Idaho, snubbed by the WNIT last year despite 22 wins, is in the running for a WNIT berth and submitted a conservative bid to host in the first round. Athletic director Rob Spear said Idaho's RPI is higher than last year's and the it played a tougher non-conference schedule, factors he hopes lead to a WNIT berth.
Idaho's second-half drought was mystifying because it had played so crisply on offense until then. Faurholt and Mitchell led the way, scoring 29 of Idaho's 36 first-half points. Mann and Fisher responded with 24 of UCSB's 31.
Senior Heather Thoelke hit three 3-pointers and freshman Ticey Westbrooks added a pair of 3s as Idaho's lead grew to 11, but the Vandals couldn't deliver the knockout punch.
"I just remember coach (Mark French) telling us not to look at the clock and I remember looking up right when he said that and I was like, 'Oh my gosh, we're down,' " said Mann, who finished with a career-high 33 points. "We knew we had to step up defensively and we did that big-time."
Richardson, playing on a tender ankle that caused her to miss the last five games of the regular season, was able to keep the ball out of Faurholt's hands.
Faurholt, forced to guard Mann at one end and operate against the bruising Richardson at the other, was running on empty but still scored five of Idaho's final seven points. Faurholt scored 75 points in three games. Mitchell finished with 19 points and nine assists. She played all but one minute in the tournament.
UC Santa Barbara 74, Idaho 66
Idaho (19-11)–Faurholt 9-16 0-2 21, Felton 1-3 0-1 2, Westbrooks 4-7 0-0 11, Thoelke 5-10 0-0 13, Mitchell 6-9 6-6 19, Sax 0-1 0-0 0. Totals 25-46 6-9 66.
UC Santa Barbara (21-8)–Nichols 2-5 2-4 6, Mann 11-22 11-14 33, Wilson 3-5 1-3 7, Fisher 12-14 2-2 26, Bonds 1-4 0-0 2, Gibbons 0-0 0-0 0, Richardson 0-2 0-1 0, O'Bryan 0-2 0-0 0. Totals 29-54 16-24 74.
Halftime–Idaho 36, UC Santa Barbara 31. 3-point goals—Idaho 10-21 (Westbrooks 3-4, Faurholt 3-6, Thoelke 3-8, Mitchell 1-2, Felton 0-1), UC Santa Barbara 0-6 (O'Bryan 0-1, Richardson 0-1, Bonds 0-2, Mann 0-2). Fouled out–Felton. Rebounds–Idaho 19 (Felton 6), UC Santa Barbara 32 (Richardson 8). Assists–Idaho 15 (Mitchell 9), UC Santa Barbara 9 (Fisher, Richardson 3). Total fouls–Idaho 19, UC Santa Barbara 14. A–1,226.
Local journalism is essential.
Give directly to The Spokesman-Review's Northwest Passages community forums series -- which helps to offset the costs of several reporter and editor positions at the newspaper -- by using the easy options below. Gifts processed in this system are not tax deductible, but are predominately used to help meet the local financial requirements needed to receive national matching-grant funds.
Subscribe to the sports newsletter
Get the day's top sports headlines and breaking news delivered to your inbox by subscribing here.
---