News > Idaho
Another fire gets out of control
Tue., March 15, 2005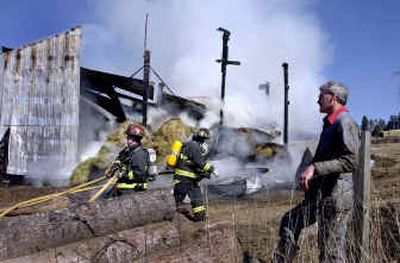 Until it rains, some North Idaho fire officials suggest that residents hang up fire as a spring-cleaning tool.
In one of the latest grass fires to go awry, a small fire to clear weeds resulted in a raging barn fire Monday morning north of Hauser Lake.
"We've had several grass fires" in Kootenai County, said Hauser Fire Chief Larry Simms.
In Monday's fire, John Matheson was burning some weeds at his ranch when the fire sneaked under the barn and set 60-some bales of hay on fire, said his wife, Nancy Matheson.
"I was taking a walk, and when I came over the hill, I saw all the black smoke," she said. An hour later, the barn was only partially standing while firefighters hosed down the soggy, smoking hay that John Matheson had pulled from the barn's edges with a small Bobcat. "It went so fast," said his wife.
Simms said dead grass is as dry now as it normally is in May or June. Last week, Timberlake Fire District fought a fire sparked by grass touching an electric fence. In other cases, fires have been set deliberately and appeared to be under control, but when the landowner left briefly, the flames spread, Simms said.
Conditions are dry enough that Mike Denney, a fire warden with the Idaho Department of Lands, said residents should hold off burning until fall.
"This is a very, very unusually dry spring," Denney said. "The fires we're seeing right now are the same intensity and size that we see in July. That's pretty concerning to us."
The Department of Lands usually doesn't hire seasonal fire crews until June.
"We're emptying the office in order to keep up with fire starts that are occurring," Denney said. He said the agency may ask for extra money to hire fire crews earlier but is waiting to see if spring brings rain.
The National Weather Service is forecasting that rain will arrive Wednesday afternoon but should be gone by Thursday. The rain could range from only a trace to two-tenths inch, said meteorologist Paul Bos.
"It's coming from the northwest and is moving fast, and it doesn't look like it's going to do much in terms of ending the drought," Bos said. The next chance of rain is over the weekend, he said.
But not everyone is alarmed by the shortage of showers.
"We typically have the brown-up period in the spring," said Ed Lewis, chief of the North Spokane Fire District. "The light, flashy fuels have dried out with lack of snow and rain. Those type of fires occur most years. … What's more disturbing is the lack of snowpack and what could occur in the summer."
Prescribed burns in the U.S. Forest Service's Coeur d'Alene Ranger District are moving forward as planned, said Shawn Pearson of the agency's Fernan office.
The district has burned about 30 acres without incident, he said. The agency checks fuel moisture, weather conditions and other factors before deciding whether to burn each day during prescribed-burning season.
"It's actually a good time of year for us to go out and do hazardous fuels-reduction work," Pearson said. "We burn it on our terms, and hopefully it won't burn this summer."
But he, too, had a word of caution for amateurs: "People need to realize it's still dry. You can't light something and walk away from it."
Local journalism is essential.
Give directly to The Spokesman-Review's Northwest Passages community forums series -- which helps to offset the costs of several reporter and editor positions at the newspaper -- by using the easy options below. Gifts processed in this system are not tax deductible, but are predominately used to help meet the local financial requirements needed to receive national matching-grant funds.
Subscribe now to get breaking news alerts in your email inbox
Get breaking news delivered to your inbox as it happens.
---