Sports
Anti-Majerus living the good life at Utah
Thu., March 17, 2005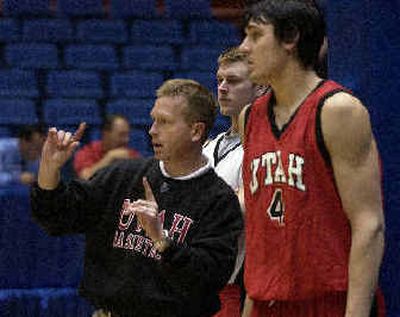 TUCSON, Ariz. – Talk all you want about the vast resource canyon that separates Ray Giacoletti's old job from his new one – and we will in due time – but go back to this:
He coached Eastern Washington into the NCAA Tournament last year.
And now he has Utah in the tournament this year.
The first one didn't make him a Midas, and the second one doesn't make him a Majerus – not that he aspires to either comparison. He is what he's always been, whether on a bus to Bozeman with players that nobody else recruited or ranked 18th in the country with the projected No. 1 pick in the draft.
You can still call him Ray.
His Utes are in the first-round queue here today against UTEP in the game just ahead of Gonzaga vs. Winthrop, a felicitous piece of both bracketing and scheduling by an NCAA committee which has yet to hit a sour lick. It has brought to the same site two of the closest friends in the coaching fraternity – Giacoletti and Gonzaga's Mark Few – without the risk of them having to play each other any time before the Final Four.
Made it all the easier for Giacoletti and his wife, Kim, to be at GU's assigned hotel here to greet Mark and Marcy Few upon their arrival Tuesday night.
"It's great that we don't have to play," said Giacoletti. "It's funny how things work out."
This may be Giacoletti's new favorite maxim. In the past 12 months, things have worked out not just splendidly but spectacularly, making him an inspiration to the career dues payers of the coaching profession.
You wouldn't think it could get better than taking EWU to its first NCAA appearance, and maybe it hasn't. But it hasn't gotten any worse, either. In short order, along came the Utes with a 7-year contract at a half-million per. Then Giacoletti persuaded 7-foot Andrew Bogut, the Aussie with the NBA upside, and point guard Marc Jackson to return to the program. And by the end of January, he'd won as many games at Utah – 18 – as he had in any of his four years at Eastern, or even the three before that at North Dakota State.
There is a dream-come-true component at work here, though Giacoletti insists otherwise.
"From the very beginning, I never wanted to be the head coach of Utah or Notre Dame or whatever it was," he said. "I just wanted a chance to coach college basketball. I took the North Dakota State job to get that type of experience. Then somewhere down the road if you could be a Division I head coach, which I was at Eastern – then at least I could never say I didn't get my shot.
"But being at Utah, or a program of this caliber, never entered into the equation."
And there was some doubt it ever would. A Midwesterner, Giacoletti was candid about his interest in vacancies at Illinois State (where he'd been an assistant) and Bradley (in his hometown of Peoria) – and yet stirred only token interest at either place. And Utah first offered its job to Trent Johnson – fresh from a Sweet 16 appearance with Nevada, thanks to a second-round romp over Gonzaga – who turned it down for Stanford instead.
Big Sky guys don't get a lot of big-time run – never mind that Ben Howland went from Northern Arizona to Pitt or Mike Montgomery from Montana to Stanford and turned them into Top 25 perennials. Giacoletti got his chance first on the basis of testimonials from his colleagues, and then because of his straightforward sell in the interview.
Still, he was an unlikely second choice, not just because of his lack of a national profile but also because of the larger-than-XXXL character he'd have to follow.
Rick Majerus coached the Utes for 15 seasons, winning 323 games and once getting within a victory of the national championship. Along the way, he became known as one of college basketball's resident wits and charmers – although the media in Salt Lake City (and several ex-players) have a trough of horror stories about his cantankerous, manipulative side.
Giacoletti doesn't have that side, nor does he do shtick or stand-up.
No food jokes, no fat jokes. Which is not to say he's no fun.
"I'm Ray Giacoletti," he said. "Every article or interview asks, 'How are you going to live up to coach Majerus' reputation?' I can't. And if I got caught up trying to, I wouldn't get the job at hand done."
The job at hand was harder than you think. Though Majerus had returned Utah to the national picture, he'd also fractured relations with any number of good players and got the program put on probation, though without post-season sanctions. Jackson had quit the program after the 2003 season because of his dislike of the coach.
Giacoletti persuaded Jackson to return, but his real project was Bogut – who wasn't so much thinking about the NBA as seasoning himself, for a paycheck, in Europe. To re-recruit him, Giacoletti made two trips to Australia and another to Athens, where Bogut played in the Olympics.
"I think he's worth it," Giacoletti deadpanned. "We wouldn't be in this position if he wasn't here."
Of course, Giacoletti never found himself in such a position at EWU, either.
"They were telling me a story that one of the trips the previous staff had made over there was an $8,000 ticket because it was last minute," he said. "At Eastern, our recruiting budget was $12,000."
There is no punchline, as there would be with Majerus. Giacoletti respects Eastern and the opportunity he received there just as much as he does being the steward of a Final Four caliber program.
"He's the same Ray," said Utah assistant Mike Score, who followed Giacoletti from Eastern. "He hasn't changed, and he certainly hasn't let anything about this program overwhelm what he's always been about."
It was a lesson he learned from afar. For eight years, Giacoletti assisted Bob Bender at Illinois State and Washington – and later watched Bender's program implode from any number of missteps and saw his friend fired.
"It's a short walk from the White House to the outhouse in college basketball," he said. "You'd better stay balanced and grounded – I think Mark's done a great job of that at Gonzaga. I'm sure you haven't seen a lot of changes in him. It's easy to think you're bigger than the game, but that comes back to bite you."
Good advice from a medium guy in an XXXL profession.
Local journalism is essential.
Give directly to The Spokesman-Review's Northwest Passages community forums series -- which helps to offset the costs of several reporter and editor positions at the newspaper -- by using the easy options below. Gifts processed in this system are not tax deductible, but are predominately used to help meet the local financial requirements needed to receive national matching-grant funds.
Subscribe to the sports newsletter
Get the day's top sports headlines and breaking news delivered to your inbox by subscribing here.
---