Sports
Better late than never for Nordby
Thu., March 17, 2005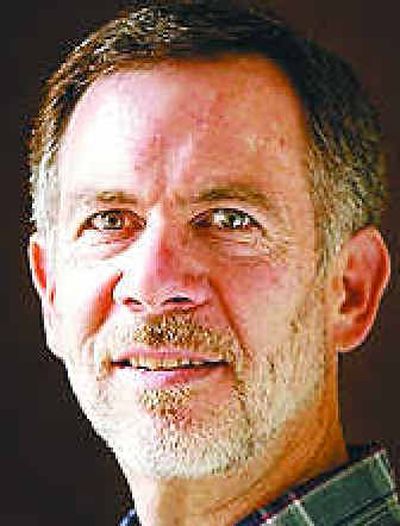 Ed Nordby is a busy guy.
He was too busy last spring to get in his application for a moose tag before the official deadline.
This winter he's been too busy to tell many people that not only did he manage to get the moose tag, but he went out hunting for one day and attached it to the Washington state-record moose.
Hunters who read this newspaper regularly have seen two reports that the state-record moose was taken last November by Jeff McKeen, a Spokane railroad conductor.
You'll read that old news again on Sunday in a feature story about McKeen's Colville-area hunt complete with a photo of his bull, which scored 168 4/8 Boone and Crockett points.
McKeen's bull will get that last hurrah as the state record this weekend only because The Spokesman-Review's Sunday Outdoors & Travel section is pre-published. It was rolling off the press on Wednesday when Nordby called me from the site of the 4,200-square foot "cabin" he's building at Loon Lake.
He said he'd read about McKeen's moose and he'd been meaning to call and let someone know he was bringing his bull to the Big Horn Outdoor Adventure show this week for official measuring because he was pretty sure his was bigger.
"I've been so busy with this place I'm building up here at the lake," he said, noting that the construction project also contributed to his failure to apply for one of 94 once-in-a-lifetime Washington moose tags last summer.
"But then I got this notice that the state had some problems and they were extending the deadline, so I got a second chance to apply and what do you know, I won."
That was the easy part.
Nordby is 60 years old but he looks 50. He's fit, partly from tournament water skiing and partly from hunting backcountry deer, bear and elk in the Chewelah area, largely on foot, since he was 8.
He said it was a 2 1/2 -hour hike into the 49 Degrees North Unit where he knew there were moose.
"I've seen them many times when I've been in there hunting deer, but on that day — it was Oct. 1 and it got about 70 degrees — I hiked and hunted and used his moose call from sunrise to noon and didn't see a moose."
He'd almost given up for the day. "We're just goofing around at that point and I started blowing a predator call," he said. "Three moose came flying out of the brush, two bulls and a cow."
One bull was large and Nordby's son-in-law, Ben McDonald of Elk, Wash., was eager for Nordby to "shoot that big boy."
"Ben was the reason I was out on the first day of the season in that heat," Nordby said. "He'd arranged for the time off and he said he couldn't have been more excited if he had drawn the permit himself."
Nordby crawled closer and watched the moose for 45 minutes.
"Then he raised his head and was starting to walk away and I thought, 'Wow, he really is big,' " he said.
He squeezed off a round with his .300 Weatherby magnum and the biggest mountain of moose meat he'd ever seen disappeared in the muzzle blast.
"It's awful brushy in there, which is why nobody hardly hunts it," he said.
"I ran up an old logging trail for a quarter mile, looked down into the timber and there he was 300 yards away, going uphill."
The chase was on, and on, and on. Nordby eventually put another round into the bull but still the moose kept going.
The showdown came about four hours later when the hunter got within 15 paces of the prey bedded down in the thickest imaginable brush.
"Suddenly he was standing and I couldn't believe it," Nordby said. "He was really big. I"ll never forget those cold black eyes looking down at me. I made a plan to shoot and dive like a rodeo clown to the side if he came at me. I put the bullet right behind his shoulder and into the lungs and he never even flinched."
One more 165-grain bullet to the boiler room finally brought down the bull.
"It was 4:30 and hot and even as big as that bull was, if I could have left the moose and just hauled off all the blow flies I'd have had more meat."
The bull was rank but Nordby said the meat has been sweeter than venison.
That's the way big game tastes after hauling a 120-pound load out several hours on your back late into the night – and following a 17-hour day and knowing you'd have to round up more friends and go back and get the bulk of the meat the next day.
Nordby hiked back into his hunting area last week, as he has a couple of times since the hunt, trying to find a long antler tine the moose broke off as it fled.
"All I found last time was two ticks," he said. "I still want to find that tine someday because I know it will make the moose score higher."
On Wednesday, Nordby finally carved out enough time to bring his still unmounted trophy antlers to the Big Horn Show, where Larry Carey of the Inland Northwest Wildlife Council scored them at 174 Boone and Crockett points.
Nordby left them at the show, where they'll be on display with McKeen's short-lived record.
Not a bad day's work for a busy guy.
Local journalism is essential.
Give directly to The Spokesman-Review's Northwest Passages community forums series -- which helps to offset the costs of several reporter and editor positions at the newspaper -- by using the easy options below. Gifts processed in this system are not tax deductible, but are predominately used to help meet the local financial requirements needed to receive national matching-grant funds.
Subscribe to the sports newsletter
Get the day's top sports headlines and breaking news delivered to your inbox by subscribing here.
---