News > Nation/World
Control of Jericho shifts
Thu., March 17, 2005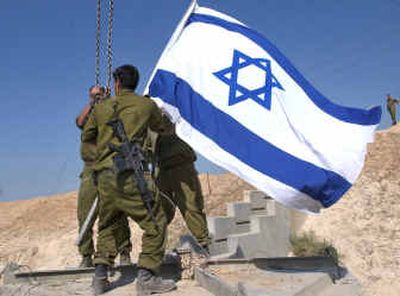 JERICHO, West Bank – Israeli forces transferred control of this sleepy West Bank town to the Palestinian Authority Wednesday, removing an internal roadblock and reducing the frequency of vehicle searches in a handoff designed to foster peace by easing some restrictions on Palestinians' daily lives.
As cranes began dismantling one of three dusty roadblocks that ring the city, Palestinian troops took up positions a few hundred yards away, moving in with tents, mattresses, water tanks and Palestinian flags.
The two other roadblocks will remain for a month or so as a test of the Palestinians' ability to ensure calm, according to an Israeli army spokesman.
Jericho is the first of five West Bank towns slated for the new security arrangement. Next is Tulkarem, to be followed by Qalqiliya, Ramallah and Bethlehem, although there is no fixed timetable.
The transfers are part of an effort to restore the status quo that existed before the outbreak of fighting in September 2000 and the creation of hundreds of barriers across the West Bank to prevent suicide bombers and gunmen from attacking Israelis.
Removal of the barriers is designed to send the message that a monthlong informal truce with Israel is showing benefits.
Under the agreement, Israel will ease checks at Jericho's southern entrance, letting traffic enter without inspections of trunks and passenger compartments. Outgoing vehicles are to be checked only sporadically.
The new arrangement is expected to ease long lines that had turned trips from Jericho to Ramallah – which should take 30 minutes – into exasperating, daylong affairs. The dismantling of Jericho's northern checkpoint, which began Wednesday afternoon, will ease access to the Ramallah hub of Palestinian government and to commercial activity in the West Bank.
The move follows last month's resumption of contact between Israeli Prime Minister Ariel Sharon and Palestinian Authority President Mahmoud Abbas. It comes as Abbas is in Cairo meeting with leaders of armed Palestinian factions in an effort to make the truce a formal cease-fire.
Residents of Jericho, a farming and resort town in the Jordan Valley that bills itself as the world's oldest inhabited place, reacted to Wednesday's developments with a mixture of hope and cynicism.
"Hope for traveling. Hope for business. Hope for everything," said grocer Abdul Shukani, who watched television coverage of truck-mounted cranes hauling away hip-high concrete blocks and barriers.
But others say the impact would be minimal, since Israel will keep a close eye on Jericho from watchtowers at the edge of the city. The towers are not scheduled for removal.
"It's redecorating. Rearranging the furniture. But not much is changing," said Mahmoud Ismail, who sat at a cafe nursing a fragrant waterpipe and a glass of sweet tea.
Like many other Jericho merchants, however, grocer Tawfik Nowser, 54, held out hope that the easier access to Jericho would bring at least a modest financial revival.
The removal of the checkpoints is a good development, he said. "But I want to see people coming here. I want to see business. I hope also to see peace."
Local journalism is essential.
Give directly to The Spokesman-Review's Northwest Passages community forums series -- which helps to offset the costs of several reporter and editor positions at the newspaper -- by using the easy options below. Gifts processed in this system are not tax deductible, but are predominately used to help meet the local financial requirements needed to receive national matching-grant funds.
Subscribe now to get breaking news alerts in your email inbox
Get breaking news delivered to your inbox as it happens.
---